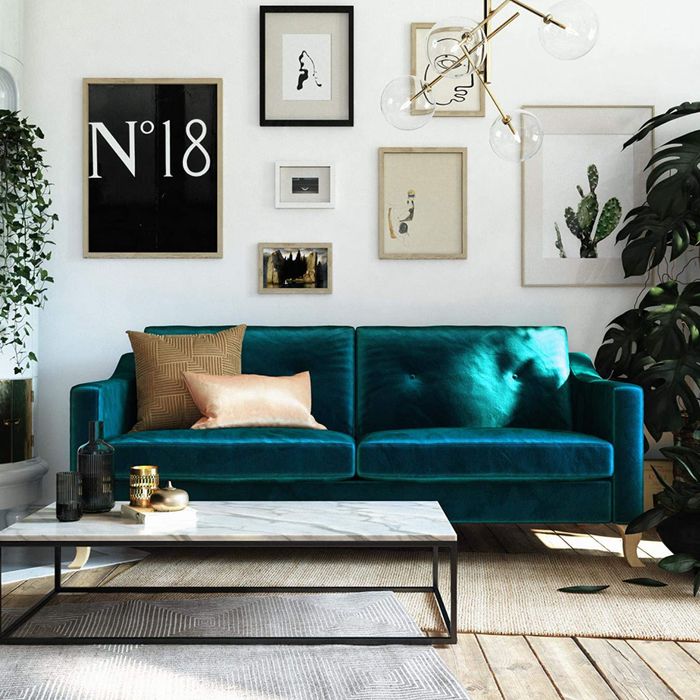 Amazon's big Prime Day kicked off early this morning and will be going through tomorrow: Tuesday, June 22. The 48-hour event is full of sizable deals that would take a very high level of discipline not to indulge in. If you've been waiting to spruce up your home with new linen sheets or to upgrade your kitchen with some sleek cutlery, now's the time to take advantage of low prices.
However, if you spent the entire quarantine reorganizing your home (like a lot of us) and aren't interested in purchasing any other décor right now, don't fret — Prime Day deals don't end at home and kitchen. We've also pulled the best deals for fashion and beauty because you could always use a new serum or pair of leggings, right?
Check our running list of home must-haves from Amazon Prime Day here.
Photo: Amazon
Reviewers love how soft this knitted blanket is. If you're looking for a weighted blanket to cuddle up in for movie night, you might have just found it.
Reviewers love this cast-iron for cooking meats and fish, but it's also great for caramelizing vegetables.
This vaccum is dubbed a "must have" if you have hardwood or vinyl flooring. It has technology sensors and a built-in voice assistant, a game changer for cleaning your home.
Photo: Amazon
Ideal for the sleeper who may have back or neck pain, this mattress combines softness and support into one.
Photo: Amazon
It's one of the most convenient hands-free devices, and more than 80,000 reviewers rave about the satisfying sound quality.
Photo: Amazon
A simple, modern desk that fits especially well into small spaces.
Photo: Amazon
What bathroom doesn't need a set of printed towels?
Photo: Amazon
A good fan is key for summer, and reviewers rave about the options for managing comfort levels with this one.
Photo: Amazon
This Amazon best-seller is praised for its precision and ability to cut through anything.
Photo: Amazon
If you're into plants, this speckled white hanging planter could be a chic way to display them. It works for indoors or outdoors.
Photo: Amazon
Everyone needs a Dutch Oven, which you can use to make everything from bread to pot roast.
Photo: Amazon
These supportive pillows will make you feel like you're waking up every morning in a luxury hotel.
Photo: Amazon
This is a very good deal on every busy person's favorite kitchen appliance.
Photo: Amazon
Reviewers say that these stasher bags have led them to kiss Ziplocks good-bye. Packing your summer beach snacks will never be the same.
Too many coffee-table books? This chic table gives you some extra space to put them.
With over 4,000 reviews, this air fryer is praised for its simplicity. It's a kitchen game changer, so if you've been wanting one, now may be the appropriate time to give in to your cravings.
This has an appealingly sleek style, plus the built-in sharpener will keep all of the knives in peak condition.
If you're looking forward to finally hosting this summer, you might want to stock up on bar chairs. Your friends would love to sip a cocktail on this luxe stool.
This robot vacuum does the cleaning for you on both hardwood and carpeted floors. Why not knock one thing off your to-do list?
Lay this in any room for an instant revamp.
These linen sheets get softer with every wash. You'll never want to return to cotton.
Photo: Amazon
Not only is this porcelain diffuser great for aromatherapy but it's handsome enough to count as a décor object, too.