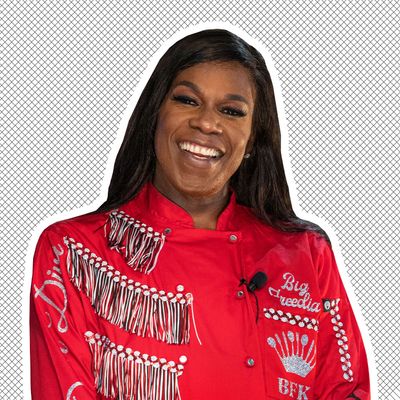 Photo: Erika Goldring/Getty Images
Big Freedia is an absolute legend. She's credited with bringing New Orleans bounce music to the mainstream, and her distinctive, captivating voice and irresistible beats can get even the stiffest hips moving. Although many of us were introduced to Big Freedia in Beyoncé's "Formation" — the song's iconic line "I did not come to play with you hoes / I came to slay, bitch!" was a Freedia original — her career began in 1999, and she's still shaping mainstream music today.
Freedia first came out as gay to her mother when she was 12 years old, and her confidence in her identity and her talent is unwavering. She has helped to make the music industry a safer place for LGBTQ+ and gender-nonconforming artists, and her work has paved the way for a bouncier, queerer music industry. The Cut spoke to her about the people, places, and art that influenced her.
My Mom
My mom was my biggest cheerleader. I told my mom at an early age that I was gay, and she accepted it. Once I got approval from my mom, I didn't need validation from anybody else in the world. The person who bore me accepted me, and that was all the validation that I needed to be myself and be confident.
As a young kid, I was still trying to figure out my identity, and my mom helped steer me in the right direction. She would always say, "You got to go out there and be you, and don't try to be like nobody else. You got to go out and show them who you are." That's what she always wanted for me over anything, that I didn't try to be like the next person — that I was a leader and not a follower. Over time, I just started feeling more and more confident. I found what works for me and where I want to be and how I want to look.
New Orleans
Growing up, the community was really looking out for each other and watching out for each other. If I was doing something that I had no business doing, a neighbor would definitely give my mom a call and say, "Freddie's doing such and such," so it was nothing that you really could get away with without your parents finding out. My community was a safe haven and didn't allow you to do things that kids shouldn't be doing.
People don't want to get involved these days, but back then, a lot of people had your back and had your parents' back. I think our community was so strong because of all the things we had to face, in the Black community especially. We are faced with so many adversities and so much death. I have a documentary called Freedia Got a Gun that explains about the violence that we face here in New Orleans and in the Black community, trying to get attention from local leaders and national leaders.
I lost my brother to gun violence. When we lose loved ones, it's hurtful and hard, but we celebrate the people we had in our lives for the time they were here. We have a party — we have a second-line band, T-shirts with everybody's pictures. We go all out for the celebration of life because we want to remember them in a good way. But I also want people to know that this is not the norm. These generational curses have been happening for so long, and in New Orleans, it feels normal now. And that's just not the way it should be.
Space Jam
Who didn't watch Space Jam, you know? I loved the girl bunny — she was fierce, and she didn't take no shit. I'm also on the soundtrack for the new Space Jam, so I'm super-excited about that, and we gon' go loony with it. I'm excited to be a part of something so big and to be representing the LGBTQ community. It was also fun to go back into my childhood memory, back into a childhood space in my mind, thinking back on all those fun memories growing up.
Church


For me, the biggest safe haven was church. It was my outlet to get away from any drama or any tragedy in the neighborhood. I stayed going to choir rehearsal, I stayed going to Sunday school, I stayed going to church service, Bible study, anything involving church.
My church home and the people at my church home, they were big influences in my life. They were the people who helped carry me and gave me confidence to be myself. My godmother, Georgia, was the head choir director at the church, and she allowed me to be a free spirit. She made me the assistant choir director, and I became the choir director at my high school and sang with many other choirs around New Orleans.
Music
I grew up listening to Michael Jackson, Prince, Sylvester, RuPaul, Patti LaBelle, Dionne Warwick, Diana Ross, Whitney Houston. All of these people were big influences in my life. They were living out loud, living in their truth. The messaging in the music helped me figure out who I was.
I started in gospel music and in the Baptist Black church. The people around me have really been that structure that I needed to help me to be myself. I've had a lot of musical influences in my life. In the Gospel world, that's great artists like John P. Kee, Timothy Wright, James Cleveland, Kirk Franklin, Yolanda Adams, the Clark Sisters. If I'm going through something or I'm just like sitting at home getting makeup on or getting ready for an event, I'm listening to gospel music. That keeps me in a calm space.
My Uncles
A big influence in my life was my gay uncle. I loved how he carried himself. I loved his career; he was a nurse and a psychiatrist, and he worked with people all the time. I was a young kid sitting back, observing him and his lover and the way that they did things — the way they helped the family. They were together for more than 20 years. It was a long relationship and a powerful relationship. They were a power couple. Watching them helped me to heal and find how I wanted to love, and I've been in my relationship now for 15 years so it definitely helped me.
My Uncle Percy was another big influence. He helped me musically; he taught me about Sylvester and a lot of different artists that he thought I should be listening to. They were both big influences and didn't realize it.
Betty Boop
Betty Boop was inspired by a Black woman — there's a real-life woman who did all the things Betty Boop does. I was inspired by her for my new song, "Betty Bussit." I just wanted to pay homage to her — what's more perfect than an iconic cartoon figure that everybody knows and can relate to? Oh, "Betty Bussit" is hot, honey. Wait till you hear it.
"Man in the Mirror," by Michael Jackson
One of my favorite songs growing up was "Man in the Mirror." I thought it was particularly talking to me. I was still a young kid trying to figure out where I wanted to be in my life. I always looked in the mirror and tried to figure out who I'm going to be, who the man in the mirror was going to be, and so that was a powerful song. I used to cry listening to it.
RuPaul's Drag Race
How could you not be a fan of Mother Ru and her girls? RuPaul opened the doors and broke barriers and knocked down so many different doors, especially for girls in the trans world and in the drag world. There's a whole world for them now, and there's always been one, but it's more visible. There's a bigger platform. It really feels good to see.
We're definitely more visible these days — in the music world, in film and TV, in hair and makeup, in every industry. Things have definitely opened up from when I started in music over two decades ago. It feels really good just to see the growth over the years. We still have a lot more growing to do, and there's always room for more change and more support, but it's been a journey to see how things have changed for younger artists coming out.