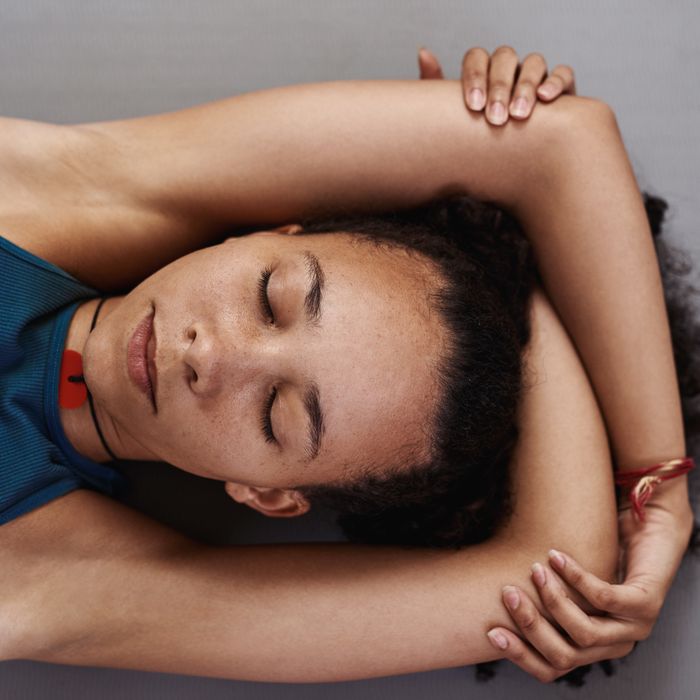 For Black folks, the right to breathe has always been fraught. Throughout the 19th and 20th centuries, vicious lynchings represented a fatal denial of that right. Today, the impact of pollution and environmental racism have forced Black Americans to inhale unclean air, which has led to higher rates of respiratory disorders like lung disease and asthma. In recent years, countless Black people, from Eric Garner to George Floyd, have screamed "I can't breathe," right before being murdered by the very people who swore to protect them. With her project Black Girls Breathing, founder Jasmine Marie is asking, what if Black breath were not a battleground, but a source of liberation?
Marie first hatched the idea for Black Girls Breathing, an Atlanta-based group that encourages Black women to engage in community and meditational breathwork, in 2018, partially as a response to the lack of diversity in the space. The program has grown dramatically more popular over the past year, and Marie has hosted hundreds of virtual classes that encourage Black women to nurture their mental, emotional, and spiritual health during the pandemic. There are currently more than 16,000 people in the Black Girls Breathing community, with participants attending virtual sessions from their homes all over the world, including Canada, Nigeria, South Africa, and London.
"Breathwork" can be an intimidating concept, but Marie is committed to making the practice more accessible. "Breathwork is a tool that heals the body," she explains. "It's an active form of meditation that can help us heal and process the trauma we didn't even know we were walking around with." The discipline can be particularly useful for Black women, who are statistically most impacted by issues such as chronic stress, which can be tied to other health complications. Marie was originally trained by non-Black breathwork practitioners, so she was stunned by both the diverse needs and sheer volume of Black women interested in the exercise when she first launched Black Girls Breathing. "When you're constantly stressed, as are so many Black people living under the constant threat of racism in this country, it can impact your nervous system and cause a lot of harmful changes in your body," she explains. Connecting with your breath can be a way to heal this trauma. "I think it's an honor that Black women trust me to make space for them."
Bringing breathwork to Black women has always been at the heart of Marie's mission, though she is open about how difficult this commitment can often be: "If I had a tagline it would be 'accessible ain't easy,'" she confesses. Despite this, she has succeeded time and time again: The organization has provided breathwork courses to thousands of Black women across the globe, impacting people everywhere from schools to juvenile-detention centers. But the commitment to accessibility goes beyond breathwork itself: Marie is determined to ensure that Black people have a simple and sustainable way to take care of all aspects of their health, and is working toward eventually closing the gap in access to health care. "Sometimes when you talk about breathwork more spiritually, people don't take it seriously, but there's a science behind it," she insists. "Where is the research that shows the daily impact of racism and what harm it has on Black bodies?"
That research is slowly starting to emerge. Last year, the American Medical Association finally declared racism a public-health crisis, and the National Institute of Health launched an initiative to improve COVID testing for underserved and vulnerable populations, like African Americans and Latinx communities, which have been disproportionately impacted by the pandemic. Nonetheless, medical studies about the links between racism and health disparities are few and far between. Which is why Marie also created the House of BGB, a sister organization to BGB that collects data and other insights into Black women's thoughts and behaviors on various elements of medicine and health care. Though some research institutions do attempt to collect data from Black women and other marginalized groups, Marie feels the methods used are often ineffective. "Women who are making $7.25 an hour are not going to fill out a medical survey for free, and that's even if they have regular access to a doctor who would encourage them to do so," she says. House of BGB has collected its own data and research and has presented it to health-care providers and research institutions that the group hopes to partner with in the future, to further close the gap on research pertaining to Black women.
"We know much of our community is scared to seek medical help, and rightfully so," says Marie, referring to a long history of medical discrimination that has caused Black Americans to die at higher rates than people of other races when seeking help for the same illnesses — and that's if they have reliable access to medical help in the first place. According to data collected by House of BGB, only 28 percent of their participants have consistent access to mental-health resources outside of Black Girls Breathing. "Since we work directly with the community, we've been able to build trust with Black women patients in a way that larger institutions cannot," Marie says.
Being one of the few Black women in the breathwork arena has forced Marie to carve out her own path along the way, and there have been both rewards and challenges. As a graduate of Stern Business School at New York University, Marie feels comfortable both running the community space and handling the day-to-day business operations — a rare combination in a CEO. But as a Black woman in a spiritual field, she has also faced extra obstacles, including being underpaid for her services, a clear sign that she and her work are undervalued. "I'll have moments where I'm so overwhelmed with the disrespect, it's exhausting," she says. It doesn't help that the majority of other practitioners grew their following from social media first, rather than starting with a business, which didn't give Marie a model for the type of success she wanted. "Sometimes it can feel like there's only one path to being successful when you work in breathwork or anything more spiritual," says Marie. "There have been times when I thought, 'Oh, I should just be an influencer,' but that's not what the fuck I'm doing. I'm creating a sustainable, accessible space for Black folks to heal and focus on our health."
The space Marie envisions is twofold: Black Girls Breathing provides the technical training, therapy, and community that allows Black women to release stress and feel connected in their bodies, while House of BGB conducts the research that illuminates the medical racism that has led to so many Black people experiencing chronic stress in the first place. Managing both organizations while staying true to her vision has been anything but easy; yet as Marie details Black Girl Breathing's pledge to impact 1 million Black women and girls by 2025, she is suddenly animated, rattling off facts and statistics as she outlines her ambitious scheme. "We're playing no games," she says. "We're doubling down on our current structure, introducing more breathwork circles, launching a breathwork facilitator training program, and providing mental-health resources in schools." She reclines in her chair, reflecting on her daydreams becoming reality. "I don't want to think small anymore." Marie is not only imagining a new space for breathwork, but a new world: one where Black folks can breathe easy.