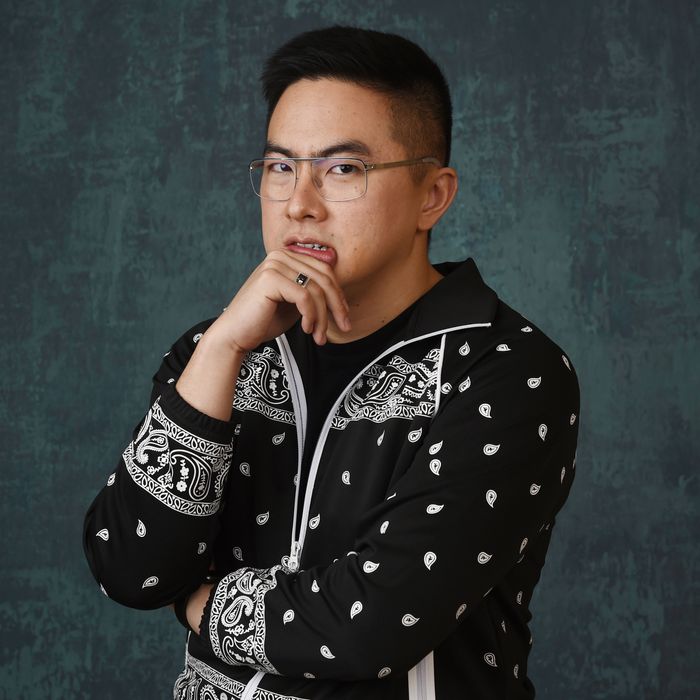 Photo: Chris Pizzello/Invision/AP/Shutterstock
Bowen Yang is, arguably, the funniest person on Saturday Night Live right now — but his success has been in the making for a long time. (In fact, he was voted "Most Likely to Be an SNL Cast Member" in high school.) After auditioning for the show multiple times, Yang finally got his start on SNL as a writer in 2018. He helped produce some of the show's funniest sketches before he was promoted to a full-time cast member in 2019, and most recently, went viral for his performance as the unapologetic iceberg that sank the Titanic. 
"I'm kind of like, Don't look at me, I don't want to be seen," Yang says of his new fame.
In addition to his ability to rock a styrofoam headpiece, Yang co-hosts the podcast Las Culturistas with Matt Rogers, is active on the stand-up scene, and boasts spot-on lip-syncing abilities. His latest project, Hot White Heist, is a scripted-comedy podcast from Audible, which follows an all-queer ensemble attempting to steal government sperm (very, very valuable government sperm). Its ridiculous plot is matched with a star-studded cast, which, in addition to Yang, includes Shannon Woodward, Cynthia Nixon, Margaret Cho, Cheyenne Jackson, and many others. Working in an all-queer ensemble was rare territory for Yang, who is one of the first openly gay men to star on SNL, but he didn't realize how great it felt until he looked back on the project.
"There was never a moment where there was a gap in understanding. Everyone was on the same page, and that page is queerness. It's a big page, but it's one page," he says.
While Yang says he enjoyed every aspect of creating the podcast, he was first drawn to the project because of its creator, Adam Goldman, who has become a dear friend to him following their work together on the web series The Outs.
Hot White Heist's six episodes follow a group of queer folks on an action-filled adventure to save the aunt of the heist leader, Judy Fink (Yang), by selling stolen sperm on the black market to fund a private island for a lesbian cult. It's a lot to take in, but you'll have to listen to the podcast to make sense of it all.
"It transcends any cursory discussion about representation," Yang says. "It's a show that is really just a good show."
The podcast comes out June 17, and it is the perfect way to celebrate Pride Month, but it won't be the only way Yang is celebrating. He plans to walk around in five-inch shorts and throw a corporate-themed party to poke fun at rainbow capitalism.
"I just feel like it's my month, you know?" Yang says.