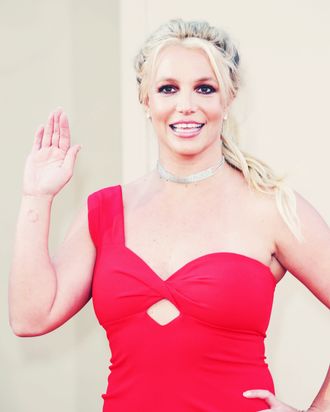 Britney Spears
Photo: Matt Baron/Shutterstock
In her own words, Britney Spears is absolutely "done" with the "abusive" conservatorship that's placed control over her career, her finances, and her personal life firmly in the hands of attorneys and her father for the past 13 years.
"I just want my life back," she told California Superior Court Judge Brenda Penny in a widely anticipated hearing on Wednesday. "It makes no sense for the state of California to sit back and literally watch me … make a living for so many people, and pay so many people … and be told I'm not good enough."
Speaking for more than 20 uninterrupted minutes — save for the judge's intermittent requests that she slow down — Spears publicly aired her thoughts on her contentious legal arrangement for the first time. She did not hold back. The pop star stated that she only recently learned she could petition to end the conservatorship, and emphasized that she has no desire to undergo yet another psychiatric evaluation in order to do so. "I've met enough people against my will. I'm done," she said. "All I want is to own my money, for this to end, and my boyfriend to drive me in his fucking car. And I would honestly like to sue my family."
Yesterday, the New York Times published a report alleging that Spears had been quietly fighting the arrangement for years, and today, she spoke to some of that fight. Spears described the system she says went into overdrive in 2018, when she "said no to one dance move" during rehearsal for a Las Vegas residency. She said she was punished for it — forced to work ten hours a day, seven days a week, or face being barred from seeing her children and her boyfriend. She alleged that she has been medicated with lithium against her will, bullied into rehab, and held inside her home under round-the-clock supervision by a team she pays. She explained that she currently has an IUD, and although she wants to have another baby, her conservators (allegedly) won't let her go to a doctor to have it removed. Comparing the situation to "sex-trafficking," Spears was unequivocal: She is miserable, and she wants out. She told the court:
I've lied and told the whole world I'm okay, and I'm happy. It's a lie. I thought, just maybe if I said that enough, I might become happy, because I've been in denial. I've been in shock. I am traumatized. You know, fake it till you make it? But now I'm telling you the truth, okay: I'm not happy. I can't sleep. I'm so angry, it's insane, and I'm depressed. I cry every day.
Originally, Jamie filed for the conservatorship in 2008, a decision attributed to her alleged "breakdown" (a series of emotional, aggressively publicized incidents that occurred in the wake of her divorce) over the previous year. It remains a legal oddity, both for the length of its duration, and for the fact that Spears appears to be an uncommonly productive entertainer. Guardianships like these are typically reserved for people with severe mental disabilities and elderly people who cannot make decisions for themselves, and yet, since 2008, Spears has made several studio albums, executed a massive world tour, held TV-hosting gigs, and completed a successful Las Vegas residency.
Members of the Free Britney movement therefore view the conservatorship as a potential mechanism for her father to hold his daughter's fortune hostage, an idea he emphatically denies. In 2019, though, Jamie relinquished control over Spears's person for "health reasons," and last fall, Spears petitioned to have him removed entirely, explaining (through her attorney) that she feels "afraid of her father." On Wednesday, she pulled no punches when describing his role in her life, and the legal system that — in her view — enables him to take advantage of her:
My precious body, who has worked for my dad for the past fuckin' 13 years, trying to be so good and pretty, so perfect when he worked me so hard, when I did everything I'm told and the state of California allowed my father, my ignorant father, to take his own daughter — who only has a role with me when I work with him — they sat back and allowed him to do that to me? That's giving these people … way too much control.
Interest in the case has spiked over the past year, to the degree that the New York Times and FX released a documentary examining the conservatorship, and the circumstances that preceded it, in February. Although Spears has largely remained silent on the specifics, she since has expressed frustration and embarrassment with the way the media continues to portray her. In April, the singer made a request to speak through her attorney, Samuel D. Ingham III, who asked that she be allowed to "address the court directly," and on an "expedited basis." On Wednesday, Spears explained her fear that if she spoke openly about her situation, then "people would make fun of me, or laugh at me, or say, 'She's lying, she's got everything, she's Britney Spears.'" Indeed, she added, when she brought her concerns about her father's part in the conservatorship to the court two years ago, she left feeling "like I was dead, like I didn't matter, like you thought I was lying."
"I'm telling you again because I'm not lying, I want to feel heard," she stressed. "I'm telling you this again so maybe you can understand the depth of the damage, and the degree, that they did to me back then. I want changes, I want changes going forward, and I deserve changes." And now, she doesn't feel she "owes anybody." Spears wants the right to appoint her own lawyer, the right to go to therapy in her own home so that she doesn't have to pass the paparazzi on her way out, and to end her conservatorship, without being evaluated.
For her part, Judge Penny praised Spears's courage in telling her side of the story, and while the plan going forward will be hammered out over future hearings, Jamie offered the following statement through his lawyer: "He is sorry to see his daughter suffering and in so much pain. Mr. Spears loves his daughter and misses her very much."