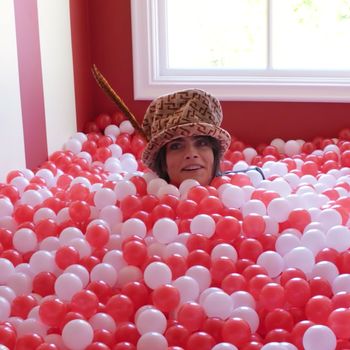 Okay!!
Photo: Architectural Digest/YouTube
Another day, another celebrity generously throwing open their doors to Architectural Digest to show off the bananas interiors that have been meticulously tailored to their eccentric tastes. Through AD's eyes, we have learned that Drake inhabits a luxury mall and that Kim Kardashian (and, at one time, Kanye West) lives in a haunted mansion seemingly designed by and for a fancy ghost and that Dakota Johnson's dead cat is buried near her hot tub. Today, however, is an extra-special day because today AD took us inside model Cara Delevingne's new Los Angeles home. I don't have a suitable adjective to describe the aesthetic, which is … exuberant? freaky? idiosyncratic? … on a scale that crushes Gigi Hadid's famed pasta cabinets into Fruity Pebbles–colored dust.
Delevingne herself describes the vibe as "adult playhouse" and "Mad Hatter" with undertones of "Hugh Hefner" and a touch of the English countryside. I will describe it as a marked departure from the home she shared with her sister ca. 2019 and had previously showed AD, although I guess now we know who spearheaded that abundance of Instagrammy banana leaf. Anyway, this video runs through her recently completed renovation, which is aggressively zany, but at least she's having fun?
I encourage you to watch all 14-plus minutes, but if you don't have that kind of time, some highlights:
• Punishingly hard floors: According to Delevingne, the floors in her new home are so hard that "when you step on [them] too much, it hurts your feet." Admittedly, this sounds like an inconvenient feature in floors, which exist to be stepped on, but Delevingne has discovered a convenient work-around in the pink Razor she bought "so [she] could scoot from [her] bedroom to the kitchen." Sure, why not?
• Custom vagina tunnel: Hidden behind a mirrored panel in a sitting-room wall lurks a pink velvet-and-feather-upholstered vagina tunnel, into which Delevingne purportedly climbs whenever she needs to "think" or "create" or "feel inspired." Her clamber out the other side (through a fake washing machine) didn't quite convince me, but I do appreciate her commitment to the bit. Notably, a vagina-shaped bouquet can be seen in Delevingne's bedroom, presumably for continuity.
• Hat wall as physical metaphor: "A lot of what this house was based on, in my job and everything I do, I wear a lot of different hats, so I thought, anyone who comes upstairs, you have to get a different hat," our host explains of the cubbyhole wall of costume hats that greets visitors as they enter the second floor through a secret passageway located in the billiard room.
• Personal ball pit: Per Delevingne's recommendation, "if you can, everyone needs to have a ball pit in their vicinity" because "you can't cry in a ball pit" and "the balls hold [your] stress." I will have to take her word for it.
• A room that is almost certainly only for orgies: Mirrored ceiling, stripper poles, a swing, and "touchy" fabrics everywhere — welcome to Delevingne's "pink room" or "pussy palace," whatever you want to call it.
• Trampolines built right into the lawn: The Playboy Mansion is a key influence here, recall.
Ha ha, quirky!! And yet, even amid this sea of splashy touches, no room could be made for the storied sex bench? A real missed opportunity, if you ask me.