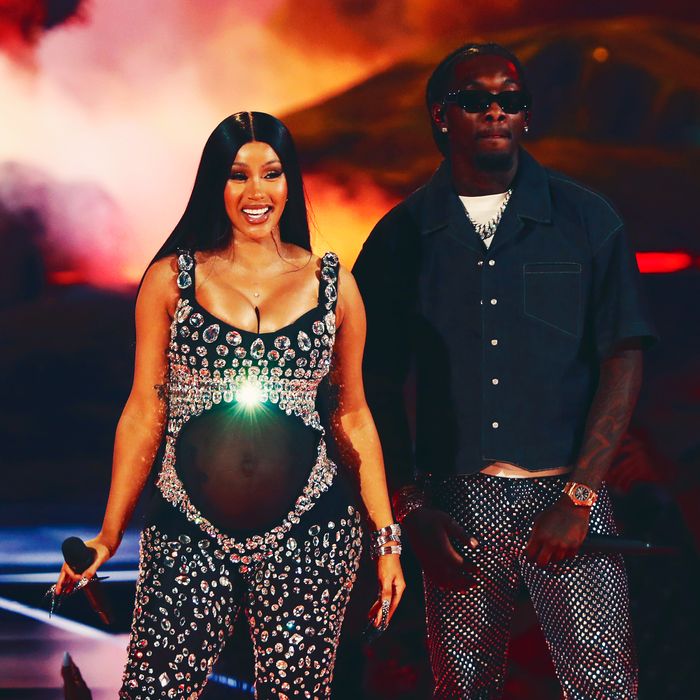 Cardi B, Offset, and baby Bardi No. 2.
Photo: Johnny Nunez/Getty Images for BET
Ding dong! Another Bardi baby is coming! At last night's BET Awards, Cardi B joined Migos during their performance of "Type Shit," and with her she brought a whole entire baby bump.
The outfit! The hair! The trust she had to place in that top lest she accidentally reveal an areola along with her pregnancy. If you'd like a closer look, stylist Kollin Carter showed a close-up of the Dolce & Gabbana bodysuit on Instagram sans belly mesh. After the awards show, Cardi also took to Instagram, sharing a photo wearing nothing but a custom breastplate from artist Misha Japanwala to further confirm that, yes, she and Migos rapper Offset are expecting another child together. (She tagged him as her stomach.)
Cardi B sure knows how to reveal a pregnancy. She debuted her previous baby bump during her 2018 Saturday Night Live performance, confirming that she was very pregnant with daughter Kulture. Though she and Offset announced their divorce the same year, the two appear to have since rekindled their relationship ( … after having broken up and reconciling again).
Cardi took home two awards last night, including Video of the Year for "WAP," her hot-girl anthem with Megan Thee Stallion. However, Cardi didn't go onstage to accept the award because, according to her Instagram story, her "vagina hurt too much" after her performance.
Big congrats to Cardi B and and Offset on baby No. 2, and Godspeed to Cardi's vagina.