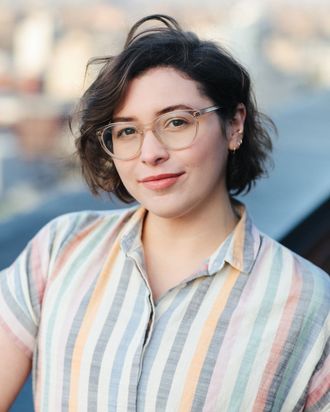 Casey McQuiston believes you can tell a lot about someone by their bagel order. The author of Red, White & Royal Blue — the candy-hued queer-romance novel you have most certainly spotted in a bookstore by now — likes a toasted everything BEC with pepper jack and hot sauce. When she shares this on a gorgeous May afternoon at Julius', widely recognized as New York City's oldest gay bar, it makes perfect sense to me as someone who prefers toasted everythings with sausage and egg, no cheese. The stories McQuiston tells have felt warmly familiar but dreamily out of reach — literally a spicier version of my own life.
Bagel orders also play a small but crucial role in her latest rom-com novel, One Last Stop. In the book, lifelong loner and college super-senior August discovers that her subway crush, a leather-jacket-wearing butch bombshell named Jane, is mysteriously trapped on the subway after being transported in time from the 1970s. Jane barely remembers who she is or what life was like before. So August — in a bit that's part 50 First Dates, part Groundhog Day, with a little bit of Rent's "Seasons of Love" — starts showering her with new combos of carbs and caffeine to jog her memory. (A chocolate chip bagel with peanut butter eventually does the trick.) Later, they discover an even stronger memory trigger — kissing — and start making out up and down the Q train, trying to help Jane remember what it felt like to be alive.
Perhaps you can relate. If you, too, have been fantasizing about putting your lips on a stranger's — or at least that dish from the restaurant you haven't been to in months — then One Last Stop has arrived at the perfect time: a kind of how-to manual for your hot vaxx summer that McQuiston started working on in 2018. "I think I accidentally wrote a quarantine book," the author says shortly after sitting down. "There's a lot about feeling isolated and feeling trapped and emerging back out into the world, blinking into the sun," which is exactly what we are doing on this day: sitting at a street-side table, vaccinated and maskless, enjoying Lorde-tier onion rings and gin-and-tonics, dusting off the cobwebs of our personalities and having flashbacks to when meeting up with friends did not require Olympics-level logistics coordination.
One Last Stop is a tribute to the "dumb, small life things," as Jane — in possession of a heartbeat but not quite of this world — longingly refers to them: "My dim sum place. The cat in my bodega. Banging on the ceiling because the neighbor was practicing his trombone too loud, you know? Dumb shit. I miss figuring out scams with my friends. Having a beer. Going to the movies."
In person, McQuiston, who is 30, shares some of the qualities of her characters: Namely, she's wearing a sick leather jacket of her own and is quick to dispense a pop-culture reference to make a point. Her books play with classic rom-com structures — sworn enemies fall in love, a chance encounter with a girl turns into a sprawling adventure — but are littered with enough nods to group chats and Lana Del Rey that they feel both entirely of the moment and like a relic of a bygone era of movies. They can be achingly earnest at times but never sickeningly sweet. "I want that moment you read a really good kiss in one of my books to feel like you're watching 10 Things I Hate About You and Heath Ledger and Julia Stiles are kissing in the parking lot and Letters to Cleo is playing on the roof of the school," she says. "That's the vibe."
It's a vibe that resonates deeply. Red, White & Royal Blue, the sweet but extremely horny story of America's First Son and Buckingham Palace's bachelor prince falling in love, is in its 22nd printing, is getting developed into a movie, and has inspired a whole mini-Etsy economy of unofficial merch. Meanwhile, Brooklyn indie bookstore Books Are Magic recently posted a photo on Instagram of boxes containing over 1,500 copies of One Last Stop — its most preordered title ever, the store confirms — and held a midnight launch event to celebrate its release.
McQuiston is a little ambivalent about the attention. She keeps a lot of her life private — "At the end of the day, I'm just a person who rides the subway and eats my Trader Joe's meals" — and is eager to acknowledge the authors who paved the way for queer love stories like hers. Being seen as a trailblazer doesn't sit right with her — she's just here to show you a good time. And at a moment when there's no shortage of columns dedicated to giving romance novels the respect they deserve, McQuiston also seems content with not taking her work too seriously. Frothy fun is important. "I feel like we have this black-and-white convo about certain types of media, where either it's highbrow art, which is a silly term to begin with, or it's candy with no nutritional value," she says. "To me, it is more like a very delicious tart. It's got fruit in it, with vitamins and minerals, but it's also full of sugar."
In a way, One Last Stop is actually McQuiston's second quarantine book. When Red, White & Royal Blue came out in the spring of 2019, it briefly cracked the New York Times best-seller list before dropping off — a word-of-mouth success story that surprised even her publisher. But in the past few months, it's returned to the chart several more times. McQuiston credits some of that to young people on BookTok, the thriving book community on TikTok, who just started posting about it. But there's also no cure for pandemic reading ruts like a sexy, grab-you-by-the-lapels bicontinental love story, especially one involving such far-flung fantasies as a functional government. If One Last Stop is for fumbling your way back into your life in year two of the pandemic, Red, White & Royal Blue was for trying to escape it in year one.
"I think it's no coincidence that it really came back in full force in the fucking dead of winter," says McQuiston, who worked in magazines prior to becoming an author. "It was originally intended to be escapism for people who were feeling really fucked up and sad about the state of shit in America. And then out of nowhere, a pandemic happens and it became, 'Imagine if you could leave your house. Imagine if our world wasn't on fire.'"
Because of their striking pastel covers, McQuiston's books are sometimes mistaken for young-adult novels, no matter how many reminders she tweets otherwise. That's because the YA world moves a little faster than other corners of publishing when it comes to depicting queer love stories, and because, in the past few years, there's also been a trend of publishers giving romance novels illustrated covers to reach readers who might not think of themselves as "romance readers." This can cause some issues — like the Karens who are unprepared for sex scenes and leave negative reviews — but it also means that, for many, McQuiston's work can serve as a kind of gateway drug. "Mostly, I just don't want people to open up the book and be 13 years old, like, 'Oh my God! I didn't know what I was getting into,'" she says.
I confess to her that I was one of those people: blushing on the subway, looking over my shoulder when I opened the book in public. At times, reading Red, White & Royal Blue next to my partner before bed felt as vulnerable as if I had just been watching porn a few feet away. (And McQuiston's sex scenes aren't even that explicit, as far as romance novels go.) She laughs at this. "I really enjoy watching people experience romance for the first time, because I think it's fun to watch people get flustered," she says, but she relates: When she was 12, she stole a Janet Evanovich paperback from her older sister and had a similar reaction. "The first time you read a romance novel and you discover what's possible, it's like, 'Whoa, whoa, whoa! I didn't know this was allowed!'" Besides: What is good art if not something that can make you feel like a teenager all over again?
When coming up with the plots of her books, McQuiston has aimed for big, trope-y loglines so irresistible their queerness won't keep them out of the mainstream. But often, the star-crossed lovers are just a hook for something deeper. Like some sort of literary Magic 8-Ball, McQuiston's work has the power to reveal your own latent desires back to you. While reading One Last Stop, I felt pangs of envy for August's roommates and neighbors, a ragtag crew of artists and queers whose daily high jinks felt so different from my own 20s but still attainable enough that it triggered FOMO nonetheless. The last time I picked up Red, White & Royal Blue, the sad little nostalgia I remembered feeling at the end started creeping back before the protagonists were even in the same room; just being a fly on the wall among these characters was enough. What I wanted, I realized, was to fill a special kind of loneliness — to have a stronger connection to the queer community in my own life.
McQuiston did not seem surprised to hear this. ("Oh my God, you can have some of my gay friends!") There is something quintessentially queer about obsessing over the life you want versus the life you have. "You do have this beautiful fantasy where you're just surrounded by people who get you all the time," she says. This is especially true for queer people who do not come from a particularly welcoming environment, as she did — McQuiston grew up in Louisiana, attending Evangelical school by day and Catholic Mass on the weekends.
"People always describe my books as wish fulfillment because of the fantastical romance elements and the happily-ever-after elements," she says. "But to me, wish fulfillment is, Imagine if I had managed to stumble into this beautiful queer ecosystem and was just absorbed into it — instead of what is more common for a lot of queer people, which is slowly patchworking that together over years and years."
McQuiston's books have given her some epiphanies of her own. As she gets older, she notices that wish fulfillment for her starts to look a little smaller, a little more intimate — like the quiet joy of a roommate making you a cup of tea. A few months ago, the New York Times inspired a Twitter meme when it published a story with the headline, "You Can Be a Different Person After the Pandemic," and McQuiston could relate. She was initially dreading her 30th birthday this past January, but came to see it as transformative.
"I have this new sense of, 'I'm not going to apologize for fucking anything I choose to do in my life,'" she says. "If I choose to make myself a cocktail at 4 p.m., it's because I'm a fucking adult who pays my bills." Thirty is the age you give up making yourself do the things you don't want to do. Thirty is the age you stop doing anything for the 'gram. "I feel like I've put a lot of pressure on myself in my 20s to live it up," she continues, but you don't measure a life by how closely it resembles some grand Sex and the City fantasy. You define it, of course, by the dumb, small life things. "I don't know anybody whose life is clubbing," she says. "Well, that's a lie — I do have some friends whose life is clubbing. But most of the people I know, our lives are just dive bars. Our lives are bagel shops."
After we wrap drinks, McQuiston slinks off to meet up with a friend while I head back to the subway. It had been my first time taking public transportation in over a year. On the way in to meet up with McQuiston, something strange happened — or maybe it happens all the time, and I just never noticed it before. While pulling out of a station, there was some sort of spark, and out of the corner of my eye I caught a flash reflecting off the side of a train car. I looked around the car, trying to make eye contact with another passenger to see if they'd seen it too, but everyone was either looking off to the side or at their phones. My heart was racing a little, but I don't think I wasn't scared — just in disbelief that, for the first time in forever, I also had a dumb, small life thing to share.