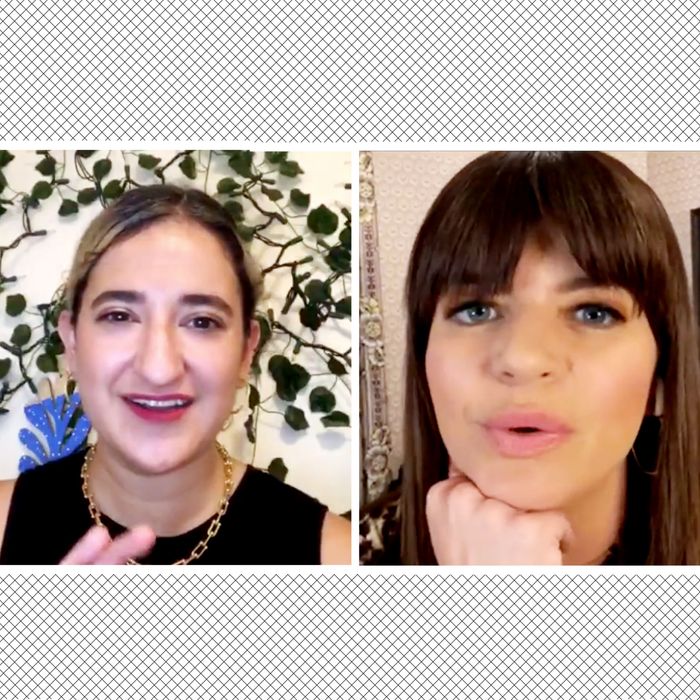 Casey Wilson is, first and foremost, a hilarious person. She is probably best known for her work on Happy Endings and her Real Housewives parody, The Hotwives, but lately, she's doing much more than acting. While starring in the Showtime comedy Black Monday, she just released her new book of comedic essays, The Wreckage of My Presence, last month. You can also hear her hilarious takes on her weekly podcast, Bitch Sesh: A Real Housewives Breakdown, on which she and her good friend and fellow comedian Danielle Schneider talk about their obsession with (you guessed it) The Real Housewives.
This week, Wilson joins our latest Cut Chat to talk to Cut senior editor Kerensa Cadenas about her new book, her jealousy of Paul Rudd's eternal youth (after working with him in her upcoming Apple TV+ show, The Shrink Next Door), and more.
On writing The Wreckage of My Presence: 
It was very cathartic, which seems almost cliché. I closed a chapter, in a way, on childhood stuff. If anyone is struggling with childhood stuff or making sense of their origin story: Write a book! It's very helpful. I hope my children never read it.
On waterbeds and being a bed person and a bath person: 
In my perfect world, waterbeds would come back, and I'd combine [working in bed and in the bath]. My parents had one; it just never had water in it. It didn't feel as high-end as I wanted it to feel. It looked like you blew up a pool toy. I'm always looking to be a spokesperson for things people don't want me to be. I'd love to get into the waterbed business. I'm a Taurus moon, which is why I like the bath and the bed and not moving.
On being the nosy neighbor in Gone Girl: 
We filmed it in the middle of nowhere in Missouri. We all stayed in this Motel 6 together. It was a dream to be in it. I love David Fincher. He was so kind and cool. The whole cast was awesome. I think I just annoyed everyone with my accent. I had a dialect coach, and he was like, "This is the accent that is used in that particular region." I got there, and no one was doing an accent and mine just sounded southern. But David Fincher was like, "Let's just do it." I think I was led astray, but I think it was the universe protecting me.
On what your drink says about you:
I'm into a margarita, a rosé, or an orange wine. Non-cool girls can never get into a brown liquor. Whenever I see a girl drinking just a bourbon on the rocks, I'm like, Yeah, you're cool. Dirty martini to me is like Samantha Jones, like, dirty martini. I went to dinner with my girlfriend Jessi Klein, and she was just drinking martinis with olives and I was like, You're cool. And that's just that.
On her new limited series, The Shrink Next Door: 
It's a great cast. I'm just happy to be there. It's about this podcast called The Shrink Next Door about a shrink who took advantage of his client. Thriller is the wrong word, but it's almost in line with a NXIVM kind of thing. Paul Rudd plays the therapist, and Will Ferrell plays his patient. It's going to be such a great show. We filmed it for like six months over the pandemic.
Up close, Paul Rudd is 14. He's so young looking. I'm like, What am I doing wrong? I was trying to get into his diet and his workout routine, and … he's doing a lot more than I am.