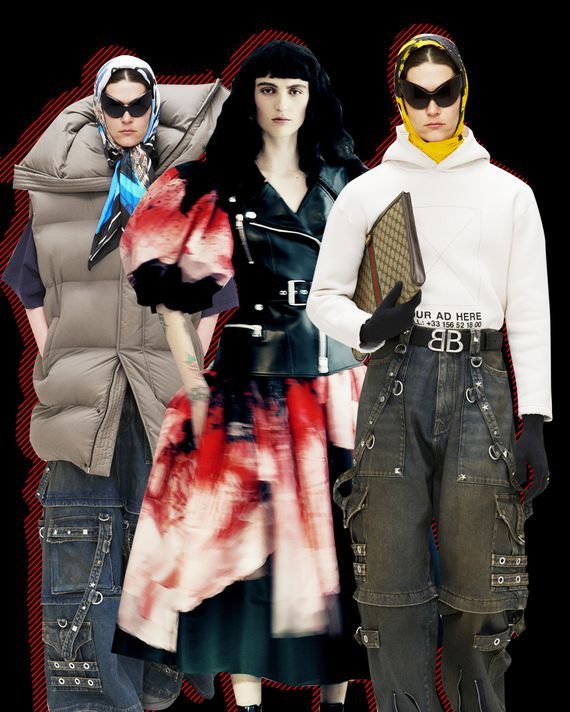 Left to right: Balenciaga, McQueen, Balenciaga.
Photo-Illustration: by The Cut; Photos: Courtesy of Balenciaga, Alexander McQueen
A year ago, as the reality of lockdowns and social distancing sunk in, designers wondered if things would ever be normal again. At home in Switzerland, Demna Gvasalia did too — up to a point. "I mean, fashion shows and a row of cars waiting for people outside — does it all make sense?" he said. "To me, it hasn't made sense for a long time already." The pandemic has been a creative anvil for many designers. Think of Jonathan Anderson's freewheeling volumes, the sharp modernism of Daniel Roseberry at Schiaparelli, the new range of Christopher John Rogers, and Virginie Viard, whose work at Chanel has acquired a nice, less-scripted edge. At Balenciaga, Gvasalia sought to bring more 21st-century reality to the way clothes are viewed, by using A.I. and gamer technology, as well as video. Once known for his elaborate staging, he's really escaped the limits of the runway.
Now he has presented his spring 2022 collection three months ahead of his peers, and again the mode of expression is in sync with the times. Essentially, the entire show — the models trooping down a catwalk, the black-clad audience looking on — is a ruse. There is, in fact, only one model, the Balenciaga regular Eliza Douglas. The rest of the girls are digital clones of Eliza, or Eliza with a wig, dark glasses or scarf. This is pretty genius: Why employ a whole cabine when you can clone one! The audience is also fake, though this was obvious. Everyone looked generic.  Or do fashion people actually look generic to an outsider — the same wardrobe, the same posture and frowns, the same … black cars?
Two years ago, Gvasalia did a marvelous show (set in a parliamentary-style assembly room) around the notion of power dressing and also how the media influences our perceptions. This latest show played with images and the hazy, creepy, now-familiar area between fact and fiction, the genuine and the counterfeit. The plainest example in terms of the clothes was Gvasalia's take on the Gucci logo, a kind of riposte to Alessandro Michele's use of Balenciaga's name in April, part of what the designers call the Hacker Project. Instead of double GG's on a belt buckle, Gvaslia has subbed in BB, as if the logo, and the aura around it, is mutable.
But what I liked most about this collection is the way Gvasalia further stepped away from classifications, whether "high" and "low," "modern" and "classic couture." There are, in fact, a lot of couture references, from the theatrical gesture of a high collar on an otherwise plain down vest or jacket, to the swagger of a big overcoat, the front drawn to one side in the style of models in 1950s photographs. Except a fat pin is holding the coat closed. To me, that gesture harked to the work of Yohji Yamamoto, who often delighted in the imagery of Parisian elegance and then broke it down.
So be it. That process of conversing with the past, altering shapes, is what keeps fashion moving forward. And Gvasalia is extremely forward-minded. One of the most elegant looks in the collection, I thought, was a loose-fitting, slightly off-shoulder jumpsuit, seemingly in black denim, with raver-style trousers. Other raver pants came with "Balenciaga" written in script on the bias, but despite the informality of denim, the effect was quite elegant and polished. A slim-fitting black leather dress was the counter-example: It fit with couture precision and required no details.
On July 7, Gvasalia will go live — that is, with an actual audience — for the first Balenciaga haute couture collection in several decades. It's been in the works for awhile, and it will almost certainly allow Gvasalia to veer into new territory as he considers the profound shifts of the past year.
Also out this week is Sarah Burton's fall 2021 Alexander McQueen collection, its release timed closer to store deliveries. Inspired by flowers — anemones and water lilies — and photographed by Paolo Roversi, the collection continues Burton's theme of "everyday couture." That means lightweight fabrics like poly-faille, poly taffeta, and denim, all rendered with McQueen-level craftsmanship. Among the standout pieces are full-skirted dresses with a blossomy image of an anemone — after it has been crushed, photocopied, and printed. The effect is at once gorgeous and offhand. The lilies appear as almost watery looking, silver-embroidered blooms on T-shirts, sometimes draping below the hem and worn with cigarette pants and white sneakers.
That's the mood: refined yet casual. By the way, in her pre-fall collection (released in May), Burton pivoted slightly from the sharp-shoulder tailoring that McQueen is known for, and indeed which is everywhere for fall. Tailoring is one of the biggest stories, as if timed for the return to offices and dressing up. Burton showed a double-breasted coat in navy cashmere with a softly built-up shoulder, not a razor line. It comes with a hefty price tag ($3,450), but, more, it comes with a built-in sense that the wearer is already distinctly and quietly different.