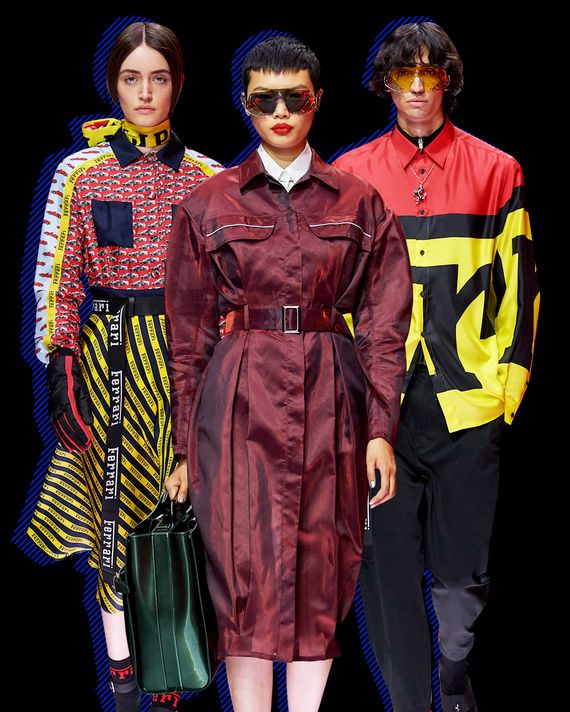 Photo-Illustration: by The Cut; Photos: Courtesy of Ferrari
On Sunday, Ferrari, a company best known for fast cars, entered the luxury-fashion arena. With its state-of-the-art assembly plant as a backdrop, it showed its first collection, by Rocco Iannone, a former Armani menswear designer.
Ferrari is headquartered in Maranello, a town of 18,000 in northern Italy. In its backyard are the powerhouses of Italian fashion: Zegna, Gucci, Prada, Max Mara (in nearby Reggio Emilia), and, of course, Giorgio Armani. Some, like Zegna, have roots going back to the early-20th century. Even older, and testier, is the competition between Italian and French luxury-makers for global dominance. It reaches back to the 1600s.
So you might ask: What business does Ferrari have making clothes and fancy handbags, however prestigious its name? A cynic might even say, looking at Ferrari's dismal Formula 1 performance — last year was its worst record in four decades — that maybe the company should stick to driving. There's also the matter of consumers, who are more informed than ever. How many people, however rich, want a silk shirt emblazoned with the red Ferrari logo when they could have an Hermès or a Chanel or, for that matter, something completely obscure and interesting?
The answers to these questions are actually relevant to the industry as a whole, especially as it emerges, fitfully, from the pandemic. The fact is luxury-goods-makers will continue to cede ground to other types of businesses, just as legendary fashion houses have sought to embrace young consumers, those hooked on social media and pop culture rather than brand heritage. Rocco Iannone, in a Zoom call, kept using the term "fluidity." He mainly meant gender fluidity — the majority of the clothes in the collection are meant to be worn by both men and women — but he also meant openness too.
"I don't want to waste time with prejudice," he said. "I don't want to waste time with people who will never understand, who are perhaps too conservative or too closed in a way to perceive the world or the fashion. I want to talk to audiences who are free of boundaries."
He added, "Because the most important thing, in the end, is to create the right narration, with the right codes — but well done. Well done: This is the secret."
Iannone is quite correct. But then anyone who has been to the Maranello factory — campus is more like it — would understand that. I made a pit stop at Ferrari about eight years ago to see how they do things. I'm tempted to say that the factory floor is so spotless you could eat off it, but why would you when the employee cafeteria serves such delicious food? Long before other carmakers hired star architects to design their facilities, Ferrari, in 1997, tapped Renzo Piano for its wind tunnel and, later, Marco Visconti and Jean Nouvel for other buildings. Given that its road cars start at around $225,000, it's hardly surprising that the technical and custom flourishes are dazzling and can make hidebound fashion brands seem dull. There's one department at Ferrari devoted to repairing vintage cars — in case postwar Italian glamour is your thing. At the same time, the company has been recognized for giving equal pay to women, and it has a female driver in its racing school. That makes sense. As Nicola Boari, the chief brand-diversification officer, who was also on the Zoom call, said, the largest number of female Ferrari car owners are in China. And China accounts for 10 percent of its business.
I asked Boari how many active Ferrari owners there are worldwide, and he said over 40,000. He stressed that although "our owners are going to love" the fashion line, the company wants to appeal to a wider, in particular younger, audience. No doubt. But I had asked the question because its big-spender data must be extraordinary, and high fashion offers another way to leverage this engagement. Many luxury brands, like Louis Vuitton, spend a lot of time courting big spenders, flying them to shows and so on.
And consider the built-in media exposure that Ferrari has in F1: More than 400 million viewers tune in to those races. If fashion people think they have a sugary perch on the front row in Milan and Paris, they've never been in the paddock — the team and media enclosure — at an F1 race. Or in Monaco during the Grand Prix.
"We know it's an incredible opportunity for us," said Boari.
The company plans to open a revamped boutique in Milan — designed by the architect Simon Mitchell — and then launch shops in Los Angeles and Miami, which will host Formula 1 in 2022. The Maranello flagship opened this weekend.
What is impossible to overstate is the aura around Ferrari, which stems as much from its sleek designs and speed as its legendary drivers and owners. No one is more mindful of that than Iannone, who has spent the past 18 months on this project. He told me, "It's not just something about the car. It's also about the icons who told the Ferrari story — from cinema, music, and television. And also art. Ferrari was an inspiring element in Pop art and contemporary art." In his deep dives into the company archives, he found illustrations for the covers of its in-house magazine that were very futuristic.
That explains the graphic, almost Pop use of imagery in Iannone's collection on Sunday — an abstracted Ferrari logo on shirts, a dense silk print of tiny cars that resembles foulard for a pajama-style pants and top. Ferrari would seem a natural for accessories, from sunglasses (co-branded with Ray-Ban) to sneakers (Puma). Wisely, Iannone played up the big categories of outerwear and knits, with a dose of polished streetwear — and largely left business tailoring to the Zegnas.
He acknowledged that Demna Gvasalia of Balenciaga is a master at balancing street with elegant silhouettes that draw on the line's history, without being reverent. And like Gvasalia, Iannone knows that young consumers don't necessarily have a deep knowledge of a brand's heritage. "Awareness, yes," he says. That means designers are free to play.
Indeed, if there's any fault with this very solid first effort, it is that Iannone might have been more playful — looser and a touch wittier with the silk iconography prints, in particular. And though sex appeal might be a fatal cliché for Ferrari, it ought to present an intriguing design challenge for the next collections. Sex is certainly part of the myth.