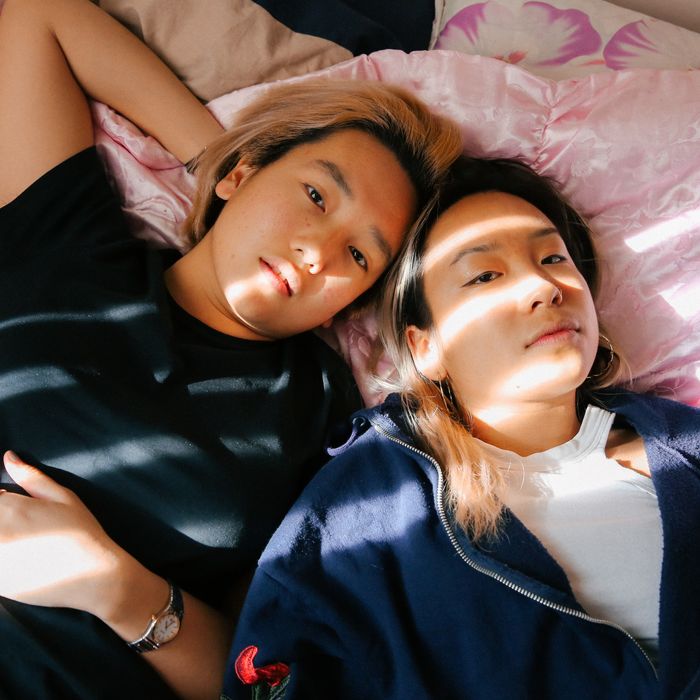 "KIN, 2017"
Photo: Mengwen Cao/TRNK
Last year during Pride Month, Tariq Dixon, the co-founder of the home-furnishing studio TRNK, curated the wonderful exhibition Mien to uplift Black and brown queer voices. This year, Dixon is expanding his vision with a new curation, Chosen, which builds upon the conversation Mien started and reflects on the community's experiences in 2020.
"It's about celebrating the nuances and diversity of queer identity, beyond mainstream understandings and depictions," Dixon says. "The topic of Chosen, which centers the ways queer people have redefined family beyond biology, felt especially timely after the year we've all just endured."
Chosen showcases "chosen families" within the LGBTQ+ space, depicting everyday acts of love and intimacy. The photo curation is a testament to the way many members of the LGBTQ+ community redefine family after being discarded by their own. It features work from eight queer artists of color: Myles Loftin, Coyote Park, Clifford Price King, Groana Melendez, Golden, Alexis Ruiseco-Lombero, Mengwen Cao, and Ka-Man Tse.
"Being both queer and of color, merely living our truths is an inherently political act," Dixon says. "But that shouldn't be the case. The more we amplify these voices and celebrate the ways in which these artists (and larger queer communities) are reshaping the world, the sooner we'll all get to enjoy a safer, more loving, and inclusive society."
Dixon collaborated with Alyssa Nitchun, executive director of the LGBT-focused Leslie-Lohman Museum of Art, to bring the project to life. The opening of Chosen was celebrated with an opening dinner and party at the Standard, East Village, and the artworks will be on display in the museum until August 1 as part of a rotating exhibition.
"It's critical for Leslie-Lohman Museum of Art to be an institutional voice for big change in representation and leading by example, providing opportunities for queer artists and creatives of color to show their work," Nitchun says.
The images are available for purchase, both framed and unframed, with prices starting at $150. Proceeds from sales will be split among the artists, with 25 percent going to the Leslie-Lohman Museum of Art.
View all the works available to purchase below.