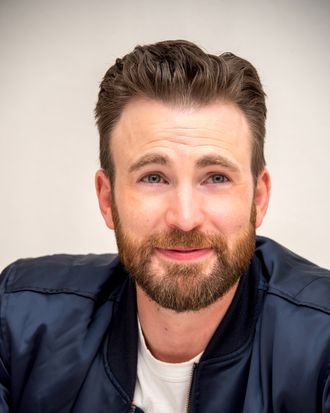 Which one is this one?
Photo: Vera Anderson/WireImage
Well, the Hollywood Chrises are in on the joke now, and it appears they will not be dropping it anytime soon. In October, an informal ranking of these Chrises — in alphabetical order by last name: Chris Evans, Chris Hemsworth, Chris Pine, and Chris Pratt, four men who are similar in their height and age and whiteness and sandy hair, and also the frequency with which appear in action movies — led a number of celebs to the spirited defense of Pratt, deemed the Worst Chris by Twitter. Again, the whole thing was a joke, and it lost a lot of its funny when the famous people got hold of it. However! The Chrises themselves appear to get a kick out of it all these months later, and perhaps that is what counts.
See as evidence: Chris Hemsworth's birthday tribute to Chris Evans, who turns 40 today. In celebration of this milestone, Hemsworth posted a photo of himself posing alongside — haha — Chris Pratt, captioning the pic: "Happy 40th birthday Chris Evans, you'll always be number 1 in my book." Get it??
I will admit, it took me a moment to locate the punchline, because it really can be hard to keep all the Chrises straight. But "Page Six" interprets this content as a friendly little roast among Chrises, casting Evans as the Worst Chris. And even though I know nothing about the Chrises' individual personalities, save for the fact that Pratt might be a secret Republican, it seems like Evans sits toward the top of the Chris pile. I am basing my assessment on his ability to wear a sweater and the fact that a "GUARD. THAT. PUSSY." meme lives on his camera roll and also on his public flirtation with Lizzo. Obviously not the worst Chris, if possibly not the best. (That may well be Christine Baranski, but we are all entitled to our own opinions.) Anyway, happy birthday to this man, and glad to see the Chrises are having a nice time.