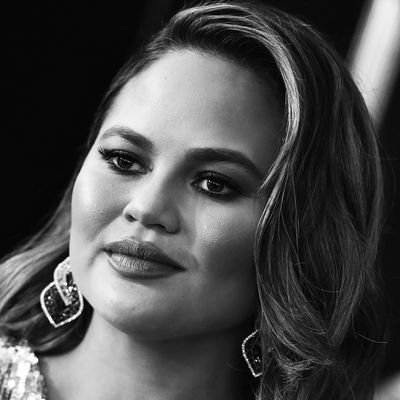 Photo: Axelle/Bauer-Griffin/FilmMagic
Last month, reality-TV personality Courtney Stodden gave an interview about the intense media criticism they faced after their public marriage to 51-year-old actor Doug Hutchison in 2011, when they were 16. During the interview, Stodden specifically mentioned Chrissy Teigen's past harassment on Twitter, resurfacing multiple old tweets in which Teigen told Stodden to kill themself. In addition to public tweets telling Stodden to take a "dirt nap," Stodden said Teigen also sent private DMs saying "things like, 'I can't wait for you to die.'"
A few days later, Teigen addressed her past harassment of Stodden in a Twitter thread saying, in part, "I am mortified and sad at who I used to be. I was an insecure, attention seeking troll." Stodden responded on Instagram saying, "I accept her apology and forgive her. But the truth remains the same, I have never heard from her or her camp in private."
Now, after a month of remaining mostly silent online, Chrissy Teigen has posted a longer public apology regarding her past behavior. "I want you to know I've been sitting in a hole of deserved global punishment, the ultimate 'sit here and think about what you've done,'" Teigen wrote. "Not a day, not a single moment has passed where I haven't felt the crushing weight of regret for the things I've said in the past."
She went on to say she is "truly ashamed" of what she's previously posted online, which also includes past harassment of other celebrities like Lindsay Lohan and Teen Mom's Farrah Abraham. "I'm in the process of privately reaching out to the people I insulted," she said. "It's like my own version of that show My Name Is Earl!" Teigen acknowledged that some of the people she has reached out to may not want to speak to her. "I don't think I'd like to speak to me. (The real truth in all of this is how much I actually cannot take confrontation.)," she wrote. "But if they do, I am here and I will listen to what they have to say, while apologizing through sobs."
Teigen also talked about how she initially used social media as a way to "snark at some celebs." "I thought it made me cool and relatable if I poked fun at celebrities," she said, adding that now she "cringe[s] to [her] core" when remembering her "asshole past." Teigen wrote, "I was a troll, full stop. And I am so sorry."
She said therapy and life experience has made her more empathetic. "I'm more understanding of what motivates trolling — the instant gratification that you get from lashing out and clapping back, throwing rocks at someone you think is invincible because they're famous," Teigen wrote. "Also, I know now how it feels to be on the receiving end of incredible vitriol. Believe me, the irony of this is not lost on me."
Teigen's letter concludes, "We are all more than our worst moments." She said she isn't asking for forgiveness, "only your patience and tolerance," adding, "I ask that you allow me, as I promise to allow you, to own past mistakes and be given the opportunity to seek self improvement and change." If the comments on her tweet are any indication, her new apology is being met with skepticism from some, especially those who are dubious that the statement isn't just an attempt to mend her public image.
After the tweets harassing Stodden initially resurfaced, multiple brands including Macy's and Bloomingdale's reportedly dropped their partnerships with Teigen. Stodden also speculated that Teigen's initial public apology was fueled by losing brand deals. "It feels like a public attempt to save her partnerships with Target and other brands who are realizing her 'wokeness' is a broken record," they wrote on Instagram.
Stodden has not yet addressed Teigen's new statement. You can read the apology in full on Medium.