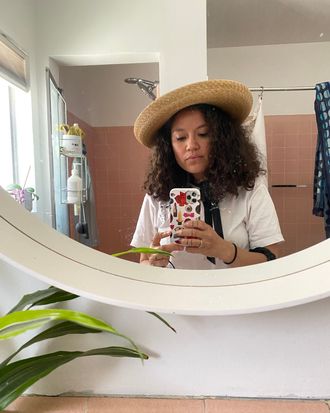 Courtney Bagtazo, or Coco, as she is known to friends, launched her company by accident. She simply began selling her handmade hats to interested people when she was out wearing them herself, and things snowballed from there. But don't mistake her unique beginnings for a lack of experience. Bagtazo started making her own jewelry at just 5 years old and has been working in fashion for 20 years. She launched her eponymous brand in 2014, and it's gained a following for its hats, which are both genderless and fashionable (an unfortunately rare combination).
Remaining true to her brand's origins, she says she would never sell something she wouldn't wear. "My main rule with Bagtazo is that I want the customer to look like they already owned the piece they got from me, so while Bagtazo is an extension of my style, I also see it as something that transforms with the wearer."
We spoke with Bagtazo about hats, how she prefers to spend a night out, and her favorite beauty products.
What's one of your hats that's especially meaningful to you?
The Hara Cartwheel hat is one of my most favorite pieces. I had planned to make something else, but when the base of the hat came back from blocking, I started messing with it, turning it inside out and sewing it to hold a new shape. The brim is entirely hand-formed, and the base is from a vintage block, probably 1940s. I love Joan Crawford, and the Hara gives off "Joan Crawford prowling an Art Deco Hollywood lounge" vibes.
How do you thank someone for a gift?
I am a terrible gift-giver and even more awkward when I receive one, but I've been learning to accept gifts better lately since my friends have been mailing me things a lot. I make sure to reciprocate whenever someone gives me something.
What would you never wear?
In fashion it's hard to say never, but there's a lot of things I appreciate on others and wouldn't wear, including dad hats, beanies that stick off the top of your head, expensive handbags, plastic beaded jewelry, mostly everything that's back on trend that I wore in the '90s, and anything bought on Amazon.
What's your dream vacation?
Not having to work or answer emails for two weeks. I'd love to take a whole month off.
What's a good book on your coffee table right now?
My favorite of my art and fashion books are: Anni Albers: Notebook 1970–1980, Paul Rand: A Designer's Art, and Common Time: Merce Cunningham.
Last show you binge-watched?
I really just am not into watching shows. If on a fluke chance I do watch, it's usually period pieces with gangsters. I did, however, get into Euphoria during quarantine. It was great because it was the first time I felt like Hollywood actually depicted me and my friends. I grew up around a lot of partying, promiscuity, and substance abuse amongst my peers, and it was refreshing to see this lifestyle neither glamorized nor ostracized. I also think it showed the trans femme experience well, and helps explain why trans women especially fall victim to violence (spoiler alert: It's the patriarchy). I also loved the makeup. I bought some pieces from the makeup artist and wear them quite a bit, and spent a lot of last summer testing out my colored-eyeliner game because I loved Jules.
 What's your guilty pleasure?
I don't believe in guilty pleasures. I do what I want when I want to. If anything makes me feel guilty, I make sure to stop doing it or find a replacement that doesn't make me feel bad.
Secret to hosting a good party?
I am a fantastic party thrower, if I do say so myself. Make sure there's room to dance, lots of food, and a few good playlists that can be changed with the vibe as needed. Also, never be afraid to ask someone to leave if they suck. And more importantly, don't let people who suck into the party.
What is a trend that you like right now?
I'm loving all the color clashing and pattern mixing going on. I don't necessarily dress like that myself too often, but I get excited when I see it on others.
One you don't understand?
Calling pleather "vegan leather." Let's be real: It's plastic and bad for the earth.
What's the one thing you could eat every day for the rest of your life?
I would eat shrimp cocktail, oysters, or mussels daily, but I don't think I could actually do it in practice. In reality, the only answer is cheese.
Shoes you wear most often?
I live in my Michons Marigot platform slingbacks, as well as my neon Dansko clogs. At home, I rock fuzzy slingback UGGs. I'm shocked to say it, but I love them!
What are four inanimate objects that bring you joy?
I love what it does for my skin's hydration, and I'm super into the fact that it's affordable. I used to use several pricey skin-care products, but it made me feel guilty for splurging since skin-care products need to be replenished so often. This product really works and doesn't invoke spender's remorse.
Especially during the pandemic with mask-wearing, I love this stuff. I use it nightly before bed to keep my lips hydrated. I avoid petrochemicals on my skin, but I want my lip product to deliver a little more than Burt's Bees or something, so this is perfect.
Before the pandemic, I got monthly facials at Heyday, and I added red-light LED therapy to boost collagen. I sometimes also did blue light if my skin was being fussy. This at-home treatment works just as well as the salon treatment. I use it at least a few times a week, and I love that it has several color LED settings to address a variety of skin concerns. The mask looks ridiculous, but I'm glad I didn't get a handheld device because it's bad enough I have to hold my phone up all the time. It's much more affordable than getting a monthly service, though I do very much miss getting regular facials.
I use the sugar scrub in the evening, and the coffee scrub in the morning. I love exfoliating, especially in preparation for something I'm looking forward to. I don't know why, but doing extra steps in self-care, even before a Zoom interview, makes me feel like I can bring it that much harder.