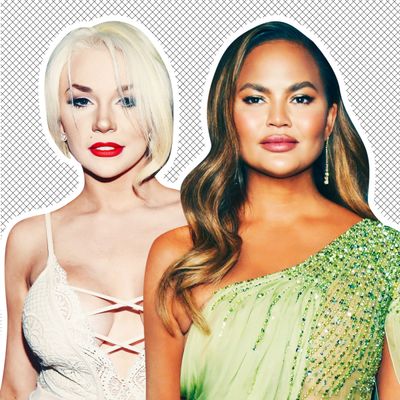 Courtney Stodden and Chrissy Teigen
Photo: Getty Images
Last month, the Daily Beast published an interview with Courtney Stodden, the reality-TV personality who faced intense media criticism after marrying 51-year-old Doug Hutchison in 2011 at the age of 16. Though Hutchison, an acting coach who appeared in The Green Mile, was the adult in relationship, and though Stodden says he was mentally and emotionally abusive, Stodden bore the brunt of the public abuse. After their divorce was finalized in March of last year, Stodden — who identifies as nonbinary — said they felt Hutchison had "groomed" and "absolutely taken advantage of" them, even as outside observers cast them as the villain.
One repeat offender, according to Stodden, was Chrissy Teigen: The now-26-year-old told the Daily Beast that Teigen repeatedly encouraged them to kill themself. What's more, Stodden added, neither Teigen nor any of the other big names who pilloried them "sought to apologize or sent any kind of love my way."
After the interview published, Teigen's old tweets resurfaced, confirming that the model had, in fact, harassed a then-teenage Stodden online. On May 12, Teigen apologized to Stodden in a thread, adding that she is "ashamed and completely embarrassed at [her] behavior." And now, just over a month later, Teigen has posted a lengthier mea culpa to Medium, admitting that she "was a troll, full stop," and insisting: "I am so sorry."
Below, everything we know about the situation.
Hutchison and Stodden's marriage attracted a barrage of negative media attention — much of which fell on Stodden.
During their marriage, Stodden shouldered much of the criticism the couple's relationship received, despite their being a minor and Hutchison being a middle-aged man. The Daily Beast pointed to a 2011 segment in which Dr. Drew performed a televised ultrasound on Stodden's breasts, to prove that they were real, and Anderson Cooper's persistent mocking of the then-teen on CNN. In an ABC interview about their marriage, Stodden said they were tasked with making Hutchison "look like he's not a predator," and then ridiculed for their appearance.
During that time, Stodden said, celebrities also piled on. "Joy Behar had a field day with calling me a 'slut.' Courtney Love told me I was a 'whore,'" they recalled. "People came out of the woodwork to beat up on a kid because she was in a situation that she shouldn't have been in." Stodden said the relentless bullying led them to consider suicide on multiple occasions: "As I'm forming, I am being mocked, overtly sexualized, abused — not only in my home, but internationally — and it really did a number on my self-confidence and my sense of worthiness, which I struggle with today."
According to Stodden, Teigen encouraged them to kill themself.
Teigen "wouldn't just publicly tweet about wanting me to take 'a dirt nap' but would privately DM me and tell me to kill myself," Stodden told the Daily Beast. "Things like, 'I can't wait for you to die.'"
This isn't the first time Stodden has called out Teigen, either. When Teigen briefly departed Twitter in March, she explained that the negativity had become too much for her: "For years I have taken so many small, 2-follower-count punches that at this point, I am honestly deeply bruised," Teigen wrote. "Never forget that your words matter. No matter what you see, what that person portrays, or your intention."
This good-bye struck Stodden as deeply hypocritical. "I experienced so much harassment and bullying from her when I was just 16 years old, just 17 years old, just 18 years old, at a time when I was being abused," they said in a video. "It's so damaging when you have somebody like Chrissy Teigen bullying children."
Both TMZ and BuzzFeed pulled screenshots of some of the tweets Teigen reportedly sent in 2011 and 2012, although the DMs have not been confirmed. "my Friday fantasy," reads one tweet directed at Stodden. "you. dirt nap. mmmmmm baby."
"go. to sleep. forever," reads another.
"what drug makes you do that with your mouth?" Teigen apparently wrote in 2012. "asking for a friend who really wants to know how to look like an idiot. thanks."
Teigen publicly apologized, although Stodden said they hadn't heard from her camp directly.
Two days after the interview, Teigen addressed her treatment of Stodden in a long Twitter thread. "Not a lot of people are lucky enough to be held accountable for all their past bullshit in front of the entire world," she began. "I'm mortified and sad at who I used to be. I was an insecure, attention seeking troll." Teigen continued:
I am ashamed and completely embarrassed at my behavior but that … is nothing compared to how I made Courtney feel. I have worked so hard to give you guys joy and be beloved and the feeling of letting you down is nearly unbearable, truly. These were not my only mistakes and surely won't be my last as hard as I try but god I will try!!




I have tried to connect with Courtney privately but since I publicly fueled all this, I want to also publicly apologize. I'm so sorry, Courtney. I hope you can heal now knowing how deeply sorry I am.




And I am so sorry I let you guys down. I will forever work on being better than I was 10 years ago, 1 year ago, 6 months ago.
Stodden appears to have seen Teigen's tweets, and addressed the matter in an Instagram post:
"I accept her apology and forgive her. But the truth remains the same, I have never heard from her or her camp in private," Stodden wrote in the caption. "In fact, she blocked me on Twitter. All of me wants to believe this is a sincere apology, but it feels like a public attempt to save her partnerships with Target and other brands who are realizing her 'wokeness' is a broken record."
Shortly thereafter, brands began distancing themselves from Teigen.
Multiple retailers have dropped Teigen since the tweets resurfaced. In May, "Page Six" reported that Bloomingdale's had decided to end a contract it was set to sign with Teigen because of the recent press. Macy's, which is owned by the same company as Bloomingdale's, removed Teigen's cookware line from its website. Aside from the "Page Six" report, neither brand has publicly said whether the decisions were impacted by Teigen's tweets. Though some speculated that Target dropping Teigen's products was in response to the bullying allegations, a spokesperson told "Page Six" it was a "mutual decision" made last December.
On June 18, Safely, the cleaning supply brand that Teigen launched with Kris Jenner and Emma Grede, announced that Teigen would be distancing herself from the company for the time being. "Chrissy will be stepping away from Safely to take much needed time to focus on herself and be with her family," the brand wrote. "We fully support her decision and are so thankful for her contributions." It's unclear whether the choice was mutual, and Teigen has yet to comment on the announcement.
And now, Teigen has addressed her past social media presence in an open letter.
After posting her apology thread, Teigen went dark for just over a month, but returned to social media on June 14 with a Medium essay acknowledging the "VERY humbling few weeks" she had just experienced. Noting that she remains "in the process of privately reaching out to the people [she] insulted" in the past, she granted that "there is simply no excuse for my past horrible tweets. My targets didn't deserve them. No one does."
"Words have consequences and there are real people behind Twitter handles I went after," Teigen continued. "I wasn't just attacking some random avatar, but hurting young women — some who were still girls — who had feelings. How could I not stop and think of that? Why did I think there was some kind of invisible psycho-celebrity formula that prevents anyone with more followers from experiencing pain?"
Having now been on the receiving end of widespread vitriol from random strangers, Teigen pledged to continue along her "path of self-improvement" and "to keep working to be the best version of [herself] for EVERYONE."
Her new apology prompted more allegations of past harassment.
Shortly after Teigen's Medium essay was published, Project Runway designer Michael Costello released a statement on Instagram detailing what he describes as Teigen's past attempt to ruin his career, an experience which he says left him "traumatized, depressed," and suicidal. He says that in 2014, Teigen left a comment on his Instagram accusing him of racism after seeing a Photoshopped image in which Costello appeared to use a racial slur. When he tried to reach out to Teigen to explain the image was fake and he was "the victim of vindictive cyber slander," she didn't believe him. "She told me that my career was over and that all my doors will be shut from there on," he wrote. "And wow, did she live up to her words."
According to the designer, Teigen and stylist Monica Rose allegedly went "out of their way to threaten people and brands that, if they were in any shape or form associated with me, they would not work with any of them." Costello also shared screenshots of alleged DMs Teigen sent around this time which read, "Racist people like you deserve to suffer and die," and "You might as well be dead. Your career is over, just watch." Since he made these allegations public, others have come forward to accuse Costello of bullying behavior himself, and Teigen has posted a statement on Instagram claiming that the messages Costello posted are fake.
Teen Mom's Farrah Abraham also posted an essay to Medium in response to Teigen's new apology. In 2013, after Abraham was part of a pornographic film that gained notoriety and prompted public sex shaming, Teigen allegedly wrote, in a since-deleted tweet, "farrah abraham now thinks she is pregnant from her sex tape. in other news you're a whore and everyone hates you whoops not other news sorry." In her Medium post, Abraham says she's never received an apology from Teigen: "As you're asking yourself 'Did Chrissy ever apologize to Farrah,' hypocritically as such at this time no she has not."
As of now, Stodden does not appear to have spoken publicly about Teigen's new post.
This article has been updated.