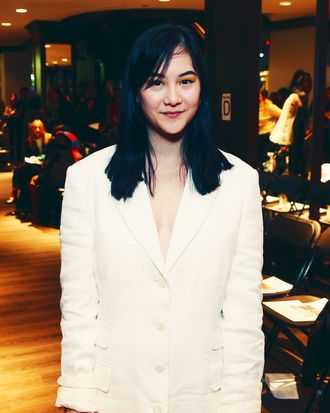 Photo: Dominik Bindl/Getty Images for NYFW: The Shows
Michelle Zauner's beloved memoir, Crying in H Mart, is being adapted into a feature film by Orion Pictures, which just acquired the rights. Zauner, also the musician behind the indie-rock band Japanese Breakfast, will provide the feature's soundtrack, with Stacey Sher and Jason Kim as co-producers.
Crying in H Mart, which came out earlier this year, is a heartwarming recollection of Zauner's upbringing, focusing on her relationship with her mother, who died of cancer in 2014. The memoir follows Zauner's experience growing up on the East Coast and into adulthood as she grapples with her identity as a Korean American, meets her husband, and grieves her mother's death. Food also plays a central role in the book: Speaking on The Cut podcast last month, Zauner reflected on her experience cooking for her mother while she was sick, trying her best to re-create Korean dishes. "There was this major role reversal and it was going to be on me to prove that I really loved my mother." Zauner recalled.
"It is a surreal thrill to have the opportunity to memorialize my mother in film, and I consider it of the highest honor to pursue that task alongside creative luminaries such as Stacey Sher, Jason Kim, and Orion Pictures," Zauner said in a press release earlier today.