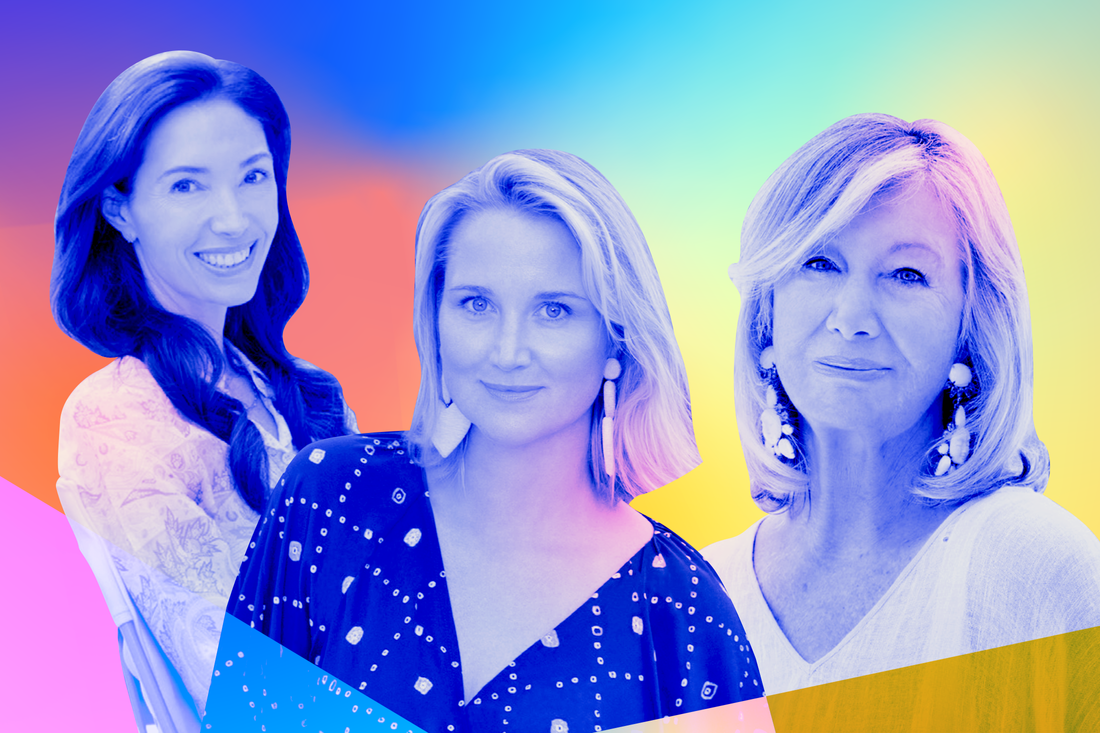 Photo: Courtesy of Chantecaille. Left to right: Olivia, Alex, and Sylvie Chantecaille. Photo-illustration: Ashlie Juarbe
As you grow older, you'll (hopefully) be able to live your life the way you've always wanted. You will cultivate your own space, surround yourself with people you love, and perhaps afford to buy yourself a nice thing or two. Aging is liberating in all ways but one — we, as women, have to deal with that pesky belief that as we become more witty and wise with our years, our physical traits suffer. Our skin becomes less plump, making dolphin skin seemingly impossible, and our bodies less perky. (Granted, doesn't being perky all the time sound exhausting?)
The women behind the Chantecaille beauty brand — Sylvie, Olivia, and Alex Chantecaille (the founder, creative director, and vice president of sales and promotions) — are here to help you ditch that belief. They know about aging: not just as women, but as business owners who've made it their mission to help women age on their own terms. They've created skincare formulas to help you enjoy aging with grace and confidence, knowing that you're taking care of yourself and helping your skin be the best it can be. They do it all as a family, from researching plant-based ingredients found in their cult-favorite serum and mask to comparing the results of their solar-powered massage tool.
Below, the Chantecaille women talk about how they're finding joy in aging and learning to be kind to themselves as the years pass — all while spilling the secrets behind their cult-favorite products, from their Bio Lifting Serum+ and Bio Lifting Mask to their Advanced Bio Lifting+ Massage Tool.
On aging the "right" way: 
Olivia: Don't be afraid of aging — that fear can lead you down the wrong path when it comes to taking care of your skin. It's all relative, which is a beautiful thing. Everyone sees something different when they look into the mirror. We can't judge how people age or how they address aging — it is a choice each person makes for themselves and as long as they feel good and love themselves, that's all that matters.
On being kind to yourself:
Sylvie:  I understand some days you wake up and hate what you see in the mirror as you get older. But if you find what makes you feel good and don't stress about what you can't change, you'll be happier. And if something bothers you, there are great products to keep your skin in its best shape!
On developing skincare with botanicals:
Olivia: I have always loved science and love working hand in hand with our laboratory in discovering and testing innovative new botanical ingredients. As I grow older, it's even more fun and rewarding, developing skincare to directly suit my needs and concerns. The collection and I have grown together.
On their cult-favorite product, the Bio-Lifting Serum+: 
Sylvie: I have dry, sensitive skin with some sun damage — and no intention of staying inside. I'm wild about this serum because with just three drops my face suddenly feels younger and fresher. The experience is luxurious right away.
Olivia: As a busy working mother, self-care definitely takes a back seat. My current skin savior is Bio Lifting Serum+, loaded with plant stem cells, since it treats all of my skin concerns.
Alex: It's everything I need — it has the loveliest texture and scent. It seeps into my skin so easily, and my face feels plump, protected, and youthful. I like to tap it around my eyes and massage it into the smile lines and fine lines around my mouth, too.
On finding joy as you age:
Sylvie: Aging happens, it's normal, and there are many good things about it. Rules are meant to be broken! Do what makes you happy. Don't let aging keep you from joy. I drive a convertible, I am always gardening, and I can't stay away from the water. When it's safe again, I will travel nonstop and visit the elephants in Kenya, the leopards in India, and the gorillas in Rwanda.
A skincare secret they swear by:
Alex: By sleeping in the Bio Lifting+ Mask rather than just wearing it for 20 minutes, you get an overnight treatment! It's like pressing the gas on the effectiveness, and it feels delicious.
Sylvie: I swear by sleeping in the Bio Lifting+ Mask. Your skin naturally repairs and regenerates itself overnight, so it's the perfect time to give your skin a boost.
On their Advanced Bio Lifting+ Massage Tool:
Alex: It feels divine. The metal is a little bit cool and can help stimulate circulation. After using, you feel very rejuvenated — like you've had a face workout.
Sylvie: What I love about this tool is that it really massages your face — it doesn't pull, but it can help gently, deeply, stimulate the skin. It can help you get your blood flowing, help with lymphatic drainage…it's amazing.
On their aging philosophies:
Olivia: When it comes to aging, I believe that the older you get, the more fun you have — and you care less what people think. I don't focus on a number when it comes to age. I focus on what feels good.
Sylvie: Don't overthink it! As long as you are healthy, feel happy, like your skin, and the sun is shining — things are great. In my mind, I'm still 27. Age is just a number. I think the most important thing is to just be joyful and grateful.
This advertising content was produced in collaboration between Vox Creative and our sponsor, without involvement from Vox Media editorial staff.