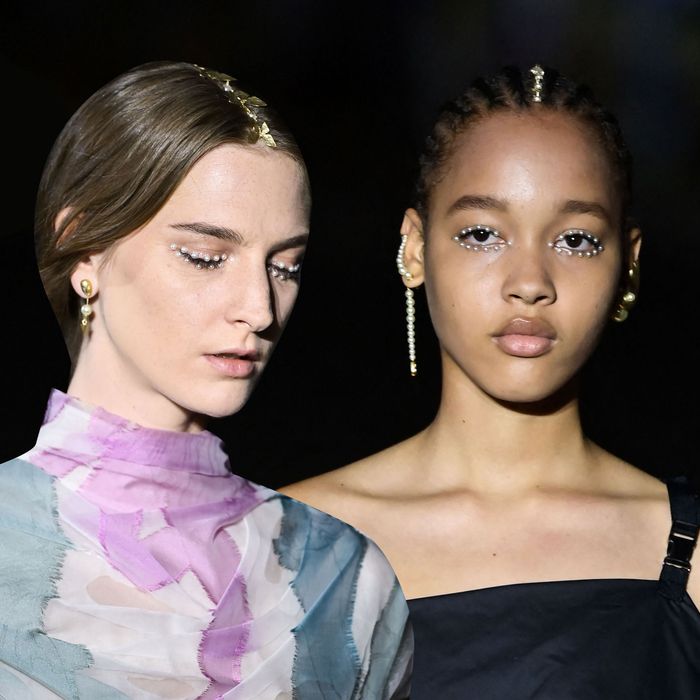 Photo-Illustration: by The Cut; Photos: Getty Images
If the runways have taught us anything, it's that jewelry is for eyes now and glue is super in. These two crucial concepts came together beautifully at today's Dior's Cruise 2022 show in Greece, where Peter Philips, noted eyeliner savant, lined models' eyes with pearls.
While backstage in Athens, Philips told editors the eye charms were actually his surrealist take on an iconic charm with an eye on it — the Greek evil eye pendant that shields you from other people's bad vibes. "It will protect you and bring you good luck, but I found out that you can never buy one for yourself," Philips said on the Zoom call. "Someone has to give it you, otherwise it's bad luck." Thankfully for the models and their fortunes, Philips was able to present multiple pearly eyes and personalize each based on eye shape and outfit.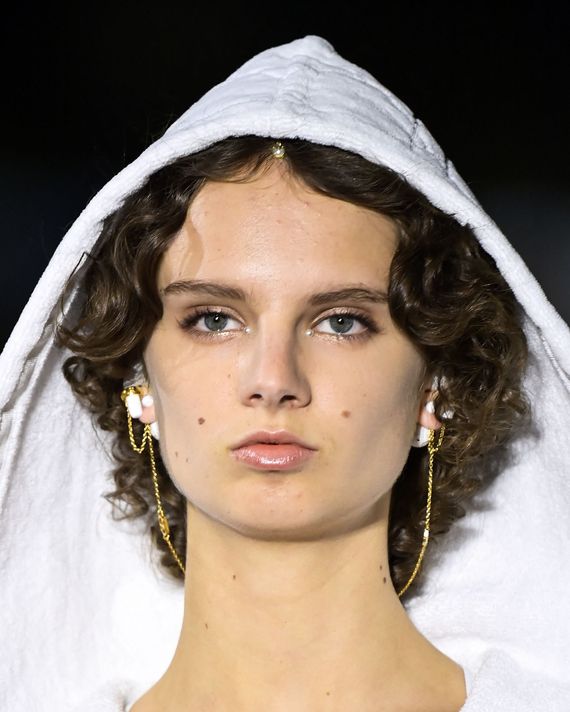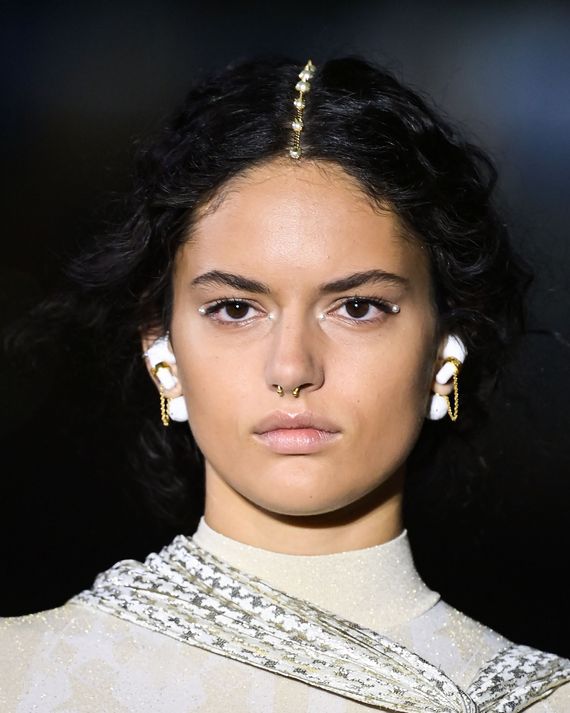 The simplest take was a classic pearl drop on the inner corner of the eye that functioned like a fancy inner-eye highlight. A second pair of pearls was added on the outer corners to mimic piercings on some models, and others had both eyes completely encased in a halo of pearls. To create the backdrop for the pearl moment, Philips used two shades from a limited-edition 5 Couleurs Couture Cruise 2022 palette he made especially for the collection. A touch of the gold was used over the entire eyelid ("to give a beautiful glowy effect,"), and the darkest sand tone was tapped onto the roots of the lashes, before the top, outermost lashes were loaded with black Diorshow Overcurl mascara. "Not so much to create length," Philips explained, "but more to create volume, and enhance a natural-looking eyeliner effect."
The rest of the look was kept very "natural" and "sporty," to fit the summery-goddess-walking-the-track-of-the-Panathenaic-Stadium vibes of the show. After skin was thoroughly quenched with Dior's Prestige La Micro-Lotion de Rose and La Micro huile de rose advanced serum, it was further illuminated with Dior Backstage Face & Body Primer, and the subsequent face makeup was kept to a minimum. "No highlights, no contouring," said Philips, just some Dior Backstage Foundation and strategically placed Powder-no-Powder on the T-zone right before showtime. Freshly scrubbed lips were coated with Dior Addict Lip Glow in 000 Universal Clear for a subtle, "everyone's own lips but better," finish.
Pair your sporty skin and face pearls with a middle part, a flowy gown, and some futuristic sneakers, and you'll have your Olympics viewing outfit all set for next month.