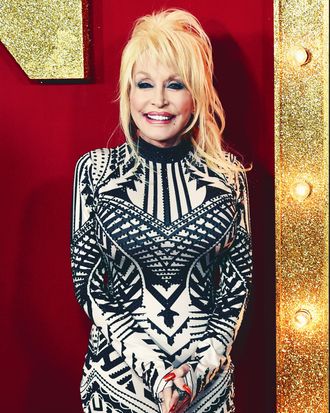 Dolly Parton.
Photo: Kevin Winter/Getty Images
Dolly Parton, noted ambassador for sleeping in makeup, is back with a few more reasons to consider going to bed in a full face.
"I do all my beauty work and cleaning my face in the morning because I usually try to keep my makeup on at night," the burgeoning perfumer tells WSJ magazine. "Because I never know if there's going to be an earthquake or a tornado or a storm and I'm going to have to go out in the middle of the night!" Parton's primped face is also perpetually prepared for possible tour bus wrecks, potential hotel fires, and roommates in general. "I don't like to go home and just tear down completely, because my poor husband has to look at me," she adds.
The only time Parton does "tear down completely" is at three in the morning, her typical wake-up time. After slathering on some good ol' Pond's Cold Cream for a clean slate, she quickly reapplies her signature look ("glamorous trash!" as she describes it) using "a lot of Maybelline products," Max Factor Panstik makeup, and Almay mascara. If she's going out at night for pre-planned, non-natural-disaster reasons, Parton says she'll "just add a little more shadow, a little more glitter, redder or brighter lipstick," to amp things up, nothing fancy.
Rounding out the icon's balanced at-home beauty and wellness routine are: little scrunchies for her "just to the top of my boob"–length hair when its not under wigs, a cup of ambition paired with homemade egg salad for breakfast, comfy "little house clothes" she affectionately refers to as "baby clothes," musk bath oil, and a whole bunch of perfumes mixed together.