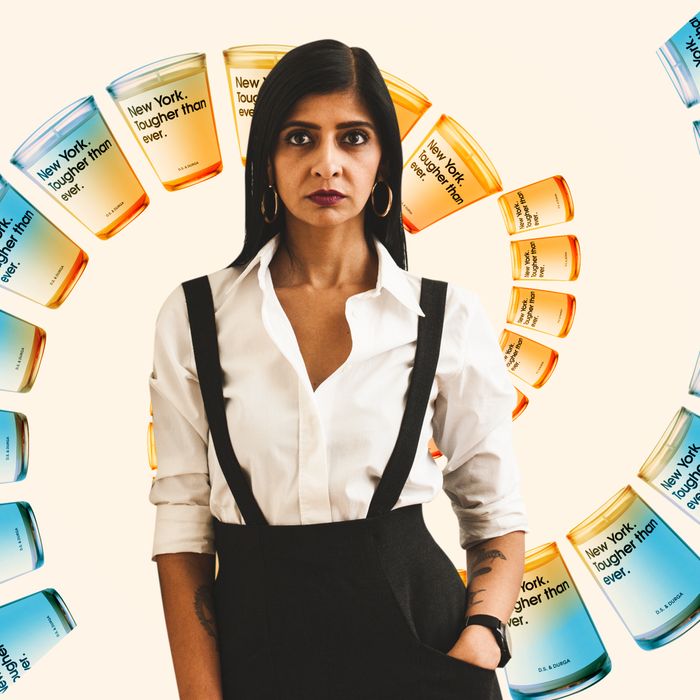 Kavi Moltz.
Photo-Illustration: by The Cut; Photos: Courtesy of D.S. & Durga
Scientific studies confirm that, of all the senses, smell offers the best recall. In "Scent Memories," the Cut asks people about the scents they associate with different times in their lives.
Next up is Kavi Moltz, co-founder of Brooklyn-based perfume house D.S. & Durga, and the "Durga" to husband David Moltz's D.S. The cult-favorite fragrance brand recently collaborated with designer Phillip Lim and Tiffany & Co. creative director Ruba Abu-Nimah to create "New York. Tougher than ever," a limited-edition candle that pays homage to the resiliency of the city that never sleeps. Lighting one will fill your space with New York City notes of cedar, linden tree, honeysuckle, pavement, leather, and apple, of course, while supporting the Ali Forney Center, the nation's largest agency dedicated to LGBTQIA+ homeless youth, where 25 percent of all proceeds will be donated. The Cut caught up with Moltz to talk incense, stinky cheese, and a moisturizer that lives up to the hype.
My first scent memory is: My Indian house. A lot of different cultures have a certain smell in their kitchen, and I would just know an Indian house if I walked into it. Every Indian house has a thing called a masala dabba, which translates to "spice box," and the smell … you can't contain it in the box. It takes over the whole house, and it defined my house and for years. It was kind of embarrassing, because it did not smell like the house of my school friends, but now I love it. It's this very comforting smell that defined my house growing up, and now when I walk into it, I'm like, Yeah, that's the Indian-house smell.
Happiness smells like: Tea. We have really, really good tea every morning, because David, my husband and the perfumer of D.S. & Durga, is an expert tea-maker. He orders from all these different stores all over the world. Bags of tea are kind of banned and forbidden in our house, but I have a secret private stash for when he's away because I don't know what to do with all the loose leaf. Tea reminds me of our mornings, which are really awesome and a big deal in our house. Everyone wakes up really early, it's very bustling, and we all sit down, and we have tea and conversation while the kids are having breakfast. It's my happy place. I like a really strong Assam, something really dark and malty.
Love smells like: Warm skin, because you only get close enough to smell the skin of people you love.
Heartbreak or loss smells like: Vacant, and like a void, like a bare, concrete room, or an empty room that's just been freshly painted.
Friendship smells like: Buttered popcorn, which smells so comforting and signals that you're gonna do something fun.
Success smells like: A perfectly baked cake. That smell when you take it out, and it's perfectly golden-brown.
Regret smells like: Slightly burned cake; when you over bake it by like, a minute. It's just a little burnt, but it's ruined, and all you can think is I should've taken it out earlier. Regret also smells like puke and alcohol, definitely.
The worst smell is: I can't think of anything that I would not like to smell right now. I haven't properly smelled anything in over a year, and I'm guessing its COVID related. On the street the other day, my kids were like, "Ugh, it smells like garbage. It's summer in New York." And I was like, "I want to smell that! I will take anything right now. I will smell the puke, the alcohol, the street trash, the dead rats. I would smell any of it. There's no there's no bad smell to me right now."
My ideal vacation smells like: The Caribbean, so salt water, hot sands, sunblock; all the beach smells and all the ocean smells combined.
My home smells like: Tibetan incense, typically. David gets really overwhelmed with scent because he's making it all day, so he doesn't like any candles burning in our house. He only likes this Tibetan incense, and he's very particular about it, so that's kind of what I've come to associate with our home now. We're currently selling some of it in our store. My home has kind of always smelled like incense, though. Growing up, my mom would light Indian incense every morning, doing prayers. I love it; it's warm and comforting, and it has this nice, ritualistic feel to it, like you are setting a tone rather than just having it in the background. It permeates everything and really does set a mood.
The first thing I smell in the morning: My children jumping on me. They're young enough that they still smell awesome, they smell fresh and delicious. I know teenagers are coming soon and it won't always be that way, so I'm enjoying the scent of young prepubescent children while I can.
The last thing I smell before I go to bed: Weleda Skin Food. I put it on my hands right before bed, and the smell of Skin Food is so good. It's strong enough that I can still smell it. I love a nice spa, herbal scent.
A scent or smell I love that others usually don't: Blue cheese. I like the smell of stinky cheese, because it's a sign that you're gonna eat something good and share it with someone — or that you're probably at a picnic or a fancy party. That's a good example of how scent can conjure up all these other things; it's not just about the scent itself but what it's attached to. I don't know that I actually like the scent of stinky cheese, more than I like what it means. It's not something I eat often, so it doesn't smell typical; it smells like a special occasion. I'm not just sitting over the counter shoving stinky cheese in my mouth on a Tuesday afternoon, you know?
I smell like: Durga, the perfume, which David made for me. I love tuberose and I wear it a lot, it's my favorite scent. I probably put on more than I should, especially now that I don't know what I'm doing, but regardless, I tend to wear a lot. I just like to be a bit drenched in perfume.