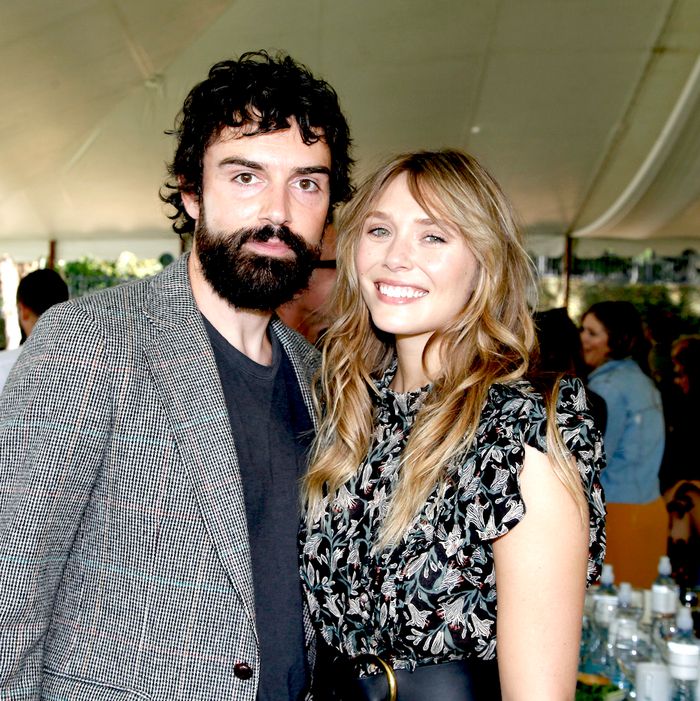 Elizabeth Olsen and … husband?
Photo: Tibrina Hobson/Getty Images for The Rape Foundation
It looks like congratulations may — may! — be in order, because actor Elizabeth Olsen may — may! — have married her fiancé of one-plus years, musician Robbie Arnett. Again, and I can't emphasize this enough, may. Absolutely nothing is confirmed at this juncture, save for the fact that Olsen made an offhand comment suggesting she may have gotten married at some point.
On Tuesday, you see, Variety published an "Actors on Actors" interview between Olsen and Kaley Cuoco. Apparently, the WandaVision actor's fans went wild when one of the publication's editors-at-large called attention to a subtle detail from the exchange.
Explaining that she had to do the interview from her bathroom because of a neighbor's noisy construction, and that she had just returned from a seven-month stint in the U.K., Olsen seemed to spot something surprising out of frame. She told Cuoco:
I also just noticed that my husband put Little Miss Magic — you know, the Little Miss books? They're these classic books, but magic because of WandaVision, because he's such a fucking cutie.
Did you catch that?! Not "my fiancé," not "my partner," not "my boyfriend," but "my husband," a "cutie." Sounds pretty specific to me. Arnett and Olsen started dating sometime in 2017, and got engaged in July 2019. So it would make sense if they had done the thing by now, and just kept it to themselves, because privacy is important. Or maybe it was only a little slip, and we are reading too much into it, really I couldn't say. Best wishes all the same!