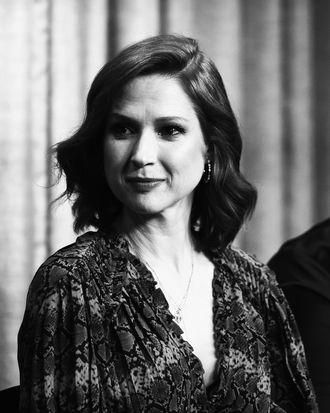 Ellie Kemper
Photo: Amanda Edwards/Getty Images
Another day, another main character on Twitter. Last week's focus was Ellie Kemper or, rather, Ellie Kemper in 1999, when she was crowned the Queen of Love and Beauty at St. Louis's Veiled Prophet ball. That sentence is … a lot, so please take a moment to process. As some have noted, the event and its sponsor, the Veiled Prophet Organization, have deep roots in elitism, have been criticized in the past for racist practices, and have possible links to the Ku Klux Klan. So, not great.
Kemper, best known for her roles on Unbreakable Kimmy Schmidt and The Office, had her decades-old title resurface last week after someone tweeted about the Veiled Prophet ball, showing pictures from the event which they described as reminiscent of True Detective season one. When the tweet started gaining attention, someone pointed out that Kemper was once an honoree at the event. The photos from the 1999 ball show Kemper in a white gown with long white gloves next to two young girls, also in white, who are apparently [checks notes] her "pages."
People on Twitter were quick to call out the very questionable origins of the Veiled Prophet ball, or VP, with many referring to this 2014 Atlantic investigation into the organization and its history. Here's what to know about the VP's inception and the backlash against Kemper.
The Veiled Prophet Organization was created in response to a massive strike by predominantly Black members of the working class.
In 1877, amid massive layoffs and severe pay cuts, railroad workers — in particular Black railroad workers — across the U.S. started what is now known as the Great Railroad Strike. Once the strike reached St. Louis, it marked the country's first general strike with workers across industries protesting in solidarity with railroad workers, calling attention to the greater issues between the predominantly white wealthy elites and the working class. While workers briefly gained control of St. Louis, that ended when 3,000 federal police joined 5,000 "special police" — apparently including a militia mobilized, at least in part, by local "business leaders" — in violently quashing the strike, ultimately killing 18 of the strikers.
The next year, the Veiled Prophet Organization was founded by brothers Alonzo and Charles Slayback, a Confederate colonel and a Confederate cavalryman, respectively. They envisioned a "secret society" of wealthy St. Louisans — self-styled "city fathers" — as a means "to reinforce the values of the elite on the working class of the city," as Scott Beauchamp wrote in his Atlantic report. As the organization itself explained in a 1928 publication, it imagined the prophet as a "benevolent despot" who "rules with an iron hand encased in velvet."
Which brings us to the organization's first-ever event, the Veiled Prophet Parade in 1878, a 17-float display lionizing the business achievements of the city's elite. Historians read this event as a forceful rejoinder to the striking workers, pointing to a flyer advertising the inaugural parade and depicting the prophet, armed with a pistol and two shotguns. A newspaper article from the time reportedly noted: "It will be readily observed from the accoutrements of the Prophet that the procession is not likely to be stopped by street cars or anything else."

Original imagery of the "Veiled Prophet" strongly evokes Klan iconography, thus the links to the KKK.
The firearms were not the only menacing feature about the flyer, though: The prophet's white robes, masked face, and peaked white hat bear a strong resemblance to the robes and hood worn by members of the Ku Klux Klan. Although some historians have noted that the KKK did not adopt that uniform until 1915, others see an inescapably clear reference: In 2000, Thomas Spencer, author of The St. Louis Veiled Prophet Celebration: Power on Parade 1877-1995, told the Riverfront Times: "That is a Klan member, and he's armed."
But even if the ties between the Veiled Prophet Organization and the KKK are not explicitly confirmed, the Klan's history of power in St. Louis is. And then, the Veiled Prophet Organization was a "whites only" organization for over 100 years, barring Black Americans from membership until 1979. It also barred Jewish people from joining until recent decades, and in 1987, its members lobbied the St. Louis Police Department to shut down the Eads Bridge to bar "East Side street gangs" from East St. Louis, an Illinois city with a large Black population, from "coming across the bridge to rob and mug" at its parade.
Each year, the "Veiled Prophet" crowns a "Queen of Love and Beauty" at its debutante ball. In 1999, that was Kemper.
The VP parade, which takes place on and around July 4 each year, has since been renamed Fair St. Louis in an apparent attempt to disassociate with its racist past. However, the Veiled Prophet Organization still very much exists, and continues to hold an annual debutante ball. During that event, young women from wealthy St. Louis families are presented to a "Veiled Prophet," who wears embroidered white robes, and whose face is hidden by a white-veiled headpiece — an image not terribly far off from the one advertised on early flyers. Although the prophet's identity has only been revealed on two occasions — in 1878, it was St. Louis Police Commissioner John G. Priest, who played an active role in crushing the railroad strike; in 1972, it was Tom K. Smith, a Monsanto executive demasked during a guerrilla protest organized by civil-rights leader Percy Green — he is typically one of the city's richest men, who rotate in and out of the role year to year.
During the ball, the man named the VP crowns one local debutante the Queen of Love and Beauty, the title Kemper won in 1999. As seen in archived articles from the St. Louis Post-Dispatch, 19-year-old Kemper was named the "new Veiled Prophet queen" at the annual event. And because of the Veiled Prophet Organization's inextricable ties to racism and elitism, the discovery that Kemper participated in the pageant spawned numerous tweets referring to her as a "KKK princess."
After many calls for accountability, Kemper has finally addressed the controversy.
A week after the photo resurfaced, Kemper posted a statement on Instagram apologizing for her past involvement with the Veiled Prophet Organization, denouncing white supremacy, and acknowledging that she is "the beneficiary of a system that has dispensed unequal justice and unequal rewards" based on race. "There is a very natural temptation, when you become the subject of internet criticism, to tell yourself that your detractors are getting it all wrong," she wrote. "But at some point last week, I realized that a lot of the forces behind the criticism are forces that I've spent my life supporting and agreeing with." She received an outpouring of supportive comments from celebrities including Katie Couric, Mindy Kaling, Aubrey Plaza, and Rainn Wilson. Her Kimmy Schmidt co-star Tituss Burgess also reposted the apology to his Instagram account as a show of support, adding, "Next time, just ask me, I'll tell ya what to do."
Here is Kemper's statement in full:
Hi guys — when I was 19 years old, I decided to participate in a debutante ball in my hometown. The century-old organization that hosted the debutante ball had an unquestionably racist, sexist, and elitist past. I was not aware of this history at the time, but ignorance is no excuse. I was old enough to have educated myself before getting involved.




I unequivocally deplore, denounce, and reject white supremacy. At the same time, I acknowledge that because of my race and my privilege, I am the beneficiary of a system that has dispensed unequal justice and unequal rewards. There is a very natural temptation, when you become the subject of internet criticism, to tell yourself that your detractors are getting it all wrong. But at some point last week, I realized that a lot of the forces behind the criticism are forces that I've spent my life supporting and agreeing with.




I believe strongly in the values of kindness, integrity, and inclusiveness. I try to live my life in accordance with these values. If my experience is an indication that organizations and institutions with pasts that fall short of these beliefs should be held to account, then I have to see this experience in a positive light.




I want to apologize to the people I've disappointed, and I promise that moving forward I will listen, continue to educate myself, and use my privilege in support of the better society I think we're capable of becoming. Thanks for reading this.
Editor's note: Claire Lampen is from St. Louis and has been a guest at the VP ball.
This post has been updated.