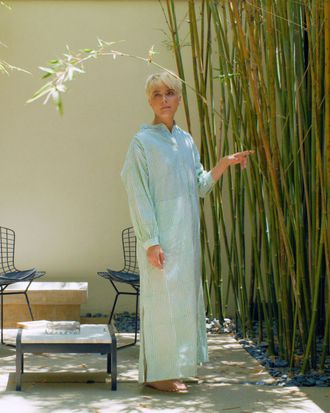 Remember when everyone was talking about "nap dresses"? Seems like another lifetime now. Even Entireworld, the go-to brand for colorful sweats during the pandemic, is moving forward in its own way. This week, it launched a new collection of nap dresses … I mean, house dresses … I mean, dresses that are meant to "take sense of comfort and ease you find at home, outside," said founder Scott Sternberg.
Every piece — there are matching separates, too — was developed and produced in India using a traditional hand-block-printing technique. That's right, Entireworld is doing prints! "I was itching to extend our design ethos, which is deliberately very pure and modernist, into something more artisanal and handmade," Sternberg explained. "So we designed four simple stripe sets in different color combinations, and they translated them into hand-carved woodblocks and hand-printed them on a light and drape-y organic cotton with chemical-free dyes."
Sternberg asked actress Selma Blair, whom he's admired since his Band of Outsiders days, to model the collection, and it was an easy sell, seeing that she's got a closet full of Entireworld sweats at home. "She just wears clothes with such ease, and her career never took an obvious path, which I think is cool," he said. They shot at a friend's home in Trousdale, an area of Beverly Hills that's "like a time capsule of the '60s."
"We've all been so isolated, of course, and it was lovely," Blair told the Cut of the shoot, which involved her lounging around and playing croquet in the brand's matching sets and dresses. "Playing croquet in a matching set seemed a very apt reentry photo," she said. "I don't play, but does anyone anymore? I would, if I had a lawn on level ground …"
In addition to her Entireworld sweats (which she pairs with her mom's fine jewelry), Blair said she's also been wearing swimsuits and leg warmers around the house. At the moment, she was at her computer in an Entireworld dress and a thick cable-knit fisherman's sweater. "I feel quite put-together, actually," she said. "[You can wear it] with layers, or alone; to loll in, or to put on with a major earring and heels and go out."
Shop a selection of the block-print collection, below.
Photo: Entireworld
Available in sizes XS–XL.
Photo: Entireworld
Available in sizes XS–XL.
Photo: Entireworld
Available in sizes XS–XL.
Photo: Entireworld
Available in sizes XS–XL.
Every product is independently selected by our editors. Things you buy through our links may earn us a commission.