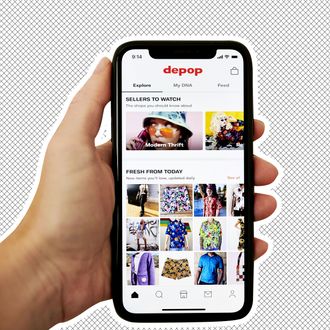 Photo-Illustration: by The Cut; Photos: Getty Images
For several years now, Depop has been the resale platform of choice for Gen Z, a place to buy (and to hawk) all the #Y2K, industrial-rave princess, and goth-girl finery allowance could buy. Ninety percent of Depop's active users are under the age of 26, and top moguls can make up to six figures on the platform by the time they graduate high school. Luella Roche was 16 when she began selling on the platform and quickly began both dressing from it and profiting off it. Depop, she told me in 2019 when I spoke with a number of sellers for New York's Style Issue, wasn't just a place to shop for cool. It's a place that makes things cool.
The rest of the marketplace noticed. On Wednesday, Etsy announced its acquisition of Depop for $1.625 billion, in a mostly cash deal expected to close later this year. "We are simply thrilled to be adding Depop — what we believe to be the resale home for Gen-Z consumers — to the Etsy family," said Josh Silverman, Etsy's CEO, in a statement. He added that Etsy believes the company has "significant potential to further scale." The app currently has 30 million registered users worldwide, with 4 million active buyers and 2 million active sellers in 2020.
Interest continues to swirl in the resale market, which is expected to keep growing at a clip. Etsy cited numbers that predict a 39 percent compound annual growth in the U.S. between 2019 and 2024, and projected that the market will grow to be twice the size of fast fashion on a global basis. Competing secondhand platforms in the U.S. and Europe have seen significant investment interest (as did Depop itself in recent years), and platforms like Poshmark and ThredUp both went public this year.
"Our community is made up of people who are creating a new fashion system by establishing new trends and making new from old," Maria Raga, Depop's CEO, said in a statement. "They come to Depop for the clothes, but stay for the culture." And more and more, it's a culture they're defining for the rest of us. "If you look at pictures a year ago and now," said Julia, another devoted Depopper I profiled in 2019, "I used to be a little basic and dress like other people. Now I only ever wear thrifted clothes."