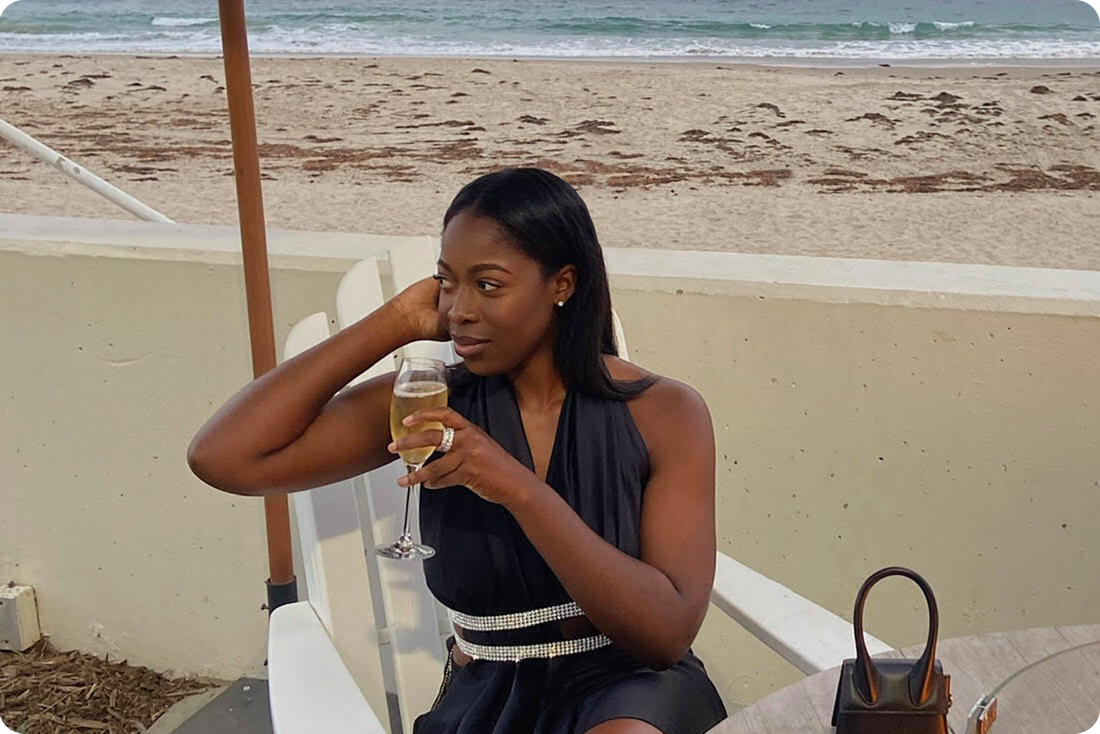 Photo: Courtesy of Nana Agyemang
The world is full of big dreamers, but Nana Agyemang is one of those dreamers with an uncanny ability to do. Agyemang is a multimedia journalist, CEO and founder of EveryStylishGirl, an ambitious project which aims to advance Black and Brown women in the creative professions. She's also an inherent optimist, that enviable mindset that sees a problem — even a large, structural one — and feels not defeat, but inspiration. "I'm a natural born change maker," Agyemang says. Speaking with her, one doesn't doubt that she'll change exactly what needs changing, and more.
Agyemang is also clearly a woman living her best life, as one glance at her wildly stylish Instagram will attest (Agyemang is a contributing social media editor for New York Magazine and the Cut, and she gives very good feed). This, too, is a sort of project for Agyemang, who speaks of the social media movement by Black women to lean into their luxury lifestyles — those "rich auntie vibes." To get lost in her feed is a sensory pleasure, with a side of subversive thrill when you remember that women of color fought to be visible in this way: relaxing in the chic hotel lounge, reclining by the pool, living their best lives with no apologies.
In partnership with Grand Marnier — which she calls her "official drink of quarantine and beyond" — we spoke with Agyemang about how she's cultivating a community of Black and brown women, her favorite ways to relax, and indulge, and why hiding your phone is self-care.
Tell us about your company EveryStylishGirl.
EveryStylishGirl is a platform focused on the advancement of Black and Brown women in creative professions, which we do through three different services. We just launched our recruitment directory — for companies looking to hire diverse, talented individuals, it's a directory full of creative professionals. Writers, photographers, stylists — name it, and we fill that role for you. We're really proud that this directory is vetted. I spoke to people who work in HR and that's the biggest issue: there are directories out there, but they're not vetted. So we spent hours making sure these candidates have years of experience, great portfolios, great company backgrounds.
We also have an event called Sip N' Slay, which brings together our community to network, connect with employers, and meet like-minded individuals. We've been doing virtual events during the pandemic, but we just had our first event outside on May 23rd! It was both virtual and in-person. And we also provide social media services to help small businesses, brands, people, and entrepreneurs grow their platforms and businesses. The whole company and my whole mission in life is about helping other Black and Brown women scale to the levels that they believe is possible for themselves.
Are there any success stories you can tell us about?
Every time I tell this story, I get emotional. We recently connected one of our community members to a social media opportunity at one of the biggest media companies. After she got the job, she messaged me and said, "I am a Black Muslim woman, I've been out of work for a year, and I just want to thank you, because I would never have known about this opportunity if it weren't for EveryStylishGirl Biz." It was so beautiful for her to share that message with me and show us we're making a change.
I love that. So to me, you are someone who truly embodies the grander life. Can you tell me  what grandness or luxury means to you?
To me, luxury means self care. Taking that break, going on a road trip, enjoying some healthy self-love. I love travel — I'm going to Mexico next month — because it stirs my creativity to engage with new people and places. It can also just be doing an at-home spa. Pouring my Grand Marnier, giving myself a clay mask facial, putting oil on my cuticles, reading a book or tuning into a podcast. Taking care of yourself, to me, is living a grand life.
You mentioned earlier that Grand Marnier became your official drink of quarantine.
I've been drinking Grand Marnier this whole time! It's so smooth, with a bit of sweetness and those deep cognac notes. I quarantined in the Bay Area, and many days I'd put a block of ice in my glass, sit on my balcony enjoying the sun, sipping on some Grand Marnier. Or I'll mix up a Grand 75 cocktail for my boyfriend and I — a little Grand Marnier, splash of prosecco, fresh lemon juice — and treat ourselves to an outdoor cocktail hour. This whole time I was working during the day, then doing EveryStylishGirl as a side hustle, so literally working nine to five and "five to grind." That evening break is my time to relax, reset, and pull me through.
Why did you gravitate toward this drink specifically?
This and last summer, I'm really channeling my luxury lifestyle. One of the biggest hashtags on TikTok right now is all about Black women embracing luxury and their rich auntie vibes. When I think of that, I think Grand Marnier. It's what I'm ordering when I'm living my best life, getting dressed up, going out to restaurants. It's very smooth, easy, and makes you feel the vibes. It's the classiest drink of all time to me.
As you build this business and community, what are some other ways you relax and reset?
One big thing for me is taking a break after every big event we do. I'm going completely offline for the whole month of June to re-center myself — hide my phone in my drawer and journal, read self-improvement and career advancement books, watch documentaries. I want to come back with fresh ideas to improve the company, my decision making, my team, and myself. It's really important to take that time to develop myself and my business. If you're not doing that, you can't grow.
What advice would you give to someone who's trying to level up their life right now?
The best quote Gabrielle Union ever told me was, "Don't wait for someone to let you have a seat at their table. Build your own." That hit me hard because for a majority of my life, I've waited for a particular job opportunity, for someone to notice me, to chase after a particular ambition. I realized, "I've got to stop waiting for someone to invite me to their table. I need to create my own opportunity." So, for anyone reading this, keep going. It's a marathon in life. If you stay consistent and stay showing up as your best self that you can every day, you will persevere.
What's next for you? 
Definitely planning a bigger experience for Sip N' Slay, making it a huge yearly event. There's an idea I think is going to keep living for a long time, of Black and brown women embracing luxury. For so long, we felt intimidated by that, but we want it now. That's the energy we want to push forward to our events in the future — to make them more grand, more lavish, more luxurious. That's what I'm focused on. Every day is a lot of trial and error, but we can't give up.
This advertising content was produced in collaboration between Vox Creative and our sponsor, without involvement from Vox Media editorial staff.