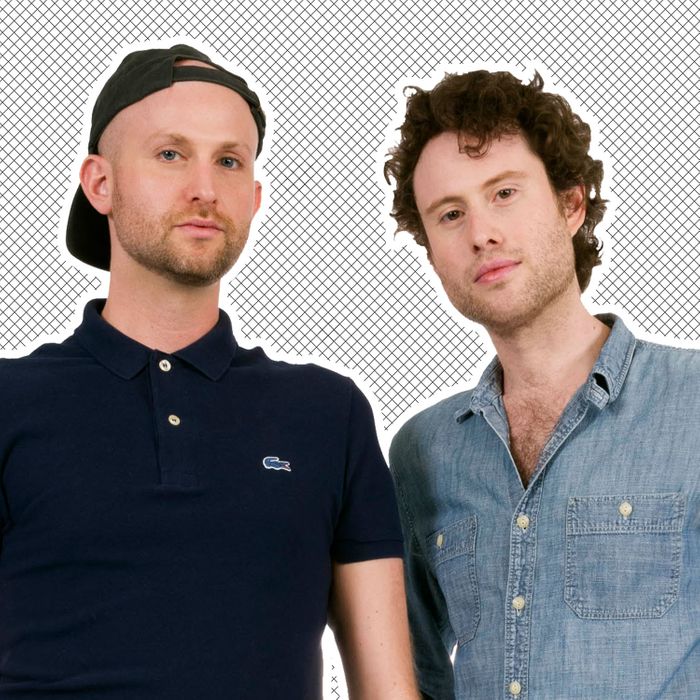 Photo-Illustration: The Cut; Photo: Brian Galderisi
For its latest production, the erudite theater collective known as Fake Friends has turned its attention to one of our era's seminal texts: the Real Housewives. The satire-cum-melodrama This American Wife — first staged in 2017 and performed virtually last month — blends actual Housewives dialogue with an eerie scenario in which the actors from the collective adopt standard reality-TV theatrics while playing exaggerated versions of themselves. Wife's cocktail of lowbrow inspiration and highbrow commentary perfectly distills Fake Friends' meta sensibilities, as also seen in as also seen in the Pulitzer-nominated 2020 streaming production Circle Jerk. 
Michael Breslin and Patrick Foley, two of the company's founding members, conceived, wrote, and starred in This American Wife after discovering their shared affection for Bravo's lucrative Housewives franchise. They are two of today's most exciting theater creators, and their rising profiles led to backing from playwright Jeremy O. Harris. Below, Breslin and Foley talk about a few of the plays, books, and people that influence their flair.
Michael Breslin: As a kid, I was always doing adaptations of musicals in my basement. I would take a very popular text and queer it. I always thought West Side Story would work better if it opened with "I Feel Pretty." What if you see the landscape of New York and then out of nowhere a woman in a white dress runs center stage and sings "I Feel Pretty"? One time on Christmas, I started in a closet and burst out of it singing "I Feel Pretty." My dad announced to the whole family, "Well, at least he's out of the closet." It was a one-person West Side Story that cut all the male characters. I'm not Puerto Rican, so I wouldn't do it the same way now.
Patrick Foley: My imaginary friend growing up was Cruella de Vil. I had an elaborate story in my head where I was married to her and we had 12 daughters, all of whose names were Victoria. Any time my parents would try to discipline me or my two sisters, I would be like, "Oh, that's so interesting that that's how you child rear. That's not how Cruella and I raise our children." There's something about that that was foundational to my fixation on problematic women. You can see a direct line from the animated Cruella, famously based off of Tallulah Bankhead, to the aesthetics of Mary-Kate and Ashley Olsen in the baggy clothes and emaciated cigarette, and even further to a character like Kristin Cavallari.
Breslin: There was a moment when we were working on This American Wife when Patrick and I were describing a shot that we wanted to get. We were like, "The car drives up, and the door opens, and her heel steps out, and then there's a slow pan up." Then we both realized we were referencing Glenn Close in 101 Dalmatians.
Foley: When I was in middle school, I was never a good student, but my drama teacher really took a shine to me. It was the year that Thirteen came out. It was foundational to me that that film was co-written by the girl on whose life it was based [Nikki Reed]. I was in seventh grade and my drama teacher came into school one day and said, "Patrick, I was just listening to this interview on NPR about this director who wrote a movie with a 13-year-old. We're writing the fall play!" At 13, I was able to engage in my first collaborative experience with my older drama teacher. She had just come from Madagascar, and there were a lot of identitarian ramifications around that. We wrote a show that was kind of scatological about umbrella salesmen in Madagascar.
Photo: Moviestore/Shutterstock
Breslin: My mother figure was Catherine O'Hara in Home Alone. I was completely attached to that mother as a child. Even watching the movie now, I still hysterically cry at the end when they're reunited. She is a woman embedded in a patriarchal society. She has so many kids to take care of, and she has to get them all on the plane. She loves Kevin more than she loves any of the other kids — it's very clear. When I grew up and realized that she was in all those Christopher Guest movies and obviously [later] Schitt's Creek, I was like, How can this be possible? This can't be the same person. She needs to be upheld as the most important queer actor of her generation. She is a comedic genius.
Breslin: Working on This American Wife, the book we always come back to is Wayne Koestenbaum's Humiliation, which is amazing. It's a bunch of different essays on the phenomenon of humiliation, and he comes at it from such a queer standpoint. Rereading it, I was like, The whole world needs to read this book. It's about our current moment, where people compulsively humiliate themselves. He has this sentence: "Humiliation has its rewards." You do get [feedback] if you're willing to humiliate yourself — there's a give and take, which he articulates really beautifully but also with so much dark humor. His language is unparalleled.
Foley: A theme that we investigate in our show is this idea that people come to the Real Housewives in moments of trauma or alienation. There are all these stories of people discovering Housewives during the pandemic. They do serve as a fascinating balm. All of these new wives that are now joining the show are verified fans of the show. All the women in Salt Lake City have seen Vicki Gunvalson scream about her family van. Crystal Minkoff was saying that she studied an entire season of Beverly Hills like it was a textbook. They're coming prepared and understanding the medium in which they're functioning. When we first started This American Wife, that switch hadn't happened yet. We were interested in considering these women in the lineage of raw performance artists like Karen Finley and people of that generation who were really incorporating their own trauma in conscious but also sometimes dangerous ways. Now that the women are way more studied in the medium, [cast members] feel almost closer to an amazing actress. But I think it demands of the audience a keener eye, which is exciting to me. It's about looking for where reality blends up against technique blends up against stan culture blends up against the conscious performance of self.
Breslin: It's really important that we honor the lineage of queer theater artists in New York City going back to the 1960s. People like Charles Ludlam and his Ridiculous Theater Company, and Maria Irene Fornés, who was an amazing playwright and director and designer. She did everything. Their legacy goes into performance art in the '80s and '90s. Jack Ferver is an amazing choreographer, and he really dives into the cruelty and the horrors of being gay in childhood in a profound way. The Wooster Group show Brace Up!, which is their adaptation of Three Sisters, is definitely something that we were consciously and unconsciously revisiting because it's so genius.