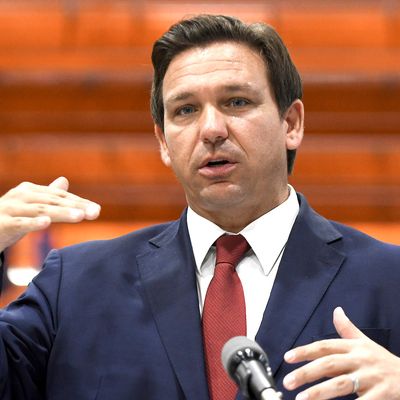 Ron DeSantis
Photo: SOPA Images/SOPA Images/LightRocket via Getty Images
Tuesday marks the first day of Pride month, and personally, I would be willing to bet that Florida governor Ron DeSantis knows this. Nonetheless, he chose Tuesday to sign a bill banning trans athletes from playing on girls' and women's sports teams, from middle school all the way through college. Politico reports that the law — called the "Fairness in Women's Sports Act" — applies not only to public school teams, but also to their intramural and club sports. Starting July 1, transgender athletes at public schools will reportedly have to produce their birth certificates if they want to play on girl's and women's teams, according to NBC. Only those assigned female at birth would be allowed to participate.
The wording of the law reportedly doesn't clarify whether or not cisgender students will be obligated to do the same, although it does enable students to "sue if a school allows a transgender girl or woman to play on a team intended for biological females," per NBC. Signing the legislation, DeSantis explained his support thus: "In Florida, girls are going to play girls sports and boys are going to play boys sports." When Politico asked him specifically about the timing, he reportedly claimed that "it's not a message to anything other than saying we're going to protect fairness in women's sports."
DeSantis also opted to approve the bill at the private Trinity Christian Academy in Jacksonville, where — as Democratic Rep. Carlos Guillermo Smith pointed out on Twitter — school policy allegedly mandates that students can be expelled for "homosexuality, lesbianism, bisexuality, [and] trans-sexuality." The Florida High School Athletic Association, Smith noted, "has allowed trans kids to participate in FL since 2013 with ZERO problems." Banning trans women and girls from playing on teams aligned with their gender identity, he said, "fuels transphobia and puts vulnerable kids at risk for no good reason." Speaking to the Associated Press in April, Smith said the bill sends an "ugly message of exclusion, telling trans kids that who they are is not OK and that they need to change."
Yet conservatives have argued that the bill is intended to ensure "that women can safely compete, have opportunities, and physically be able to excel in a sport that they trained for, prepared for, and work for," as one of its key proponents, Florida senator Kelli Stargel, explained to NBC. In service of this baseless point, DeSantis trotted out Selina Soule, a high-school runner in Connecticut who, in 2020, sued to get her trans competitors barred from girls' competitions, after two trans girls (and a number of cis girls, it must be said) kept beating her in races. According to Politico, Soule told the crowd it was "frustrating" and "demoralizing" to lose to trans runners, although as Jezebel has documented at length, Soule lost to a lot of other girls, too.
In any case, Florida is far from the only state pushing similar anti-trans legislation: When, in March, Mississippi became the first state of the year to ban trans athletes from competing on sports teams consistent with their gender identity, the Human Rights Campaign counted 147 anti-LGBTQ bills pending in state legislatures nationwide, 73 of which were aimed directly at trans people. About 20 other states are reportedly pursuing similar restrictions. And then, none of this is surprising from DeSantis, whose recent legislative highlights include enacting new voting restrictions, boosting a bill that loosens penalties for people who try to run down protesters with their cars, and broadening a ban on local governments attempting to impose gun regulations.
In January, however, President Joe Biden signed an executive order intended to protect the LGBTQ community from discrimination in health care, housing, and educational settings. Accordingly, the Human Rights Campaign has vowed to challenge Florida's measure in court. "Equality matters. LGBTQ people in FL matter. Transgender people in FL matter. The majority of people in Florida and in this country support equality. We are not going away," HRC president Alphonso David wrote on Twitter. "In Florida, we are ensuring that there are legal consequences to pay for being on the wrong side of history."