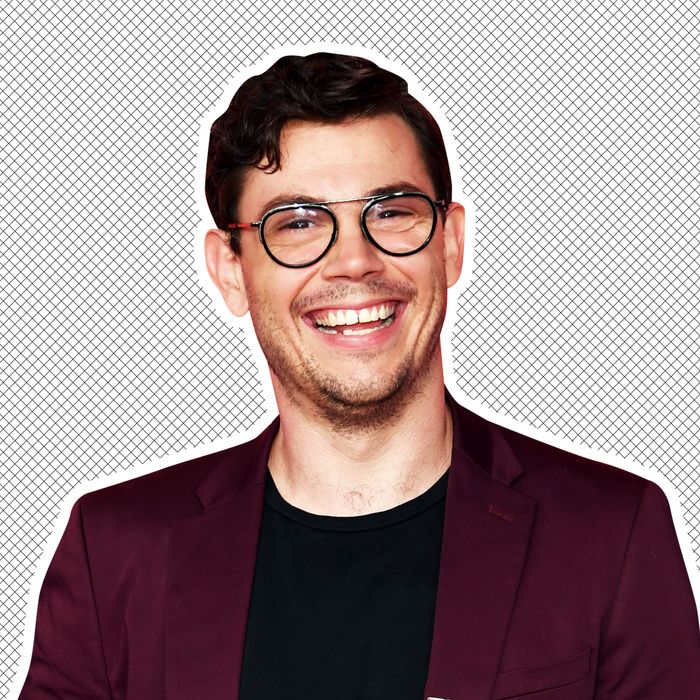 Photo-Illustration: by The Cut; Photo: Getty Images
Ryan O'Connell, the creator and star of Netflix's Special, knows he's something of a unicorn. "There was no gay disabled person working in Hollywood, so there was no reference point for anything that I was going to do," O'Connell says of his culture-obsessed youth. Like many queer kids growing up in the '90s, he found refuge in subversive indie cinema, Madonna, and winky shows like Popular.
Today, the 34-year-old O'Connell has built a fruitful career out of his lifelong identity as an "art fag." In addition to Special, whose charming second season premiered last month, he is co-writing an inclusive Queer As Folk reboot for Peacock and developing a half-hour comedy for HBO Max. Below, O'Connell discusses the movies, albums, and people who shaped his sensibilities.
Parker Posey
Parker Posey was everything to me. I would watch everything she was in: Party Girl, Clockwaters, The House of Yes with Tori Spelling and Freddie Prinze Jr., where she fucks her brother. I'm like, Wow, I love an incest comedy that casually ends in murder. This is a gay fever dream. Also SubUrbia, The Daytrippers, Best in Show, Waiting for Guffman. She opened up this world of indie cinema in the '90s that was so rich — not always overtly queer, but definitely an outsider sensibility that I really latched onto. I was obsessed with actresses like Chloë Sevigny and Parker Posey — all those alt-'90s girls who were so fashionable. It all goes back to me spiritually identifying as an art fag.
Popular
The TV show that made me realize I was gay, legitimately, was Popular on the WB. That was Ryan Murphy's first show, and the characters of Mary Cherry and Nicole Julian are these two popular high schoolers who are essentially two gay men, let's be honest. They're obsessed with Gwyneth Paltrow and they literally kidnap Gwyneth Paltrow's personal shopper and make him do a fashion show with the clothes he bought for her. It is so gay!
I was in middle school when it came out, and I didn't know anything about queer sensibility or that being gay had its own sense of humor. I remember reading Television Without Pity, which was the original TV-recaps site. They were recapping an episode that had something to do with football, and that episode was really boring. The recapper was like, "Why are we watching an episode about the football team? Don't they know that the only people who watch this are gay guys?" It was a light-bulb moment, sitting at my 1999 Macintosh computer. I was like, "Oh. I might be gay. There's a reason I'm imitating Nicole Julian saying 'thank you' during roll call."
Gregg Araki movies
Gregg Araki was it for me: The Doom Generation, The Living End, Nowhere, Mysterious Skin. That was totally my vibe. And also, Gregg Araki introduced me to shoegaze, which is a genre of music I listen to constantly: My Bloody Valentine, Slowdive. I don't know if there's an inherent queerness to that kind of music other than the outsider aspect of it because it's not super mainstream, but it's really dreamy and ethereal. I feel like Gregg Araki just had such an amazing sensibility and a subversive fuck-you to the mainstream that I really responded to. The one I remember first seeing is Nowhere, which is this iconic, psychotic '90s fever dream. You have cameos by Christina Applegate and Shannen Doherty. It's really major.
Madonna's Ray of Light
I'm a shoegaze bitch, so there are a lot of things that go on in pop culture that I don't care about. I truly feel like I'm clocking into the "I'm Gay" store to work a shift. I don't have an opinion on Lady Gaga's new album. I just have never really latched onto pop divas. It's not my journey. But I love Ray of Light, by Madonna, mostly because she borrowed from trip-hop, and I'm a trip-hop bitch. I was in middle school listening to Massive Attack and Portishead, and she took all of those elements and she made them melodic and emotional in a way they had never been done before. And also just Madonna in general — Truth or Dare is such an incredible movie and such a time capsule of the '90s. I can respect and understand that, but Lady Gaga and Charli XCX, I don't really understand. To me, that's workout music. Sky Ferreira is the one I'm deeply connected to. I shouted her out in season two of Special multiple times and she posted about it, which felt really good.
Ryan Phillippe's bare butt in Cruel Intentions
That ass carried me through some hard times, no pun intended. It was just a work of art and still is a work of art. It's crazy that God would put an ass like that on a straight man because you know Reese [Witherspoon] isn't doing anything with that. It's not right.