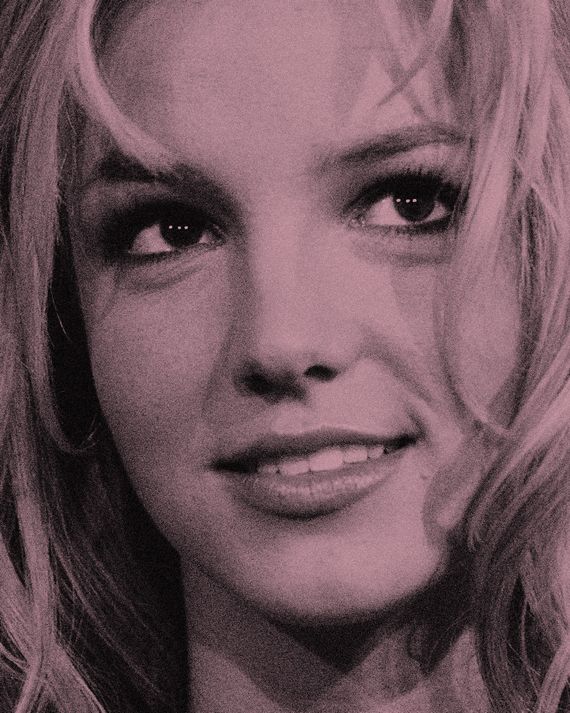 Photo-Illustration: by the Cut; Photo by Scott Gries/Getty images
In late April, when Amanda Eck found out Britney Spears would be speaking to a court this summer, she jumped in the air and cried. She felt "complete shock" — this testimony would mark the first time in 13 years that the singer has publicly addressed her conservatorship, which gave Spears's father control over her career and personal life. Finally, on June 23, Eck might know how the pop star really feels.
She heard the news while at a #FreeBritney rally outside an L.A. courthouse, surrounded by other fans — one of whom shouted the announcement over a hot-pink megaphone — who have spent untold hours advocating for Spears's emancipation. Eck had flown all the way from her home in Kansas City, Kansas, to be at the protest, where she shaved a fellow comrade's head in solidarity with Spears. She booked another flight back for the testimony, even though it falls on her birthday, and will spend today chanting "Hey hey, ho ho, the conservatorship has got to go!" while anxiously awaiting Spears's statement. "This is the Super Bowl for #FreeBritney activists," says Eck, a 29-year-old legal administrative assistant. "The world is watching and will be on our sidelines."
For the past few months, the #FreeBritney movement has been preparing for what might be its most important moment yet. In 2008, a judge put Spears in a conservatorship usually reserved for those with severe mental disabilities or elderly people who can no longer make their own decisions; she wasn't even given the right to choose her own attorney during the process. Fans spun a narrative of a modern-day Rapunzel being held in captivity against her will. They point to a handful of comments Spears has made over the years, including that she'd "feel so liberated" without living under any restraints and that she has told a judge she doesn't want her father to be in charge; earlier today, a New York Times report revealed that she had "expressed serious opposition to the conservatorship," according to confidential court documents. Still, Spears has never publicly said that she wants the arrangement to end. When the pop star makes her remote court appearance tomorrow, the #FreeBritney warriors are hoping to hear just that — words that would completely validate years of advocacy fueled by vigilante sleuthing and obsessive fandom.
In the lead-up to her testimony, these self-described activists have been posting countdown clocks and "Dear Britney" videos to Instagram that mix fawning encouragement with legal advice ("You have the right to hire an attorney of your choice"), and they have created a campaign to make the hashtag #BritneySpeaks go viral. There will be in-person and virtual rallies in at least five cities (and in three other countries); the biggest one in L.A. will feature a #FreeBritney step-and-repeat banner for photo ops, guest speakers, rose pins (Spears's favorite flower), and a fan-made Britney doll clad in a cheetah jumpsuit.
The rally is a big deal; not only will it happen outside a courthouse in which Spears herself will be taking the virtual stage, but it coincides with a moment when the #FreeBritney movement is suddenly being taken seriously. When it emerged in 2019, it was largely dismissed as a gaggle of conspiracy theorists, but thanks in large part to a sympathetic Times documentary last winter about Spears's conservatorship, its cause has been given widespread exposure — and validation. "We're not the only people who see it now," says L.A.-based campaigner Hayley Herms. "We have not quit despite people attacking us and making us look crazy."
The communal quest to free Britney may have taken off recently, but fans had long suspected something was amiss. Thirteen years ago, the public's perception was that she desperately needed help. Paparazzi photos from the time have become notorious symbols of a particularly savage tabloid era: a bald-headed Britney swinging an umbrella at a photographer, partying pantyless with Paris Hilton, and driving with her young baby on her lap. Then images of her strapped to a gurney and being rushed to a psychiatric ward seemed to seal her fate. A month later, she was living under her father's thumb.
But not long after, Spears was apparently stable enough to resume her professional hustle. She released a new album that same year, toured aggressively, and by 2013 had begun a residency in Las Vegas. This didn't sit right with her most dedicated fans: Why was someone with the ability to perform hours of tightly coordinated choreography with shirtless men unable to make basic decisions about her life, like where she goes and whom she sees? They harbored suspicions in isolation until 2019, when a fan podcast aired an anonymous voice-mail from a man who claimed to have worked as a former paralegal on Spears's conservatorship. His message seemed to confirm many of her supporters' worst fears, like that she was being held in a mental-health facility against her will and had been forced to cancel an upcoming tour. (Though the hosts claim to have verified the caller's identity, no one else has been able to.) It was the smoking gun they needed to unite. A hashtag went viral, and a movement was born.
#FreeBritney warriors thought they had discovered a truth that powerful forces wanted to keep hidden for their own financial gain. (Spears has a net worth of at least $59 million and last year paid more than $1 million in legal fees to various parties involved in the conservatorship.) But from outside their bubble, many saw obsessive fans fueled by baseless assumptions, or even QAnon-style conspiracy theorists following imaginary digital bread crumbs. (Some treat her Instagram, which mostly consists of Spears twirling in low-rise shorts and smudged eye makeup, like a piece of Morse code.) It didn't help the movement's reputation that after its first rally in 2019, Spears reassured fans over social media that "all is well" and asked for some privacy — a message that only fueled their suspicions that her account was being controlled.
Though the movement was becoming more organized, holding rallies outside every Spears-related court hearing and spawning regional groups to organize, Megan Radford, co-manager of Free Britney L.A., still felt like she was screaming into the void about a "horrible injustice." "People were either just not listening or laughing," says the 34-year-old. When Jennifer Preston, 33, talked about the movement, she'd get responses like, "She's just some rich white celebrity. Why is it a big deal?" Kevin Wu, who founded Free Britney L.A., discovered that behind his back, friends were criticizing him for taking time off work to protest, saying he should put his energy toward a more worthy cause (he stopped speaking to them, and still doesn't). "I don't think anyone took it seriously," says the 36-year-old. "There was this sense of 'Why is he treating this like a social movement?'"
Then the New York Times documentary came out. The hashtag #SorryBritney started trending, and a February Zoom rally, which the L.A. chapter held six days after Framing Britney Spears' release, doubled in size to more than 1,000 people (the room capacity maxed out). Other outlets, including the BBC, soon announced their own documentaries to cash in on the interest. Campaigners have been flooded with personal messages and mea culpas. Radford was given a prominent spread in her hometown paper and says that friends and family who had once dismissed her activism now want to brag about her cause being featured on the big screen. People who bullied Eck in high school for loving Britney Spears have sent apologies ("I now see that you're just a woman supporting another woman before it was popular to do so," reads one), and Wu has received messages with some version of "I finally get it"; it's frustrating that friends couldn't just take his word, but ultimately, he says, "there certainly is a feeling that we were vindicated."
But #FreeBritney comrades always took themselves seriously. Many in the movement proudly tout their transition from fans to advocates whose chief concern is for Britney the human, stripped of her basic civil rights, over Britney the celebrity (with little self-awareness that their interest in the former wouldn't exist without the latter). Over the past year, lawyers and conservatorship experts have joined their ranks, adding credibility to a cause they say has expanded beyond just Spears's case into conservatorship reform in California. (#FreeBritney has undoubtedly helped certain bills get attention.) They've racked up celebrity endorsements from the likes of Sarah Jessica Parker and Missy Elliott, and last fall, they even received some tangible approval from Spears, whose lawyer said in a filing that she "welcomes and appreciates the informed support of her many fans." But the campaign is still rooted in fandom, and the same passion for a celebrity that helps make an issue go viral can also undermine its credibility.
On a recent June afternoon, there seemed to be a development in the case. Someone had filed a petition to end Spears's conservatorship, news that electrified the #FreeBritney community and rippled through major fan accounts, with posts preceded by "Breaking News!" and siren emoji. The document being shared was actually a notice of rejection, since the $90 filing fee wasn't paid. A red flag? Maybe. But fans didn't let that kill their buzz and left comments offering to throw down on Venmo or GoFundMe ("omg HERE TAKE MY MONEY!!!" said one). Some even felt confident announcing that Spears herself was behind the paperwork. ("Today is a little bit too good of a motherfucking day!" cooed one fan in a YouTube video. "Miss Britney finally filed for termination of the conservatorship.") The next day, Radford posted a video saying it appeared the petition wasn't legitimate — "I sit here now disappointed," she said, misty-eyed. Turns out it was filed by someone who is likely just a fan. "It is far past time for Ms. Spears to begin her life," he wrote in the petition, identifying himself as "Friend. Debtor. Heir." "It is in the interest of Justice."
These are not the kind of moments #FreeBritney activists tend to dwell on. Its core members try to embrace even the more chaotic corners of the movement, like the recent theories proliferating on TikTok and Instagram. (Is Spears's yellow crop top a cry for help? Are the words "Call 911" hidden in her eyelashes? Is she mouthing the words "I'm sad" while lip-syncing to lyrics?) Sure, they might have different "beliefs and morals," says Leanne Simmons, the co-manager of Free Britney L.A., but "we all kind of meet in the middle, wanting to free Britney." At the end of the day, every new body strengthens the army.
Now, gearing up for June 23, members of #FreeBritney are feeling a mix of excitement and anxiety. The release of a Times investigation the day before, which confirmed Spears's private opposition to the conservatorship, was an unexpected boost of confidence. ("This completely confirms every gut feeling and allegations the activists have made," says Eck.)
The movement's ideal scenario involves Spears demanding control of her life, and maybe even giving #FreeBritney a little shout-out in the process. But in reality, nobody really knows what she'll say, and many are tempering their expectations. They worry the conservatorship team might try and control her message by coaching her testimony or threatening her physical safety (one member went so far as to suggest that someone might hold a gun to Spears's head — an obviously unlikely outcome). "Can someone under the restraints she's under speak truthfully and without being coerced?" says Simmons. "We'll have to wait and see." Either way, she and the other warriors will wake up the next day and keep fighting, feeling even more vindicated in their quest to free Britney.