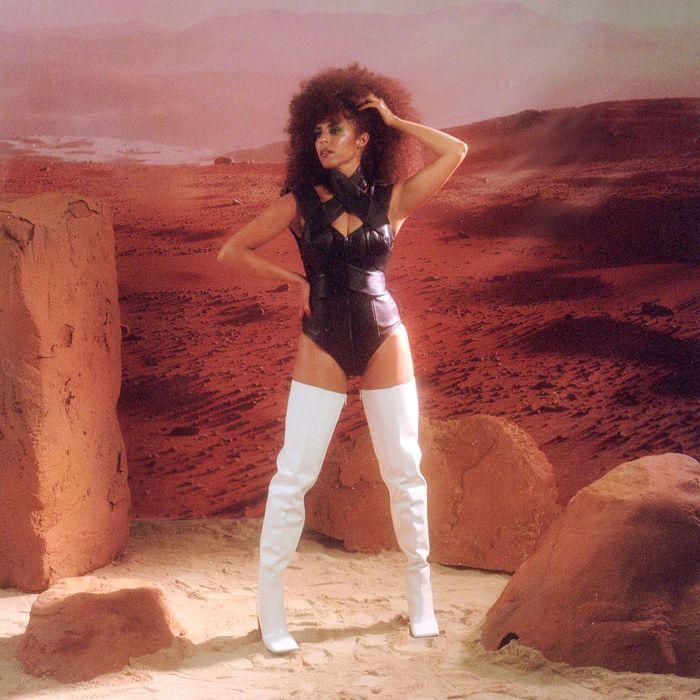 The past few years have seen the rise of disco influences in pop culture, from Dua Lipa's disco-tinged 2020 album, Future Nostalgia, to Netflix's decadently druggy new miniseries Halston, about the legendary '70s designer. For singer-songwriter Gavin Turek, disco has always been her bag. "I probably should have been born in that era," she jokes. The 34-year-old grew up aspiring to be a professional dancer but eventually came back to her love of music. In 2017, Turek released her EP Good Look for You with five sparkly, playful bops. Since then she's released other tracks, including the soulful "2 AM," but this July 23, Turek will finally release her debut album, Madame Gold. If you've previously basked in the shine of Turek's music, the new record is sure to be a summer staple.
In April, Turek released "SLIDE," a collaboration with singer blAck pARty—a smooth '70s-funk-inspired song. It's a bit of a departure from her usual disco beats, but she's excited to show people something outside her established range. Her latest single, "ILLLUSIONS," is a sultry and sad love song with a bit of a funky kick. For Madame Gold, she's taken inspiration from many places: accomplished Black women, reinvention during trying times, her mom. Turek spoke to the Cut about the painful path to releasing her debut album, pushing past her comfort zone, and finding her inner hero.
You put out an EP in 2017 and a handful of songs since. How does it feel to be releasing a bigger body of work? 
It feels like it's time. I'm ready for what's next. And it feels like it's right to close the chapter, you know? I'm really sharing myself — experiences, the way that I view myself to a very new world, a lot of relationship details. [Laughs] I'm not putting on a show. Therefore, if you face rejection when you show yourself, it's especially painful. It is very nerve-racking and very vulnerable.
Why are you releasing the album now, and what was it like working on the album during the pandemic?
If I had it my way, I would have released my debut album in 2019. I'm a performing artist, and that time on the road is really precious to me. When I finally had time to go back into the studio to regroup, I felt like I was fighting this internal battle with who I was when I made the last album and then who I was becoming. When my collaborator and producer Chris Hartz and I got back into the studio, it was the end of 2018. We started putting demos together. And every time that we relied on old tricks, it just wasn't fitting. So we had to take ourselves out of this box that we've carefully crafted. That was really the start of the process for the album. We made, like, 30 demos, and it took a really long time. Fast-forward to mid-2019, we had a version of the album that was at least ready to share. And for some reason, it wasn't hitting, and it wasn't the right time.
I want to move forward. I want to put this body of work out: That was my mentality. And when it just wasn't working, I was like, I have to allow it to not work. And then we were in the pandemic. Because of the setbacks, I felt like the victim. So that enabled me to sulk and be like, I'm just not good enough. It was so hard for me in the beginning. I felt very lonely and very insecure and vulnerable in a way that I never felt in my life because I'm so used to people being around.
What pushed me to get back on the horse was being inspired by other artists. Black women, whether they're visual artists or artists — there's certain women that I have really bloomed from. I was listening to the artist Renee Cox. She said [in a talk] I had to allow myself to portray myself as a hero, which made everybody else around me uncomfortable, but I needed to say, I'm no longer a victim. I am a hero. So that was in the summer [2020] and then I got my butt back in the studio. It took going through hell and back for me to feel like I learned the lesson I needed to.
You've been on the disco front since way before this new wave of it. And the core of the album still sounds like influences you mention, like Tina Turner and Grace Jones, but there's so many other kinds of sounds as well. Did it help to recenter yourself in your own narrative to make the album sonically different? 
My internal transformation would not allow me to stay the same in any way. I let go of relationships in this process. I let go of friendships in this process. I've let go of so much that it's still painful, right? And as I said before, to rely on old ways of even writing a song, it was sounding stiff. When I tried to make a happy disco dance record, it wasn't what I needed.
How did you guys go about creating something that still felt authentic to you as an artist but also showed the growth you'd experienced?
I'm obviously loyal to the sounds of the '70s. And the disco aesthetic really felt like home for me. And having started with that, how it's crossed over into [current] pop culture has been a little bittersweet. For this album, we were allowing ourselves to be inspired by pioneers like Curtis Mayfield, the Isley Brothers, and Prince. Just in terms of how they structured songs and the experimental soul aspect of how they interpreted music back then was very much the forefront. But then we were really obsessed with Tame Impala, Raphael Saadiq, Brittany Howard, and people like that who continue to push boundaries in this soul lane.
We've already touched on the fact that this new era for you is about restarting and being bold. On your Instagram you mention this idea of having an alter ego, and Madame Gold is that for you. Has it been a way for you to tap into a freedom that you didn't feel like you had?
After I heard that conversation with Renee Cox and had that light-bulb moment, Madame Gold was the first thing that popped into my mind because it's something that I associated with myself many years back. It felt like the path of least resistance, in a way, to embrace her again. When I think of what that means to me, Madame Gold is resilient when I want to stop. Even when I say "Madame Gold," it evokes such a feeling of wanting to show up boldly. Gavin doesn't always feel like that. But Madame Gold is my tool for when I need to switch on and identify what's going on in my mind that I'm feeling uncomfortable in a situation or feeling rejected for some reason. Madame Gold would show up to this event like she owned the place. I want other people to try on their own version of what's your superhero name. Who would it be and what would their superpower be?
There is so much vulnerability and sadness on the album, but are you hoping that when people listen, they're going to feel their own Madame Gold sit up straighter?
I want people to say, after listening to it, that even in the confusion, even in the pain, even in my internal struggle, I still have the power within myself to save myself and to keep going. That's all we can do.