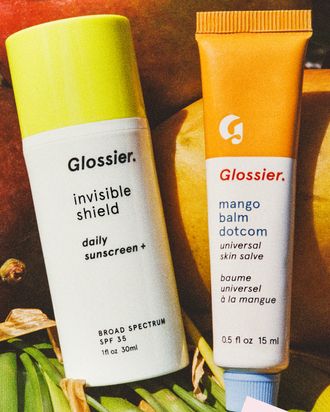 A rare summer Glossier sale in the wild.
Photo: Glossier
If you've been feeling more sweaty than dewy lately, your good friend Glossier's got you: Starting today, June 10, through Monday, June 14, every single thing on Glossier's website is 20 percent off.
A Glossier sale typically comes but once a year (at the end of it), so savor the next several days by stocking up on things that'll get you glistening in the good way this summer. All you need to do is shop the site per usual and the "Friends of Glossier" discount will automatically be applied at checkout.
Not sure where to start? Here are some of our favorite trusty Glossier creations and new limited-edition sets.
The easiest way to spruce up and show off all that brow growth from the past year.
Everything you need for beach days and nights ahead. You'll find SPF, a lightweight moisturizer, and a gentle, but intense cleanser to wash it all off at the end of the day.
No smudging, just easy makeup in this kit. It contains your choice of lip-balm flavor, cheek stain, and the brand's smudgeless mascara.
Photo: Courtesy of Glossier
The perfect home base for your personal top shelf if you're planning to go places this summer.
This hydrating hybrid balm-gloss-tint is the perfect comfy outfit for lips that are easing back into dressing up.
Instant dewiness in a bottle. Tap it over your skin-care routine and sunscreen for the world's best selfies.
A skin set containing the bare minimum: SPF and lip balm.