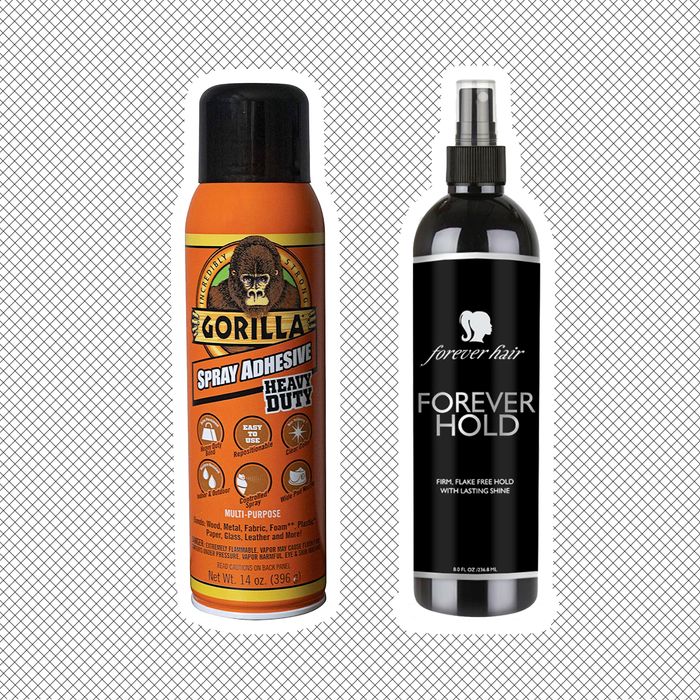 Gorilla Glue, a spray for furniture, and Forever Hold, a spray for hair.
Photo-Illustration: by The Cut; Photos: Retailers
It seems like just yesterday we were all thoroughly invested in the fate of a woman who sprayed her entire head with furniture glue. A four-hour procedure and four months later, Tessica Brown, a.k.a "Gorilla Glue Girl," is back with her own hair-care products, meaning neither she, nor you, will ever have to resort to using spray-on adhesive as a substitute.
TMZ reports that Brown recently announced the launch of Forever Hair, a hair-care line for people who want the shiny, durable hold of a furniture glue, without the permanence and pain of a furniture glue. Think: a firm-hold hair spray specifically meant for hair, which is precisely what Forever Hold, the line's strong-hold, shine-enhancing hair spray, is. Brown is also selling Growth, a scalp-stimulating blend of black cumin seed oil, avocado oil, safflower oil, and rosemary oil, which she credits for her post-op regrowth, should you be suffering from a similar bout of sudden hair loss. A nourishing edge-control product containing black castor oil and aloe vera is also on the horizon.
Though Brown says her products are inspired by Gorilla Glue, rest assured there are stark differences. For one, her products come in black packaging that cannot be confused with the punchy yellow-and-orange shades of Gorilla Glue, a non-hair product that could maybe be confused for the similarly hued Got2b Glued Freeze Spray and Gorilla Snot, actual hair products with extreme language mentioning gorillas and glue. Unlike Gorilla Glue, Forever Hair products will also easily wash out with water, an important feature shared with many, if not most, hair-care products.
Mistakes were made and lessons were learned, but if you'd like to continue to spread awareness of the cautionary tale that captivated and confounded the masses for almost a week, Brown's site is also home to a merch section titled "Bonded For Life." There, you'll find hoodies, sweats, and T-shirts featuring the infamous frozen ponytail that was partly cut off and partly dissolved in Beverly Hills by a benevolent plastic surgeon, may it rest in peace.