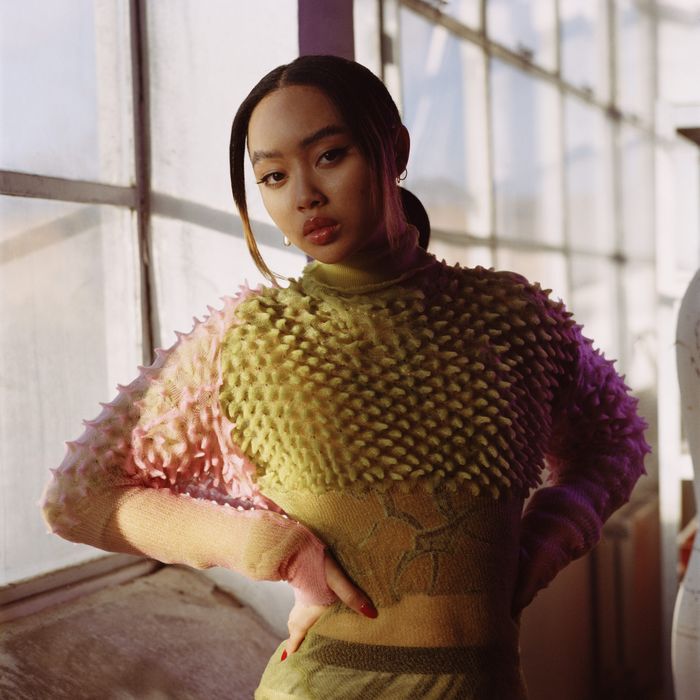 While most people spent the lockdowns of the last year brushing up on their baking skills and learning new TikTok dances, British music prodigy Griff was holed up at her parents' home, developing her skills as a singer, songwriter, producer, and fashion designer. At 20 years old, the up-and-coming musician has honed her numerous talents into a new mixtape titled One Foot in Front of the Other.
While she is "trying to move out ASAP," her brand of DIY musicianship has tapped into an undeniably pop sound that is equal parts Lorde and Julia Michaels, two of her major music influences. Her emotionally vulnerable lyrics tackle the challenges surrounding heartbreak, mental health, and self-confidence and have won over critics worldwide, earning Griff the Rising Star BRIT Award last month and putting her on the radar of her personal heroes like Taylor Swift.
The Cut spoke with the young artist about the importance of being hands-on with her material and how she's joining the ranks of and a new generation of artists ("Taylor's kids") who were raised on Swift's music as inspiration.
How does it feel to release this new collection of music?
It's this weird feeling of nerves and relief, but I think it's because it's all been written in such a place of solitude. It's just been me producing and writing it in this room by myself in lockdown. So it's definitely a bit of a very private bubble that I built for myself over this past year, writing new songs, and so it's daunting but exciting.
Do you feel like that DIY process of writing and producing tracks from home is an important aspect of your music?
I can't be bothered to wait for other people or explain my idea, so I end up just doing things really badly myself, and then they end up sticking. I'm not exactly making clothes like the best seamstress ever, but I think there's a nice, safe space about not doing it in front of people. I can be here, and I can write a million shit beats, and then one will be good. It's a nice experimental place to just live in for a bit.
When it comes to songwriting, is anything off topic?
I think it's so important to write from an honest place, because if I don't do that, I'll just end up writing songs that sound exactly like every other pop girl, and I don't think the world needs more conveyor-belt pop. As a songwriter, I have a duty to keep my heart on my sleeve because no one else will tell that story.
How did you start making music, and who were your biggest musical influences growing up?
I started playing piano from a very young age, and I just loved it. My dad played a lot of gospel and soul and R&B; it was like Stevie Wonder and Whitney [Houston] and Mary J. Blige and Michael Jackson, and then when I was 8 years old, my cousin gave me this iPod Nano, and the only album I had on it was Fearless by Taylor Swift. Suddenly my mind was opened, because I was like, "Whoa, this is pop music. This is major chords and relatable lyrics and huge, big melodies that we can all sing." I just fell in love with it. As soon as I figured out chords, I was like, "I can sing any Taylor Swift song now," and that liberated me to start writing songs.
You got the chance to meet Taylor Swift after the BRIT Awards last month. What was that like?
I walk in and there she is in all her glory, just sitting there glowing, eating chips. The first thought I had is, Your skin is immaculate. Honestly, not a wrinkle in sight, not a spot in sight, and she just looks flawless, and then also just so lovely. It was a really surreal but beautiful, explosive moment for me.
As someone who also designs many of their own clothes, how much do you prioritize the visual aspect of your brand?
Most times, I look at the visuals and I'm like, "Hate it," but I'm always just trying to make it better. My worst nightmare is to release stuff that sounds and looks exactly the same. It would be so easy to just throw on a crop top and dance and do and look like all the other stuff that's out there. I've been really intentional about trying to make it feel different and editorial.
Are you taking a break after the release of this mixtape or are you already working on more music?
As a new artist in this day and age, you can't really afford to stop. There's so much content and music coming out all the time; I release this mixtape and then everyone's going to turn around to me, "All right. Where's the album?" I guess that's a good thing because it means you're always being stretched, and I'm still writing all the time. I think everything has to be simultaneous: my writing, doing creative things, making music videos. It's still so early on in my career. I feel so much at the beginning of what I'm doing that you can't get ahead of yourself. I'm trying to just take it all in and enjoy it.