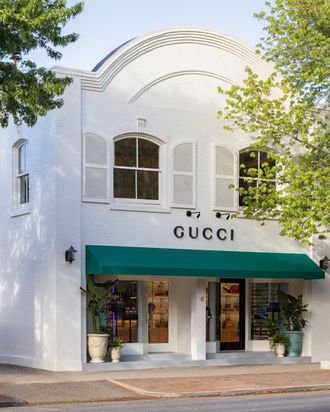 Photo: Courtesy of Gucci/Brian Berkowitz
The wealthiest Americans are flocking back to the Hamptons in droves, and Gucci has heard them calling its name (at least in a metaphorical sense, since calls aren't getting through). Any return to normalcy for the luxury vacation spot — known for decadent parties, goldendoodle puppies, and helicopter taxis — would not be complete without the Italian brand.
Gucci is obviously no stranger to the Hamptons, and the brand opened its first permanent location on the East End on May 28. The two-story boutique offers all the Gucci-est necessities and brings a warm and romantic design to fit in with the local landscape.
To celebrate its opening, Gucci is offering a capsule collection available exclusively at the new location. Each piece is topped with a leather emblem denoting "The Hamptons" and embossed in gold. The collection features a range of bags and small leather goods, including an oversize tote, a drawstring bucket bag, and a rectangular leather pouch.