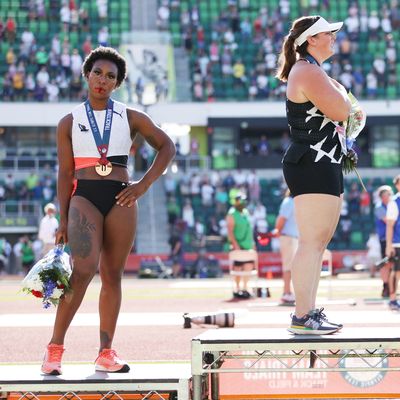 Gwen Berry (left), DeAnna Price, and Brooke Andersen during the national anthem at Saturday's U.S. Olympic trials
Photo: Patrick Smith/Getty Images
During Saturday's U.S. Olympic track-and-field trials, Gwen Berry placed third in the hammer throw, securing a spot to compete in Tokyo. However, most attention was focused on what came next: When she took her place on the podium, the national anthem played, and she turned away from the flag. Afterward, Berry told the press that her protest had been spontaneous, because she had been told the anthem would not be played while she was on the podium. She said she was surprised when the song started playing and, in response, turned away and draped a shirt over her head that read "activist athlete."
"I feel like it was set up," Berry said laughing, per the Washington Post. "I feel like they did that on purpose, and I was pissed, to be honest. I was thinking about what should I do? Eventually, I just stayed there and just swayed. I put my shirt over my head … I know they did that on purpose, but it'll be all right. I see what's up." Unlike the Olympics, when the national anthem is played during every medal ceremony, the song is only played once a night at the trials. Hence, the timing felt pointed to Berry. However, as the Post reports, officials said it was purely coincidental, as the anthem was played at about the same time it had played other nights.
"They said they were going to play it before we walked out, then they played it when we were out there," Berry said, according to ESPN. "But I don't really want to talk about the anthem because that's not important. The anthem doesn't speak for me. It never has."
For years, Berry has been pivotal in advocating for athletes to protest during Olympic events. At the 2019 Pan American Games in Peru, she raised her fist on the podium in solidarity with those experiencing racial injustice. She subsequently lost sponsorship deals and was put on a 12-month probation by the U.S. Olympic and Paralympic Committee — a "devastating" outcome which "cut off all my revenue," Berry told CNN last year.
Her spontaneous demonstration over the weekend also drew backlash, specifically from people on the right, even after Berry said she hadn't initially intended to protest. ("It really wasn't a message. I didn't want to be up there … I was hot. I was ready to get my pictures and get to some shade.") Still, GOP figures like Senator Ted Cruz and Representative Dan Crenshaw expressed their disapproval, calling for Berry's removal from the Olympic team. However, Berry stood behind her decision, tweeting, "These comments really show that: 1.) people in American rally patriotism over basic morality 2.) Even after the murder of George Floyd and so many others; the commercials, statements, and phony sentiments regarding black lives were just a hoax." On Instagram, she gave a more succinct response to the backlash: "I said what I said… I meant what I said..STOP PLAYING WITH ME!! PERIOD!"
Berry's 2019 suspension sparked fellow athletes to call for the abolishment of Rule 50, an International Olympic Committee regulation that prohibits all "demonstration or political, religious or racial propaganda … in any Olympic sites, venues or other areas." The letter denounced the rule as "the oppression of athletes" and was signed by athletes and former Olympians including John Carlos, the bronze medalist who famously raised his fist in protest at the 1968 Olympics. After the letter, the IOC apologized to Berry for her suspension.
Earlier this year, the IOC changed its rules, now allowing athletes to protest at domestic events without retribution from the committee. However, the Tokyo Olympics will uphold Rule 50, barring protests of any kind. Though that doesn't appear it will deter Berry. "When I get there," she said, "I'll figure out something to do."
"It's really important for me and my community just to be able to represent," Berry said on Saturday. "I think sports is a distraction. Sports is entertainment. But my purpose and my voice and mission is bigger than the sport. So me being able to represent my communities and my people and those who have died at the hands of police brutality, those who have died to this systemic racism, I feel like that's the important part. That's why I'm going. And that's why I was here today."