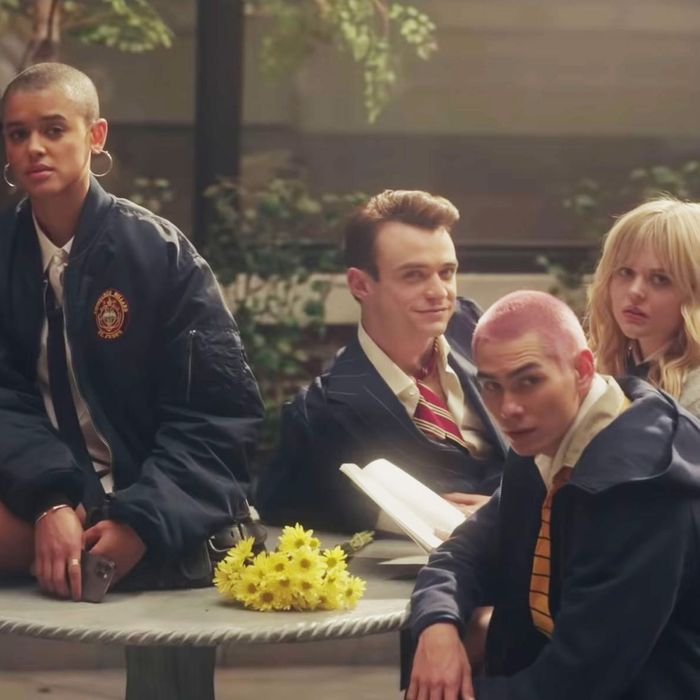 I would let these
Gossip Girl
characters bully me.
Photo: HBO
HBO Max has dropped the first full trailer for the Gossip Girl reboot, and I, for one, am terrified. They've previously teased the new show with a noticeably murder-esque series of clips, but now I have an entire two minutes to watch on repeat and wonder how these hot teens will destroy my life.
We've got threesomes. We've got the cast lounging on the steps of The Met in an intimidating way. We've got the line, "She's not from here," spoken after one character is seen waiting for the walk sign to cross the street. We've got Frank Ocean's extremely apropos "Super Rich Kids" as the soundtrack. In one of the opening clips, a character — Obie, it would appear — is standing in front of some picket signs that read "fair contract now," which feels prescient. If the trailer is an accurate indication, this reboot will have lots more of what we loved about the first Gossip Girl: hot rich people doing hot rich things while hiding big hot — and probably rich — secrets.
Producer Joshua Safran previously confirmed that the Gossip Girl revival will take place in the same universe as the original, set a decade later. The titular Gossip Girl will still be voiced by original narrator Kristen Bell. The kids are still going to Constance Billard and St. Jude's, the Upper East Side prep schools from the original series. I am still ready to immerse myself in a world of mean, wealthy youth who would probably bully me in real life.
One major difference is with Gossip Girl herself: She has moved out of the blogosphere and onto Instagram. Per the YouTube description, "Nine years ago, the original Gossip Girl website shut down," but now, the "notorious blogger" is back to ruin the lives of a new class. And I am ready to have my life ruined when the series premieres on July 8.