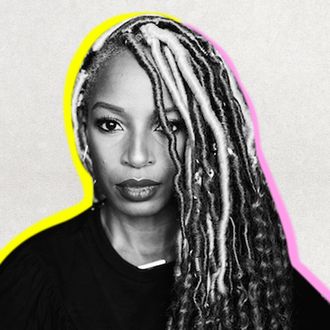 Photo-Illustration: by The Cut; Photo: Robert Villanueva
Known as the "400M Diva," Natasha Hastings, 34, won two Olympic gold medals in track and field. Then, in the midst of training for the 2020 Olympic Games in Tokyo, she discovered she was pregnant. She gave birth to her son, Liam, in August 2019 and got right back on the track six weeks later. In addition to pursuing her running career, Hastings interviews fellow athletes on her YouTube channel, Tea Time With Tasha, and is pursuing her master's degree in psychology to become a therapist. Here, she talks about the stress of being pregnant as a competitive athlete, battling anxiety attacks during the pandemic, and her race-day routine. Last week, she narrowly missed qualifying for Tokyo, but she plans to continue competing throughout the summer. She lives outside of Austin, Texas, with her mom and son. Here's how she gets it done.
On her morning routine:
I never really use an alarm. I naturally wake up around 6:15 or 6:30 a.m. The only time I set an alarm is if I have to get up at 3 a.m. for a flight or something, and even then I usually wake up before it goes off — I think I have a strong internal clock. I take about ten minutes to get my eyes open and meditate and pray before I actually get out of bed. Then I go straight into the kitchen and get the water going for oatmeal, which is what my son and I eat for breakfast every morning. He's almost 2. I'm still breastfeeding him, so I'll go into his room and get him up and nurse a little bit. Then we have breakfast, and my mom will come take over before I head to practice, which is usually at 9 a.m.
On her training schedule:
Practice lasts a couple of hours, and it always varies. Afterward, I might have another appointment with a massage therapist or a chiropractor, so that's another hour or so. I'll get home in the afternoon, take a minute to play with my son, eat lunch and then try to do some work and send some emails. Ideally, I'd be able to spend time on all my commitments every day — training, school, social media, my foundation. But training is really tiring, and rest is part of training. I really only have a few hours after practice to do other things. I focus on doing one thing at a time, what's right in front of me. Then we do my son's dinner at 5 p.m., bath at 6 p.m., and bed around 7 p.m. After that, I try not to do work because it's my only time to myself to decompress and watch whatever shows I want. I'm usually in bed by 9 or 9:30 p.m., and I go right to sleep.
On her race-day rituals:
On race days, I always have oatmeal for breakfast and maybe even for lunch on the side of whatever else I'm having. I know that no matter how high my adrenaline is, I'm able to get oatmeal down. And I always listen to music, burn a candle, and do my makeup. I like to wear flashy makeup to competitions, and doing it beforehand helps calm me down. It's something I can do with my hands to steady myself. So music, candle, makeup — those are my three things. I can't have my son with me — hearing Elmo in the background is not the vibe.
It took some time to figure out my race-day routine now that I'm a mom. I had a couple of races last year when I was like, Oh, my son can come and stay in the room with me. He's not that much of a distraction. But he still wants my attention. And as an athlete, especially on competition days, you have to be totally focused on yourself. I had one meet in Houston earlier this year, and my mom came too — she almost always does — and we all shared a room. My son didn't want to sleep in his Pack 'n' Play; he wanted to sleep in bed with Mommy. And on the day of, I was trying to get dressed, get focused, get in the zone, and he was tugging at me, wanting to nurse. I was finally like, "Maybe it wasn't such a good idea to bring you guys." And my mom said, "I didn't want to say it, but I was thinking the same thing." So I did have to learn that if they come with me, they have to stay in their own room, and I can't see him too close to race time.
On worrying about how her pregnancy would affect her career:
I did not enjoy pregnancy, and part of the reason is that I hid it for about six months because I didn't know how my sponsors [Under Armour and New York Athletic Club] would react. When I finally did share it with them, I was pleasantly surprised. They were like, "Why didn't you tell us sooner? Congratulations!" But I think my experience was different from a lot of other athletes because when I had to make that phone call, there was a woman on the other end of the line. And she knew what I was going through. Maybe not exactly, because she wasn't a professional athlete. But when we first talked, she said, "I remember getting pregnant with my first kid and telling my husband, 'You don't understand. I've got to go tell my employer, and I'm concerned about what this means for my job.'"
We all know how babies are made, but I wasn't planning on having one in the middle of my career. So my first thought was, Shit. Can I do this? Am I going to have the support that I need? I read all the mom articles, and I learned that this is a stressor for 80 percent of American moms — it's not just an athlete thing. Most moms have to consider, Am I going to lose my job? Am I going to have access to health care? Child care?
Months later, when more information started coming out about what female athletes are up against when they get pregnant, my sponsor called me back and said, "Hey, I've seen these articles, and I just want to apologize because I didn't realize that your stress was to that level." And it's true — we rely on our sponsors to do what we do. I'm not just living off of that sponsorship income and using it to put food on the table; I use that money to pay my coach, my massage therapist, my chiropractor, my weight coach, my sports psychologist. These are business expenses that I have to cover, and without my sponsors, I can't do that.
On training while pregnant:
I found out I was pregnant and kept training like nothing had changed. I told a few family members. Then I told my coaches. They were like, "Okay. We'll modify what we need to modify, but as long as your doctor says it's okay, we're just going to keep going." Which is basically what my doctor said too: "You've been doing this all your life. Just listen to your body." So that's what I did. I started needing modifications after about 12 or 13 weeks, but I trained up until the day before I gave birth. Toward the end of my pregnancy, I'd go to the track about three days a week, and the other two days, I would go to a spin class or walk four-to-five miles. My strength coach also worked on helping to train my body to give birth. And I had a very fast, easy labor and recovery. The nurses were like, "Come back anytime!" I started walking after three weeks, and I was back on the track in six weeks.
On becoming a single mom:
I became a single mom five months after I had my son. I was engaged to his father, and about six weeks before our wedding, he called it off. Then, about six weeks after that, the pandemic came, and a couple days later, the Olympics were postponed. I know 2020 was really tough on most people, but I felt like I was being knocked down from every angle. As an athlete, we're so used to being in control; we're so used to being on a schedule. And I was like, I don't know where to go. I don't know where to turn. I don't know what's next. I started having anxiety attacks. I didn't even know I had anxiety.
On going to therapy:
When my ex called off the wedding, my mom looked at me and said, "Whatever you do, you need to get into counseling." I've always been a fan of counseling, but I've done it for sports, for my performance on the track. This time, I walked into a counselor's office for me. I told her, "Now I'm a single mom, and I've got to be able to take care of my son." And she said, "Your mental health is also in the best interest of your child." That put things into perspective for me, and it actually was one of the inspirations for me to go back to school to become a counselor myself.
I'm currently studying clinical mental health. I know I can't run forever, but I'm excited about being able to show up for myself and my son, too. I'm raising a Black boy in America, and it's really important to me that I know how to raise an emotionally mature young man. Mental health is what my passion is, and this is what I want to move into eventually.