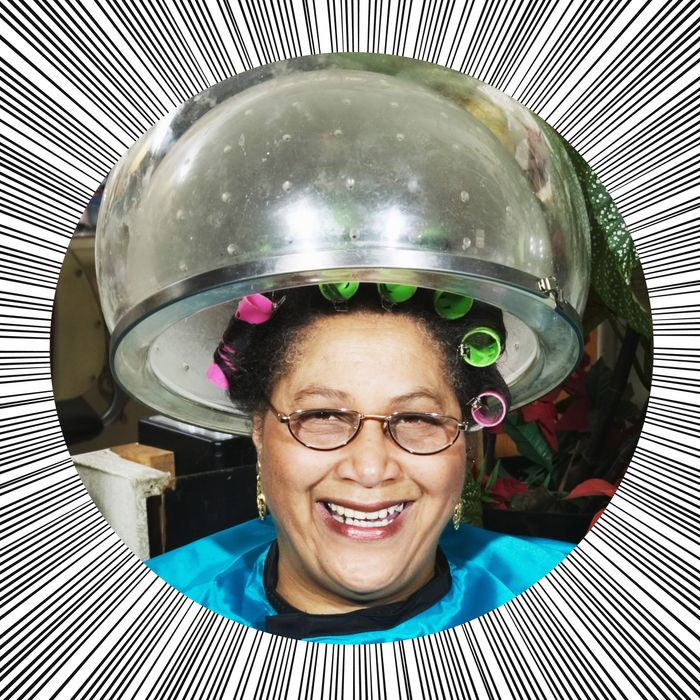 Photo: Big Cheese Photo / Getty Images
Heat protectants are like the laws of physics: I rely on them all the time, but I have no idea how they work. Like many people, I learned in adolescence that if I'm going to style my hair with heat — a blow dryer or hot rollers, for example — I need to first slather my hair with a heat-protectant product to prevent damage. But I've never stopped to question what these products do, if anything.
"Heat protectants create a barrier or film around the surface of the hair, known as the cuticle — they're essentially a shield between your heat styling tool and the hair," explains Esther Olu, a cosmetic chemist. According to Olu, these barriers are usually made from polymers, silicones, and even hydrolyzed wheat protein, depending on which product you use. "The mechanism is sort of similar to how sunscreens work. Those create a barrier to reduce UV damage, but in this case, the barrier is protecting against heat damage. In turn, that helps reduce hair breakage and improve moisture in the hair."
But is a quick blast with a blow dryer really so terrible for unprotected hair? "Heat definitely damages the hair cuticle as well as destroying critical structural proteins in the hair, like keratin," says Olu. "It also affects water retention and moisture in the hair." You've probably seen a number of hairstyling products boasting about their keratin content: Keratin is a protein that's naturally produced by many parts of the body; in your hair, it helps smooth cells in the cuticle, giving strands a glossier, smoother look.
According to Dr. Joseph Cincotta, head chemist at Color Wow, exposing your hair to any temperature above 392 degrees Fahrenheit will cause permanent damage if you aren't using a heat protectant. (For reference, blow dryers typically run at about 120 to 140 degrees, flat irons at about 300 to 450 degrees, and curling irons at about 200 to 400 degrees, but you can check with the manufacturers for more specifics.) For hair that has been chemically processed (say, dyed or chemically relaxed), it's advisable to stay away from anything higher than 300 degrees. But even if you have untreated hair, you don't want to push it.
If you repeatedly heat-style your hair and don't use any kind of shield, you'll notice damage in the form of split ends, dryness, or hair that breaks easily when you brush, style, or just run your hands through it.
Heat protectants often print the maximum temperature they protect against right on the bottle. But, as Olu notes, "they aren't foolproof." Just because a product can protect up to a certain temperature doesn't mean it's preventing all damage; you would never apply enough product to coat every single last strand of hair fully, for one. Heat protectants are more about minimizing and mitigating damage, just as applying SPF 50 doesn't make lying out in the midday sun totally risk free. It's still advisable to keep heat styling to a minimum, but if you feel you need to do it frequently (I certainly do), heat protectants do offer some security.
How to make sure you're using a heat protectant that works? Whether you use a spray or a cream is really up to your personal preference — the important part is that you apply it properly. "The best time to apply on the hair is when it's slightly damp," says hairstylist Joseph Maine. "With the lightweight sprays, you can use a very liberal amount, but if it's a cream or a lotion, use it more sparingly — a dime to quarter size is perfect."
If you wash your hair infrequently but style it regularly, Maine recommends choosing a spray rather than a lotion, as it's easy to work through dry hair. "Most of those products are meant to more evenly distribute and dilute with wet hair, but some will work on dry hair," he says.
If the damage has already been done, can heat protectants help to reverse it? "Your hair is not alive — it's just dead keratin," says Dr. Cincotta, who suggests using hair masks and moisturizing products to help rehydrate dry hair to some extent. Still, there's not much you can do but mitigate the damage until it grows out. Just be more careful next time.