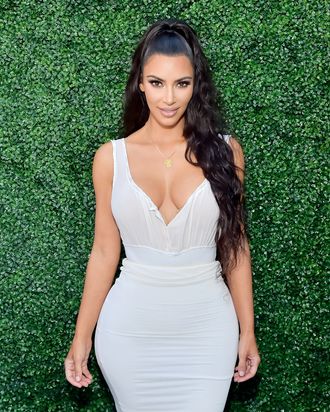 Photo: Getty Images for ABA
Kim Kardashian West visited the Vatican today and unsurprisingly did not follow the dress code. The guidelines for proper attire at the home of the pope are notoriously strict, with visitors prohibited from wearing clothing that exposes their knees, shoulders, or chest.
Naturally, Kardashian West showed up at the headquarters of the Roman Catholic Church in a flimsy white lace dress that exposed her shoulders and featured cutouts around her waist (which, you have to hand it to her, does seem like a loophole in the rules). She also pushed the church's boundaries by wearing white and lace, which, while no longer prohibited, is traditionally saved for Catholic royalty. 
It appears the church did not make an exception to the rules for Kardashian West. She covered up in a long black leather jacket before entering the Sistine Chapel and was reportedly able to enjoy a private two-hour tour with Kate Moss and her daughter, Lila Grace. For the occasion, Moss chose a knee-length dress topped with a buttoned-up silk black blouse, while her daughter wore a long dress and fitted black blazer. Why Kardashian West and Moss are hanging out in Rome, we don't know, but supposedly the two have been friends for "several years" after meeting at designer Riccardo Tisci's birthday party. Though clearly the pair didn't exchange a "What are you wearing?" text.