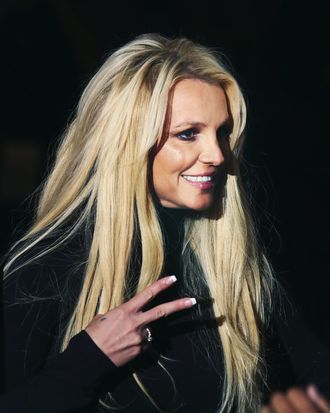 Photo: Gabe Ginsberg/FilmMagic
Earlier this week, Britney Spears gave emotional testimony suggesting that her controversial conservatorship is even worse than we imagined. Her 23-minute statement alleged that, over the past 13 years, she's been forced to perform when she didn't want to, made to take lithium against her will, and prohibited from removing her IUD at the behest of her lawyers and father. Her statement vindicated the #FreeBritney movement and ignited questions about the 39-year-old singer's lack of autonomy for more than a decade. Among those called into question was her court-appointed attorney, Samuel D. Ingham III, who drew public criticism about whether he had been acting in Spears's best interest throughout the case.
"I didn't know I could petition the conservatorship to be ended," Spears said during the hearing, per the New York Times. "I'm sorry for my ignorance, but I honestly didn't know that." She added, "My attorney says I can't — it's not good, I can't let the public know anything they did to me." Her testimony and comments about her attorney in particular highlight, as the Times aptly described, the "inherent conflicts that exist in a conservatorship system in which Ms. Spears has been forced to pay a lawyer she did not choose for herself." Ingham was assigned to Spears in 2008, after a judge deemed her incapable of hiring her own representation. She said in her testimony Wednesday that she would like to be able to hire her own lawyer.
Spears's lack of awareness about the possibility of ending her conservatorship is particularly concerning, given the amount of money she's paid for Ingham's representation. The Times reports that Ingham is paid a whopping $475 an hour, and in 2019, made $373,000 for his work on Spears's case alone. Since 2008, Ingham has made nearly $3 million for his work with the pop star. Under her conservatorship, she also has to pay the legal fees of her conservators' counsel, including lawyers for her father, Jamie Spears.
Equally concerning is Ingham's apparent lack of advocacy at court hearings where Spears was not present. At a closed-door conservatorship hearing in 2014, Ingham said he had encouraged Spears to come to court to better "the likelihood of her getting more specific information" about conservatorship, but that "she has elected not to do so." Per records obtained by the Times, he did bring up some issues per Spears's request — including concerns about father Jamie Spears's drinking, custody of her kids, and terminating the conservatorship. However, he did not aggressively press for further answers.
At a 2014 hearing, Ingham also told the court that Spears had been "hostile, aggressive, and extremely threatening toward the conservatorship," specifically in front her boyfriend at the time, David Lucado. He also noted that she swore multiple times, once in front of her children. "As an officer of the court, that was very troublesome to me," Ingham said, adding that he'd told Jamie Spears's lawyers about the incident "so he can take whatever steps are necessary to protect the children."
During this hearing, Ingham also said Spears was under the impression that the conservatorship prevented her from retiring, getting married, and having children. To which Judge Reva G. Goetz said, "I don't recall that we made any orders about the right to marry, but you may not want to tell her that." Per court transcripts, Ingham responded, "Somehow that did not come up in the conversation," and moved on.
At Wednesday's hearing, Ingham said he'd step down as Spears's attorney, though presiding judge Brenda Penny didn't detail next steps for Spears to attain her own representation.
Despite the demonstrably bad behavior of the people who were supposed to act in the singer's best interest, Spears is the only one who has publicly apologized. After the hearing, she posted a statement on Instagram that read, in part, "I apologize for pretending like I've been ok the past two years … I did it because of my pride and I was embarrassed to share what happened to me." Of all the people involved in maintaining this conservatorship — one that's allegedly left her trapped in her house and medicated against her will — it's abundantly clear that Britney has nothing to apologize for.