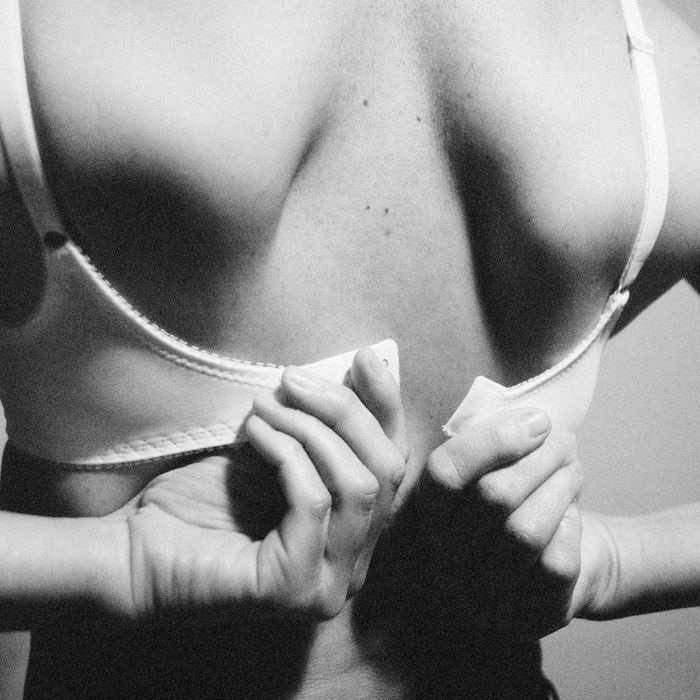 Photo: Getty Images/PhotoAlto
Bra shopping, for many people, is a gamble. There's a well-known statistic that 80 percent of women are wearing the wrong bra size, and although it might not be true, it's famous for a reason — bra sizing can be so complicated that it's hard to know what the letters and numbers even mean.
So I appreciated Wacoal's new app, myBraFit, which the lingerie brand launched to finally put an end to the mystery of bra sizing. Wacoal recognized that the bra-fitting system is outdated, so they developed an algorithm that will fit you, tell you your size, and recommend designs customized to your preferences. The process is easier (and much less awkward) than getting fitted by a professional in a store, and much more reliable than trying to fit yourself from home.
Miryha Fantegrossi, the vice-president of merchandising and design at Wacoal America, considers this project her baby and something the bra industry desperately needed. "We had to figure out how to do this. I don't want to hear that the [percentage of women who don't know their bra size] is 80 percent. I've talked about this for 20 years. That's why I have such passion behind what we've done. Our sizing is extremely consistent," says Fantegrossi.
The app asks you for your height, weight, and to pose for three pictures in your best fitting bra and leggings. (Don't worry, they're deleted immediately). Within minutes, your size is calculated through an algorithm developed by Wacoal, and you are given a selection of Wacoal bras based on your measurements. The whole process takes about as long as captioning a selfie.
I'll admit, I was pretty skeptical about this whole process because bra sizing seems like it should be more complex than taking a few photos. But I'd volunteered to test the thing, so I propped my phone on a stack of books and followed along with the app's poses, feeling like I was doing a very slow TikTok dance routine. The bra size it gave me was the one I usually wear, but I appreciated the range of options on the Wacoal website chosen specifically for me. It felt easy, and it totally took the pressure off of bra shopping (which I usually never want to do). I think I'll go with this one.