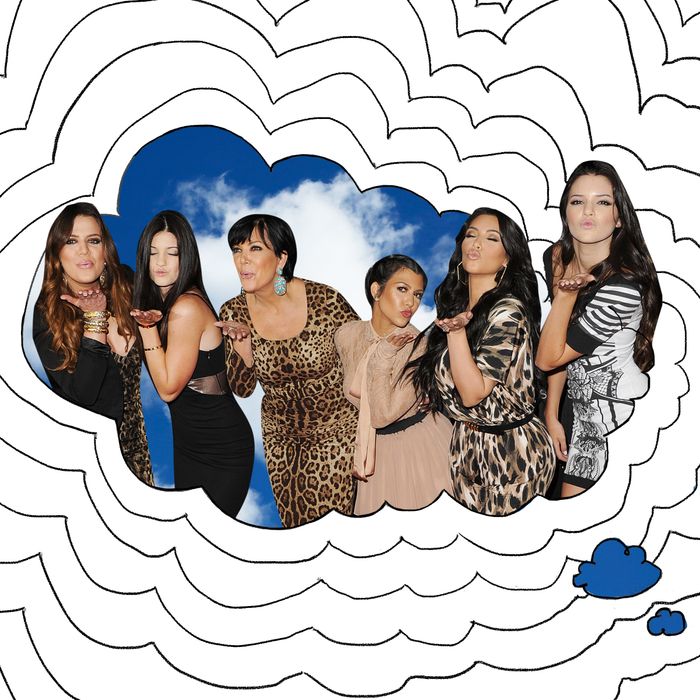 Photo-Illustration: by The Cut; Photos: Getty Images
Over the past 14 years, the Kardashians have managed to completely overhaul celebrity culture as we know it. In 2007, the first episode of their Ryan Seacrest–produced reality show Keeping Up with the Kardashians aired on E!, glomming on to the success of the first wave of reality television and Kim's recently leaked sex tape. But while they could have been just another dime-a-dozen reality-TV franchise, they instead grew into a multibillion-dollar conglomeration that spans industries and has included multiple political campaigns. They've turned each member of the family into their own individual brand while simultaneously managing to keep the Kardashians as a whole constantly in the spotlight. As former assistant to Paris Hilton and future lawyer Kim Kardashian would say, "Not bad for a family without talent." In honor of their show's ending, nine writers reflect on the moments in the family's history that they think about … a lot.
Kanye's "tiny sunglasses" memo
Imagine: You're minding your own business, living your best life, when all of a sudden an email arrives in your in-box from your husband. "You cannot wear big glasses anymore," it reads. "It's all about tiny little glasses." Attached are images of '90s celebrities wearing the trend, in case there's any confusion. What do you do?
If you're Kim Kardashian, this is a familiar scenario. In season 14, episode 13 of Keeping Up With the Kardashians, Kim tells Jonathan Cheban, a.k.a. Food God, that she's received an email memo from her husband, Kanye West, that reads the same as the above. Being the dutiful wife that she is, she's already wearing tiny little sunglasses as she shares this, revealing that today Kanye put together her entire outfit — one that looks like something Trinity from the Matrix might wear if she lived in Calabasas.
As you probably recall, as soon as Kanye entered the picture, he made Kim's style his personal responsibility. In a 2012 episode of KUWTK, he gives her closet a full makeover — one so brutally thorough it reduces her to tears. "I always thought I had really good style until I met my husband and he told me that I had the worst style," she once said on a panel, adding that Kanye was "really nice about it" and replaced her entire wardrobe with designers she'd never heard of before. His few appearances on the show over the years involve him doing things like flying to Paris for 24 hours to consult on Kim's outfits because "you can't see everything through FaceTime."
I have to hand it to Kanye: He did a pretty good job as Kim's stylist. (Although, to be fair, we all look better than we did in the early 2000s.) In addition to keeping her abreast of the latest eyewear trends, he also brought her into the world of luxury high fashion as he established his own role within it. Before Kanye, Kim was shunned by designers and magazine editors. Together, they attended the Met Gala and made the cover of Vogue. Now, fashion is KimYe. Or, well, was KimYe. I think it's safe to say that tiny sunglasses had their moment in the sun thanks in part to Kanye's memo.
But there is a difference between having a positive influence on someone and explicitly telling them they cannot wear something. To me, Kanye's approach seems stressful. I'd live in constant fear of another trend report hitting my in-box. "Not again," I'd say, sobbing as I threw my tiny Jacquemus bags into the flames. Under his eye, Kim's style wasn't just altered, it was completely wiped out, reduced to a pale-gray-colored slate. I'm happy for her (and her in-box) now that she can move all future trend emails to the trash. — Emilia Petrarca
Kendall's herbal cigarette prank
The younger Kardashians have a long history of experimenting with posing with cigarettes. In 2017, Kylie outraged fans when she posted a sultry black-and-white Instagram in which she puffs a cloud of smoke. Kendall followed not long after, with an equally artful photo in which, cigarette in hand, she splayed naked on a picnic table; it was captioned, "I don't smoke." But my favorite smoking moment happened on the show back in the early days when 14-year-old Kendall faked a cigarette habit in an attempt to get Kris to stop smoking real ones.
One season-five story line revolves around Kourtney, Kendall, and Kylie deciding their mom has a smoking problem. There's an incident where the three of them pour water on Kris while she's out for a smoke in a maybe obnoxious, definitely effective way of putting out her cigarette. When this doesn't work, Kendall sets up a moment made for reality TV: She gets caught loitering outside the Kardashian house holding a lit herbal cigarette. Kris flies off the handle and orders Kendall back inside; Caitlyn calls Kris a hypocrite for not leading by example. Humbled, Kris approaches her grounded daughter to apologize. "You wouldn't be trying to teach me a lesson, would you?" she gamely asks. Cut to the confessional, where Kris punctuates the prank with the Mother Goose moral of the story: "Now I know how my kids feel when they see me smoking. It definitely scared me straight."
It's so very dramatic, so very D.A.R.E. The overstating of the point, the extreme staging, their obviously rehearsed line delivery — there's a je ne sais quoi to this era of reality television that makes moments like these so perfect. — Aamina Khan
The KimYe Wedding
The 2014 joining of Kim and Kanye was the union of the two biggest personalities in Hollywood. This was America's royal pop-culture wedding, all wrapped in a tight TV package. They delivered opulence, European excellence, and Andrea Bocelli. Its grandeur is hard to forget, and we revisit it every time we RSVP to an event that sadly does not include access to Versailles.
The saga began with Kim's bachelorette party, a dinner at the Hotel Costes in Paris, which happens to be the hotel responsible for inspiring Ina Garten in the creation of the Barefoot Contessa theme song. Guests included Kim's sisters, Lorraine Schwartz, Lala Anthony, Scottie Pippen's wife, Larsa, and Brittny Gastineau (star of Gastineau Girls, a 2005 E! reality show about her and her mom sharing an apartment in Battery Park City). After dinner the group went rogue and posed for paparazzi photos in front of the Louvre and the Eiffel Tower.
Creating an air of mystery is key, which is why all wedding guests had to sign NDAs before staying at the Hotel George V. From here, they made their way to a rehearsal dinner held in the Hall of Mirrors at Versailles, where they were treated to a performance of "Young & Beautiful" by Lana Del Rey, a song that was deeply personal to KimYe. Lana later said of the experience, "It was great."
Private planes then flew guests to Florence. Khloé was hungover and told her mom to "shut the fuck up" on the tarmac while trying to open an energy drink. She almost missed the flight.
After this crisis was managed, the main event was held at Forte di Belvedere, located on the highest hill of the Boboli Gardens (from which the pizza gets its name). It was planned by event virtuoso Sharon Sacks, whose client list includes Meaghan Trainor and the Olsen twins. Outside, local Italian teenagers shouted "Justin! Justin!" They believed Justin Bieber was in attendance, but he was not.
The ceremony itself was officiated by a hot minister from Miami named Rich Wilkerson Jr. He looked like Leonardo DiCaprio and later opened a pop-culture-themed church in Miami called Vous Church, which sells merch. The wedding of the century had everything: paparazzi chasing you around in front of the Eiffel Tower, a pop star serenading you, an edgy hot pastor. It's everything we would have said we wanted our own weddings to be if we were asked this question in middle school. — Viviana Olen and Matt Harkins
Kourtney kissing Jackie Cruz in Miami
For some inexplicable reason, even though I have never watched more than a handful of Keeping Up With the Kardashian episodes, I have seen Kourtney and Khloé Take Miami, season 1, multiple times. Remember D-A-S-H? The pre-Yeezy-era Kardashian boutique that kept bandage dresses long in the public consciousness? The purpose of Kourtney and Khloe's going to Miami was to open a second D-A-S-H location and for Khloe to do her radio show, "Khloé After Dark," co-hosted by Terrence J.
Basically, it's a perfect backdrop for the comedy stylings of Khloe and a single Kourtney, who was then on a break from on-again, off-again boyfriend Scott Disick. 2009 was a simpler time for the Kardashians, so the show was mostly the two partying in Miami, creating drama with the D-A-S-H employees, and making out with a lot of people. In episode two, Kourtney makes a new bisexual friend named Jackie, which the show manages to bring up a lot. After a night out, Jackie and Kourtney share a smooch in the club. More likely than not, it was just my latent queerness, but at the time I was thrilled. I didn't care about these people at all, especially given Kourtney's very irritating reaction: She claimed to be "embarrassed" and afraid she led Jackie on. But despite Kourtney's staunch heterosexuality, I held on to that kiss. Years later, bisexual Jackie reentered my consciousness when she was revealed to be Jackie Cruz — an actress on a brand new Netflix show, Orange Is the New Black. Cruz has talked at length about the kiss, saying that Kourtney is a sweetheart, though it seems the two aren't in contact any longer. But for one brief televised moment, the Kardashians felt a little bit queer. — Kerensa Cadenas
Kourtney's explanation of how to eat a Kit Kat
Kourtney Kardashian and I have very little in common, and I doubt many of our interests overlap. However, I know we agree on at least one thing: There is a correct way to eat a Kit Kat. My way comes with far fewer rules and is mostly limited to the belief that biting into a Kit Kat bar whole should be a felony. Though I do admire Kourtney's way.
In 2016, Kourtney decided it was time to unleash upon the world this absolutely unhinged explanation of how to eat a Kit Kat. The nearly two-minute video features a title card that reads "Kourt's quirks" and starts with her methodically unwrapping a partially melted Kit Kat bar.
Words do the method no justice, but, basically, Kourtney starts by biting off all the chocolate coating first, nibbling with surgical precision. Then she separates the three inner wafers before consuming each one separately, saving the middle piece for last as it is "the best part of the whole Kit Kat." The video is a follow-up to an equally deranged 2015 video in which she and Khloe explain how to eat a Reese's Peanut Butter Cup. (Chocolate first, inner peanut butter disc second.) They are the first- and second most-watched videos on her YouTube page, with a combined 6 million views.
The Kit Kat video is the exact brand of innocuous trolling the Kardashian-Jenner clan has perfected. It's the kind of fuckery where you think they might be in on the joke, but you're not exactly sure. There is a glimmer of self-awareness but no hint of irony. It's deliciously stupid and, like a Kit Kat itself, easy to mindlessly devour over and over again. — Mia Mercado
Kylie's blue-hair era
In 2014, Kylie Jenner's hair became, truthfully, everyone's obsession — at least in my friend group. I was 15, living through my freshman year of high school in Arkansas during a time when drinking boxed water and listening to Arctic Monkeys meant you were cool. Although Kylie's suddenly much-fuller lips were what the general public was obsessing over, it was her hair, for me, that solidified her influence and made her seem much cooler than her sisters. It also signified her participation in Tumblr grunge — the overly filtered online version of an emo phase that I (this is a painful admission) obsessed over. Every notable grunge celebrity tried out this hair color (Halsey, Michael Clifford, Demi Lovato), but Kylie brought it to the mainstream, and it was all I wanted to do with my hair (luckily, my mom wouldn't allow it). This hair color also saw Kylie through her transformation from youngest Kardashian to famous in her own right. She was still 17, and her airy, detached disposition made her seem like she was just a perpetually online high-schooler rather than another out-of-touch celebrity. For the first time, my friends and I started to care about the Kardashians. We wanted her lip kit and her extensions; her selfies were the topics of lunch-table conversations. It was the only time I ever consistently kept up with KUWTK. I have since unfollowed and lost interest in the Kardashian family, but whenever I think of Kylie, I still picture her with that blue highlighted hair. — Olivia Evans
Kim hitting Khloé with her purse
At a certain point, KUWTK became background noise for me, mindless TV I turn on but never actively watch. But there's an episode in its second season that is so perfect I can't help but get sucked in each time.
Let me set the scene: It's 2008, and Kim has purchased a new Bentley. With Scott, Kourtney, and Khloé, she arrives at the dealership to meet its owner, Chris, who argues with Khloé when the car isn't ready. One thing leads to another, and the sisters start screaming at each other in the parking lot. "You are just so jealous that you cannot get a Bentley, and you're trying to ruin my moment for me. So get away, you jealous psycho bitch!" Kim screams. So Khloé heads to Rob's apartment with Kourtney and Scott in tow, deserting Kim in the parking lot. Without skipping a beat, Kim immediately calls momager Kris to proclaim, "I hate my sisters. They are so rude. I never want to look at their ugly faces again!" But the anger subsides, and she drives to Rob's, where she overhears Khloé and Kourtney calling her a "weak duck." Kim barges in, Khloé tries to slam the door on her, and suddenly, Kim is yelling "Don't be fucking rude!" while swinging her Prada bag at Khloé.
Over the years, Kim's line has echoed through my head, seamlessly becoming a part of my lexicon. And honestly, I would be lying if I said that it didn't remind me of the time in middle school my sister and I argued and I flung a book at her as if it were a frisbee. But aside from the sheer entertainment of it all, Kim and Khloé's fight is perfect because it crystallizes the Kardashian dynamic: Kim flaunts her wealth, Khloé accuses Kris of favoring Kim because she receives a portion of her paycheck ("Just because she gives you 10 percent doesn't mean you have to kiss her ass!"), Rob meanders in the background, and Kourtney sides with Khloé, all while Scott is cracking jokes. It's a master class in reality TV, one we'd see play out for 18 more seasons over nearly a decade and a half.
I won't be following the Kardashians to Hulu. But I'm not fretting over it: I've already watched season two, episode 7, and I know how it will go. — Daise Bedolla
Kylie's walnut face scrub
I don't know much about skin care, but one of the first dogmas I encountered is that you should never, under any circumstances, use St. Ives's Apricot Scrub. Despite its ubiquity in teenage skin regimens, the crushed-walnut-shell powder can supposedly create micro-tears in the skin, and the company was sued in a class-action lawsuit over this fact in 2017.
So two years ago, when Kylie Jenner announced a new skin-care line featuring a walnut scrub, the internet went wild. "do NOT pay this billionaire your hard earned money so you can tear up your precious faces with tiny bits of walnut," went one tweet. "Kylie the girls have been dragging St. Ives for 10 years now lol read the ROOM," went another. The "backlash," as it was called, prompted an endless series of articles asking dermatologists what the deal was with walnut scrubs.
How could she sell something so gauche? I remember thinking. Didn't she know manual exfoliants were out and chemical exfoliants were in? Did she think people would pay for this?
Perhaps we were a little hasty. Turns out that St. Ives suit was dismissed for lack of evidence and that not all doctors agree crushed walnut powder is always abrasive to the skin. The scrub sold out immediately upon its debut along with the rest of the skin-care line, according to Kylie. And just a few months later, she sold her majority stake in it for $600 million. As we've come to learn about the Kardashians, they're nothing if not savvy. — Jordan Larson