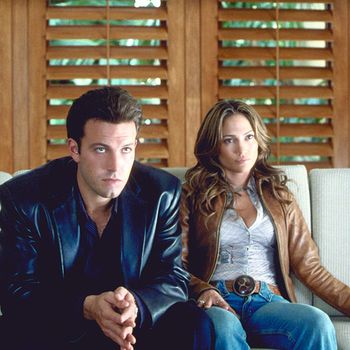 Ben Affleck and Jennifer Lopez in the original 'Gigli'
Photo: Columbia/Revolution Studios
I have already speculated about the possibility of Bennifer having a little kiss for the cameras — something that appears to be growing more imminent by the day. And now, I must speculate some more as Ben Affleck and Jennifer Lopez continue to give us rekindled romance fodder. Recent photos from "Page Six" show the two snuggling on their way to dinner in West Hollywood, where, according to E! News, they were also joined by Lopez's manager Benny Medina and movie producer Elaine Goldsmith-Thomas. A producer, you say? Hmm. I guess what I'm wondering is … what if they made another Gigli?
Lopez and Goldsmith-Thomas are close friends, so most likely it was just a group of buds hanging out. But … what if it were something more? What if, between bites, they threw out some ideas for future collaborations? What if they teased the idea of making another Gigli?
Now is probably the time to admit that I have never seen Gigli. But I have seen the trailer, which heavily features Avril Lavigne's underrated bop "Mobile," and I think we can all say that is plenty. Gigli is a famously bad movie. It was widely panned by critics, with the British Times giving it a zero, and is currently sitting at 6 percent on Rotten Tomatoes. What I'm saying is: What have they got to lose by making another one?
For those still wondering whether Gigli was really as bad as everyone said it was, here is the plot: Gigli (Ben Affleck) is ordered by a mob boss to kidnap the mentally disabled younger brother of a powerful federal prosecutor. (He is played by Justin Bartha, an actor who is not disabled.) Plans go awry. Enter, Ricki (Jennifer Lopez), an "independent contractor" who is also [checks notes] gay. Don't worry, it gets worse.
Gigli's hypermachismo scares Ricki straight, I guess? Before he goes down on her, Lopez spreads her legs and says, "It's turkey time. Gobble gobble." (Imagine coming up with that line, writing it down, and then telling Jennifer Lopez to say it. The audacity.) At one point, Christopher Walken shows up to give an extremely Christopher Walken line delivery of this jumble of words. There is also a cameo by Al Pacino, who worked with Gigli writer-director Martin Brest on Scent of a Woman and, I'm assuming, owes the man a great debt.
It's worth mentioning that the Bennifer also co-starred in Jersey Girl. However, that movie was perfectly mediocre and needn't be touched. Another Gigli is the punishment we all should face for endlessly ogling Lopez and Affleck's recently revived relationship. It's the movie reboot no one needs but we all deserve. It's Gigli 2 time. Gobble, gobble.