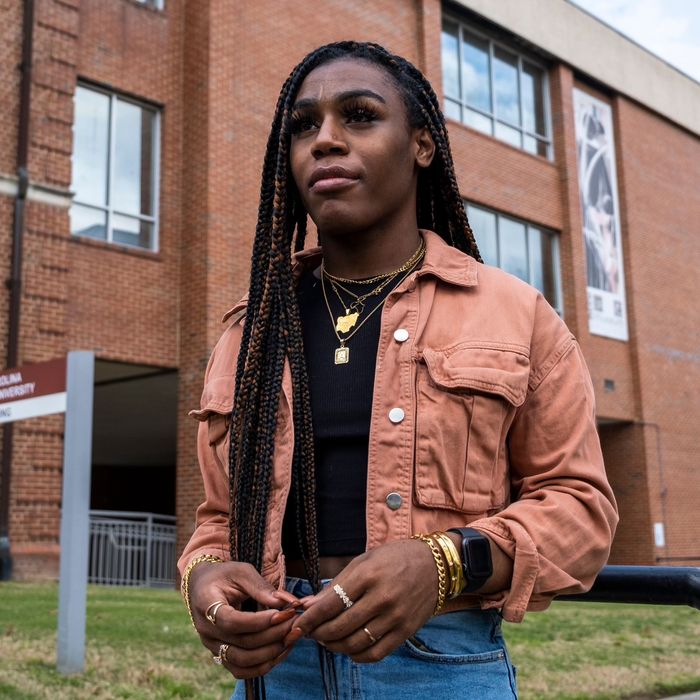 In Changing the Game, a 2019 documentary recently released by Hulu, four high-school trans athletes — Andraya and Terry, both track stars; Sarah, a gifted skier; and Mack, a talented wrestler — simply try to participate in their chosen sport to the best of their ability while adults (some supportive, some not) decide how they feel about it.
The extent to which cis adults (many of whom have no skin in the game whatsoever) feel comfortable sharing their thoughts about trans kids' participation in sports is one of the film's many subtle revelations; Changing the Game features a handful of interviews with adults whose faux concerns about athletic "fairness" belie their abjectly creepy fixation on the perceived genitalia of children they do not know. Distilled to its essence, this is what the furor over trans youth participation in gender-segregated sports is about — a point which the documentary never lets viewers forget.
The Cut recently spoke to Andraya Yearwood, one of the documentary's stars, as well as producer Alex Schmider (also director of trans representation at GLAAD), about the film, its reception, and what sports mean to kids (hint: a lot more than winning).
What made you want to participate in Changing the Game?
Yearwood: When Michael Barnett [the director] introduced the idea to us, I remember my mother and I being very apprehensive. A documentary is a very big deal. But what I've gone through is bigger than just me, and I felt like I should get my story out there, spread awareness of trans athletes and what we've gone through, and hopefully show a different side than what's been portrayed by the media.
You spoke to this in the documentary, but is there part of you that just wants to be you, the athlete, and not have to be a representative for the larger issue? That feels like a lot of pressure.
Yearwood: There were definitely a lot of times when I wished I wasn't in the media so much and didn't have to think about it — I could just run and be an athlete. But at the end of the day, I'm glad I was put into the media and went with it, because again, the issue for trans athletes is bigger than just me, and I want to be the voice for those who don't know how to use it, or don't have one. I want to educate other people who agree and disagree with trans athletes' participation in sport.
In the documentary, we see your direct influence on Terry, your track teammate, and I'm wondering if you can tell me what it was like when she came out to you as trans, and you recognized your impact.
Yearwood: I was just shocked. I was just a regular track runner; I didn't think myself to be that special. When she first reached out to me and told me she looked up to me, it was surreal. I'd never experienced that before. It was refreshing and relieving, because now I had someone I could relate to, someone I could confide in who was going through exactly what I went through.
Where has your running career gone since the documentary wrapped?
Yearwood: I'm in college, and I don't participate in collegiate or club track. I kind of closed that chapter after high school. I do still keep up with college track meets, and I'll go for runs, but it's not necessarily a daily thing.
What went into your decision not to participate in collegiate track?
Yearwood: I feel like it was up to me. I know I could have continued. I didn't necessarily want to go through what I went through in high school for another four years. So I had a choice, but there were a lot of factors that went into it.
What do you say to this sort of clueless cis perspective that being trans is some kind of shortcut to athletic superstardom?
Yearwood: In my experience, and in the experience of a lot of athletes, trans or not, sports is not just about winning or bringing a gold medal home. There's a lot more that goes into sports — teamwork, team-building skills, friendship. Sports give kids happiness and a way to express themselves. When you get into higher, elite status, maybe it's more about winning, but for kids, not really.
Schmider: Something I've seen over the course of the past few years is that there is this one narrative focus on trans athletes, which is that we only hear about them when they're winning. We don't hear about trans athletes when they're just being themselves and participating in the sports they love. That skews our perception of who trans athletes are. Even as I was coming into producing the documentary, I had all these preconceived notions that I had to interrogate because of the very narrow stories we hear about. When we don't hear about the value of sport for kids, and we only see the controversy of trans athletes participating, it paints this picture that's not reflective of reality.
A lot of the backlash seems to rely also on sexist ideas about who's good at sports and why. 
Schmider: There are so many sexist and racist notions that underline what these attacks are about. It's about anyone who doesn't perfectly conform to gender expectations, specifically Eurocentric, Western, white expectations — particularly of womanhood. When we look at someone like Michael Phelps, whose body is celebrated for producing less lactic acid than his competitors — and we're talking about elite-level athletics, not children. That's a physiological difference. And at the same time, we can look at someone like Simone Biles, where the standards continue to get pushed because of who she is. These bills are said to be about excluding trans athletes, but they're really about policing girls' and women's bodies, and who gets to succeed. It affects a lot more than just trans youth, because we also know there are gender-nonconforming cis athletes who are having their entire sports teams banned because people don't have an expansive view of what gender actually is.
Part of the backlash seems to come from a condescending assumption that trans athletes will be rejected by their cis teammates, but it doesn't sound like that was your experience, right, Andraya?
Yearwood: When I first joined the team in freshman year, none of my teammates or any coaches treated me any differently. I felt very accepted. Most times at meets, it would feel the same way. Throughout my experience in high school, my teammates and friends did a really good job keeping my spirits up. There would be times when the media would get to me more than I would have liked, and my teammates were always there to put a smile on my face and make sure we had some fun.
What was it like for you watching the documentary and seeing other trans athletes who went through some of the same struggles you did?
Yearwood: It annoyed me. Mack's situation, how he was forced to wrestle against the girls, that's just not fair. He wasn't able to enjoy the sport he loved because of this [rule]. It made me more appreciative of the rules in Connecticut, [where I grew up], and the environment I had. In Mack's case, people were booing at him and saying pretty messy things during his meet. I never really had that.
Something else the documentary touches on is that a lot of that harassment and criticism comes from adults, toward kids. When you were still a kid, did you notice a difference between the way adults talked about this issue versus the way your peers did?
Yearwood: The kids I ran against, it didn't feel like it was as big a deal to them as it was to their parents. Even at track meets, none of the kids ever said or did anything to me. But a lot of the parents would. I was told there were parents at my meets who went there just to boo me, because I was running. I think in my last track meet of senior year, I had security guards walk with me wherever I went because the media attention and the parents had gotten so bad. The kids weren't like that, as far as I saw.
Schmider: Some of those people in the stands heckling Andraya in the documentary didn't even have kids running. It was just adults who decided to spend their day yelling at children on a track.
In your activism, Alex, what do you think is the central panic behind these bills? What is the main challenge in changing people's thinking?
Schmider: We know that about 80 percent of Americans say they don't personally know someone who's transgender, so the majority of what the public has come to know about who trans people are is from TV, film, and news media. When the news media is really skewed about who trans athletes and trans youth are, and usually not centering their stories in their personal experiences but more projecting fears and ignorance about them, it creates this false mental template of who these kids and communities actually are.
We were on the festival circuit for about two to three years before we landed on Hulu, and when we screened the film in rural towns, in big cities, in blue states and red states, for older and younger people, the majority [of people] who sat through the film and got to know Andraya, Sarah, Terry, and Mack were reminded that these are just kids who want to be themselves and play the sports they love with their friends. I think so much of how we're going to overcome the really harmful rhetoric and legislative attacks that are happening is for people to get to know the kids who are being politicized, and for people to understand they're implicated in these legislative attacks, because it doesn't just affect trans youth, it affects any child who in any way someone deems gender-nonconforming. I think we're on our way to changing hearts and minds, and it's because of the generosity of Andraya, Sarah, Terry, and Mack in trusting us to help them tell their stories.
Andraya, can you tell me what the reception to the film has been like for you?
Yearwood: The response has been very positive. I see so many people reposting it, encouraging people to watch it. My friends have said really great things about it. It's been the best it could be, but I still hope more people do watch it and use it as a tool to understand what we went through as trans athletes. I feel really proud of everyone who worked on it and made it happen.