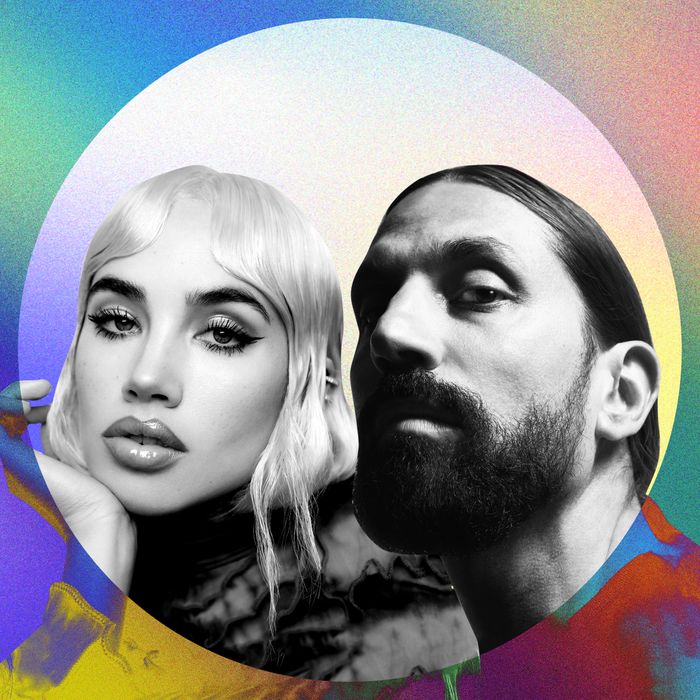 Photo-Illustration: by The Cut; Photos: Hugo Yangüela, Marcus Ohlsson
Byredo's Ben Gorham and makeup artist Isamaya Ffrench do their best work hanging off the sides of cliffs. Literally: Both are avid outdoor enthusiasts with a love for rock climbing. And also metaphorically: Not fans of conventional beauty, when creating Byredo's first-ever color-cosmetics line, they wanted to create something very different from what is out there.
The result is a line that is a blend of strange and alien beauty, with sparkly chartreuse and glittery reptile-green colors they encourage you to apply all over your face, chrome lipsticks that resemble gilded bamboo trunks, and mascara tubes shaped like ancient curved claws. A tongue-in-cheek reference to "traditional" makeup is an eyeshadow palette called "Corporate Colours," which includes neutral shades with names like Pushpin, Eraser, Manila, and Letterhead.
The Cut talked to Ffrench and Gorham about their outdoorsy adventures, not telling people what to do, and breaking color norms.
I've heard that you've taken a lot of outdoor trips together. Have you ever had a moment where you're like, "Uh-oh, how did we get here?"
BG: I had Isamaya hanging off a cliff on a rope. She was not scared, but I was nervous because I put her on it. We are in the North of Sweden, not too far from the Arctic Circle.
IF: And he's trying to ask me what the next collection is, during this moment. I am a serious outdoors person, but it was my first time traveling with Ben. So in a way, I felt very at home doing my meeting at the edge of a cliff. We haven't had a chance to get out again.
BG: We had some big trips planned that we had to cancel because of COVID. I basically have not traveled for over a year. I can do without the 24-hour trips to New York, L.A., and Shanghai that I used to do. But the only thing I truly miss are those adventures in Iceland and Alaska. You can't replicate the experience you get being in these very remote locations.
What is it about the outdoors that appeals to the both of you?
IF: It's revitalizing, and a vital part of living. We're both used to being outdoors naturally. If you're out in the world, how could anyone not love it? It's what I have to do to survive and be happy. Even if I can't get out to the mountain, I have to make sure that wherever I live, it is near a body of water or open space.
BG: I agree. It goes back to that cliché, that when you start to feel small, you start to self-reflect. When you're in a bustling city of thousands on the subway, in constant dialogue, or in constant contact, with people, it's hard to get in touch with that inner part of you. That's why well-being and yoga, and meditation, have all become counters to the noise we experience. You find yourself in nature, and that idea of solitude is quite important.
Do you think of beauty as self-care?
IF: I don't know how you couldn't, really, especially if it makes you feel good and inspires you. Some people find beauty in yoga, gardening, or in lipstick. I think it's important and just a part of being human. You can't get around beauty, you can find beauty in anything.
BG: I agree with Isamaya. If beauty can relate to an emotion and what you actually feel, then I definitely think it is self-care. It's become a concept and a word to drive marketing and public opinion. But this project is about creating a toolbox or a system for people to express their own ideas about beauty.
It was very important for us, including myself and Isamaya, not to dictate, but to inspire and empower people to express their own ideas about beauty. We've been grateful that what we've envisioned with this format has happened. People have been embracing the product, as a way to express what they find beautiful. So beauty is a way to describe something, is also an industry, is also a concept people sell, but you have to be careful these days.
How did you ensure that you were giving people tools rather than dictating?
IF: We created multifunctional tools, and we didn't dictate how you might want to use it. Something like the Colour Stick can be used on the lips, face, eyes, and through our campaigns and stories we wanted to show that this was a makeup object you could use any way you want. For example, it's quite unusual that you find a multifunctional stick in a car green, what are you going to do with it? We weren't going to tell them, but provide something that might inspire them to try something new.
We shot the Vivienne Westwood campaign, and Byredo was a partner. She picked up the green product, rubbed it all around her mouth and cheeks, and was very playful with it. It was a great example of not defining the way someone would interact with makeup. We have also given them colors that are challenging the standards of what makeup color should look like. We also don't have standard photography, but are using things like CGI. We approached it in a more contemporary, abstract way.
How do you break the norms of color?
IF: There are lots of colors I instinctively really love and wanted to have in the collection, like that vintage green or bronze orange. I did a lot of color research with Ben, where we looked at images, photography, textiles, or centered in an area of the image that we loved. Like, that color would make a really beautiful lip shade. We just let go of all our ideals and boundaries in a subjective way.
Ben really helps me think outside the box, because his background isn't even beauty. For example, he might say, "I'm of Indian heritage, I want to make one related to the women I grew up with. These colors make sense to me and my upbringing." Or he might say, "What do you think about this funny shade of blue? This purple? I have a name for a Colour Stick, what would that look like as a color?" He's a lot more abstract. Everything is a creative challenge.
What was the biggest "no" you heard in your career, and what did you learn from it?
BG: Nobody ever thought a tall, lanky basketball player could create a beauty brand. That was a "no" for a very long time. I kind of always had a chip on my shoulder. When someone tells me that I can't do something, it becomes a carrot or lights a fire within me — even with this makeup project. Even though I drafted the most valuable player in the world to do it with me, I still heard, "You can't do that because people that do fragrance can't do makeup," or, "No one has done that."
IF: I still struggle with being defined as a makeup artist, since I never set out for that. That's why I'm grateful that a brand like Byredo allowed me to not just do makeup for the shoot, but also the creative direction of the campaign. It's been a nice journey to be able to work in other fields, like directing, consulting, and creating images.
Every product is independently selected by our editors. Things you buy through our links may earn us a commission.