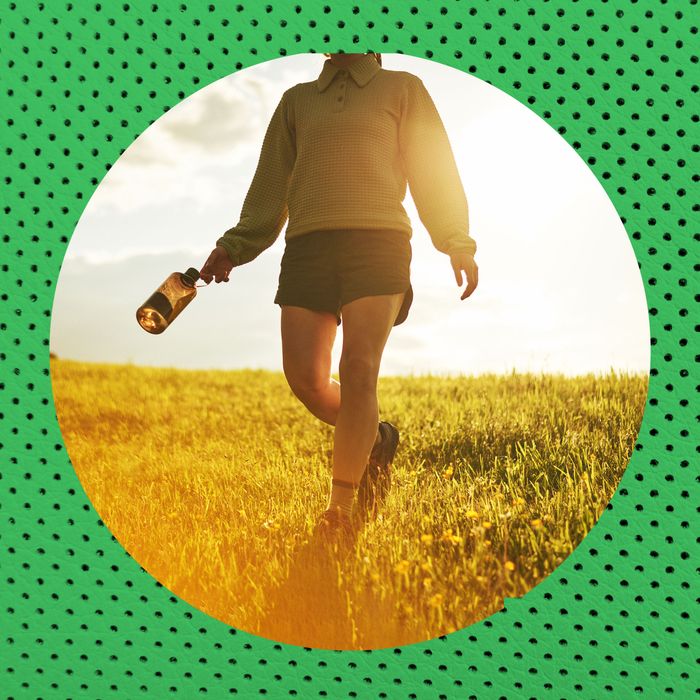 Photo-Illustration: by The Cut; Photo: Jonathan Tasker / Imprimere
"Hot Bod" is a weekly exploration of fitness culture and its adjacent oddities.
Four years ago, two stylists' assistants, Chelsea Rizzo and Allison Levy, met at a photoshoot for Gucci while heaving around beautiful clothes. They chatted endlessly about fashion, but it took a few times hanging out before they discovered their other mutual love: hiking. The pair began to take trains up to the Catskills and Breakneck Ridge. They bonded over gorgeous summits and some mutual frustrations — how difficult it was to find an outdoorsy community and how challenging it was to find technical hiking apparel that fit, functioned, and didn't consider aesthetics an afterthought. Rizzo and Levy felt most like themselves hiking mountains — being 'on trail' — but they couldn't find any clothes that made them look like themselves. They had a strong inkling they weren't alone in this. "We know other women like us are out there," Rizzo says.
When Rizzo's attempt to do the Pacific Crest Trail last summer got torpedoed, the pair began to scheme. If a long backpacking trip wasn't available to them, maybe they could create something that would dramatically improve their outdoorsy lives when they emerged. Hikerkind, which launched this week, is an outdoor-apparel company and hiking club for people who like cool, well-cut clothes that are also sustainable and technical. They're beginning with the mid-layer, a warm knit pull-over in a soft shade of green. They also want to be your hiking friends: Hikerkind organizes twice-monthly hiking trips to trails just outside New York City.
Last week, I spoke to Rizzo and Levy over Zoom — where I could see a big topographic map behind them, outlining the ridges of the Sierra Nevada — about pushing what we can expect from our outdoorsy attire.
As two people who love clothes and love the trail, what disappointed you about the outdoor apparel available to you? 
Allison Levy: The origin with Hikerkind comes with a frustration with lack of options. Either you have to shop in the men's section and tailor it, which seems like an unnecessary step, or you find a piece that's pink and that's the only option you have. So, we were just like: What do we want to wear? Coming from our career in styling, we thought we might have an interesting perspective. We wondered, What can we bring to this and what would other women potentially appreciate about it?
Chelsea Rizzo: Allison and I would complain we couldn't really find something where we looked like ourselves on the trail and that also performed well. The whole "shrink it and pink it" thing … it's insane that this is still happening. With outdoor clothes, what they seem to do is they take a men's design, they make it smaller, and color it pink. Some people in the outdoor industry have been on their soapbox about this for a long time — that you don't have to make things pink for women.
What were the most important factors in designing this mid-layer? 
CR: It's important to think about it with the feminine silhouette. That's another problem with "pink it and shrink it": Fit goes one of two ways. It either looks like you're wearing your boyfriend's stuff that's really not made for you, or they've made it in the "woman shape" [an exaggerated hourglass].
AL: Chelsea and I, we wanted something that still felt fitted.
CR: [The mid-layer] fits me, it slims my body, but it's technically a boxy fit. The key for us was putting bungy in the bottom so you could cinch it to your body if you need extra warmth or you can cinch it up to give yourself a waist, if that's something you like.
The most important thing is the fabric. This is a Polartec knit with these pouches that keep in the fleece material that keeps you warm. That's how they mitigate microfiber waste [by keeping the fleece contained]. This is the most sustainable option out there. The first thing we talked about was end-of-life: What happens to this material once the consumer is done with it? We wanted to use recycled materials if we chose to use synthetics, which we did, and we wanted that material to be recyclable. It's not as easy as you would hope to find a fabric that is truly circular.
What's special or particular about approaching nature with a fashion eye? What conversations do you have about the outdoors in this lens? 
AL: I studied textiles when I was at FIT, and I remember looking around on a hike when I was in Cornwall or Italy, and looking at the rock formations and thinking, That could be a cool textile. We're stimulated by visuals — the colors of trees changing, the blooming of new flowers, the dapple of light at sunset or sunrise. We can connect over the visual beauty of the outdoors. We named our mid-layer 'lichen' because we saw it on a tree. It was the exact color of our piece!
CR: Sort of the opposite of that, when I started hiking, I was testing out my trail shoes. I would wear them to set, because the dad shoe trend, the normcore trend, was going on. Some digitech was like, Those are cool. 
How lucky for you that that trend coincided with you needing to break in shoes!
CR: I felt so blessed.
AL: You would have done it anyways!
CR: Yes. I was walking around everywhere in them.
When gorpcore emerged what did you think of it? Do you remember when you first noticed it? 
CR: The gorpcore trend that's been going on in fashion is really exciting. Coming from a high-fashion background, we obviously are geeking out at the crossover and all the collaborations we're seeing. What we hope — and what we are most excited about — is that the women who may be interested in how technical clothing is presented to them on a high fashion level, will [be] led to an exploration of the outdoors.
AL: We don't think that gorpcore has left women out, but it has perpetuated the misconception that women don't prioritize function as much fashion. Which is why we're often stuck in pants with no pockets. Men can go into a store like Hatchet Supply and buy a parka to wear to Paris Fashion Week one day and on trail the next. Women's Prada hiking boots or a Gucci puffer skirt aren't made to be worn hiking.
Before starting Hikerkind, what were you craving from an outdoors community? 
AL: It had been rare to find people to go hiking with so I had been doing a lot of it solo. I yearned for that community, that feeling of camaraderie on trail.
CR: It's not so outward-facing in New York: You're not talking about the mountain you just summited at the bar. [Maybe people] lean into the rep that they're not that outdoorsy, because we don't live in Colorado or on the West Coast. But we're here! That's the beauty of hike club. We pushed ourselves to do it almost every other weekend, so it's this consistent thing people can count on. Like meeting the model at one of our fittings for the mid-layer. She's here. She was like, I love to hike! And we were like come along. She's come to every single hike. We had a few test runs before the public one last week. And she's the woman that hike club is for. She maybe doesn't have a bunch of people who she knows who like to hike.
AL: Your ears perk up when you hear someone who also wants to go hiking. You can be on a hike for a few hours and break down all those walls. Because you feel so much joy and comfort, you're so eager to share more about yourself. Chelsea always makes the joke that it's like you're a few drinks in.
CR: You're a little more vulnerable, you're a little more chatty! You may say something you might not have necessarily said in a different environment. Three drinks in and the 'on trail': They're completely parallel. I love that there's no façade. We're all out here thirsty and getting slightly sunburned.