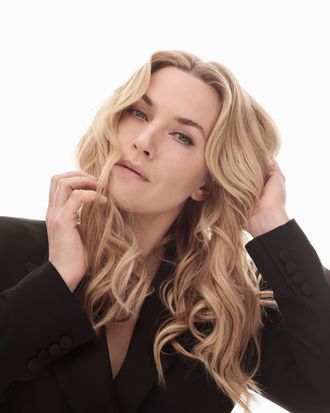 Photo: Courtesy of L'Oreal Paris
"Are you in a bathroom, Kathleen?" Kate Winslet asks me. "I did an entire interview the other night in the bathroom because it was the only place in the house where the Wi-Fi was good enough, so don't sweat it."
In fact, I am not in a bathroom — just a room with bathroom-esque wallpaper — but I appreciate that Winslet isn't afraid to state the obvious. She's equally candid when it comes to beauty: She once called out GQ U.K. for digitally slimming her photos, and in her previous role as the face of Lancôme, she famously banned retouching.
Today, Winslet, who is wearing a white button-down shirt and Zooming from a rustic farmhouse in the English countryside, is speaking to me as the new face of L'Oréal Paris. The Cut talked to her about vanity, Mare of Easttown, and washing her face with freezing cold water.
I've heard that you collect different prop mementos. What was the last one you collected?
The last one was my detective badge from Mare of Easttown. My son thinks it's a toy. He pretends to be a detective and hunts for things with his oversize magnifying glass.
When the world is free and open again, what will you do first?
Hug my dad. We have been able to see him because the rules in the U.K. have changed a little bit, but you can never get enough hugs from a parent. Also, just getting all the cousins together. My sister has five kids, my other sister has one. I am most looking forward to real, connected, hands-on family time.
What would you say your relationship with beauty is like?
It's definitely changed over the years as I have changed, and as my face has changed and continues to change. When you're in your 20s, you often think that beauty is something you apply, rather than noticing your truth and being okay with who you are — your face and body shape.
But I've learned that beauty isn't something you apply. In the last year, I've really enjoyed being able to just look after my health and my skin, more than focusing on putting on makeup. None of us really been wearing makeup for the last year. Still, whilst that's been lovely, it is nice to reemerge and throw on a great mascara or put on a fabulous red lip.
Being 45 is not so bad. When you're 25, you think, Oh my God, 45 is so old. But I don't feel in any way old at all. I've always believed in beauty coming from within, but definitely in the last decade for me, that's really cemented.
You spoke about finding your truth. What is the truth in beauty for you?
The unity with other women. These past few years in history have shifted things so seismically for women and for the next generation. To me, that is truly beautiful. My daughter and her generation aren't making themselves up with the purpose of getting a man to be attracted to them. They're making themselves up for themselves, as a pack, as a group of strong girls standing together. That's different from the way that it used to be 20 or 25 years ago.
There is a sense of women being greater together, standing up for one another, complimenting each other openly and freely in ways that we weren't really doing before. It used to be a lot of finger-pointing and comparing and competing, and they'll always be a little bit of that, but there's so much less of it now. The things that I've always cared about, and I've always been saying, are now being said as a group. They are also things that L'Oréal has been saying for years.
What is your daily skin-care routine like?
It is quite simple. I'll wake up in the morning and wash my face with lots and lots of cold water. I find cold water just wakes up the face, the senses, and takes your puffy eyes down. Sometimes, I'll even immerse a washcloth in very, very cold water and just hold it on my face.
I use a good moisturizer. At the moment I'm using Age Perfect Cell Renewal by L'Oréal. It's hydrating but it isn't sticky, so makeup goes on top of it really well. Sometimes if a moisturizer is too greasy, then makeup can slide around all day and I don't have time for that because I don't have time to reapply.
I always wear some protection factor, because as I get older, I get a few little sunspots and things, which I don't really want to have. I will do a little bit of foundation, like True Match. I'll mix a few colors up. A couple of coats of mascara. And at night, I just always make sure I've taken everything off really well. Then, I use a little Weleda Skin Food if my forehead gets very dry, which sometimes it does on the bridge of my nose.
You're now the face of a beauty brand twice over. You had your previous partnership with Lancôme. You've frequently described as having "no vanity," especially when it comes to your work. How do you reconcile the two?
When I go to work I just have to be prepared to do whatever it takes to become that character. And just to let it all go. I'm not very vain, so I am able to embrace that.
With my character for Mare of Eastown, she's actually quite dumpy, slumpy, and eats terrible food. How I moved and looked had to go hand-in-hand with who she was and her essence. I feel very lucky that in my own life, I don't get caught up so much in how I look. So maybe it isn't quite so challenging for me to leave all of the vanity at the door.
I truly love going to work and embracing the absolute no-makeup look — looking tired, fatter, dowdy, or whatever it may be. It just adds to the colors of my job. I love creating characters, disappearing into other worlds and exploring other aspects of the human condition.
What does "you're worth it" mean to you?
There's something very powerful about the sentiment. It means that the things that I have learned, the things I have gone through and come out of the other side of, have made me who I am.
Saying it in unity with other women resonates the most. We're worth it, we count for something, we stand up for one another, we're here together looking out for each other. Our lives are what they are, and without judgment, being able to celebrate each other — for me that's what being worth it means.