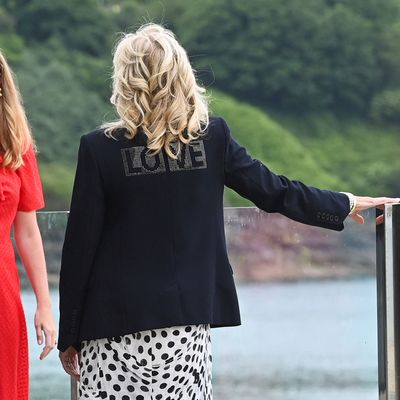 First Lady Jill Biden during the meeting with Prime Minister Boris Johnson
Photo: POOL/AFP via Getty Images
On Thursday, President Joe Biden had his first in-person meeting with British Prime Minister Boris Johnson. But I really don't care, do u? Let's discuss the "LOVE" jacket First Lady Jill Biden wore to the meeting instead.
The back of her black jacket — which is maybe more of a blazer? — was emblazoned with rhinestones that spelled out 'LOVE.' It's hard not to be immediately reminded of the infamous coat with a very different message former First Lady Melania Trump wore in 2018 when she visited a Texas detention center that held 55 migrant children. In case you need a refresher, her jacket message of choice was this: '"I really don't care do u?"
Unsurprisingly, Biden's jacket is being widely interpreted as a not-very-subtle dig at the former First Lady. And I guess what I'm wondering is … What would happen if we all began feuding via customized jackets? It'd be expensive, sure, but it'd also be glamorously petty. Give me peacoats with buttons that spell out "U SUCK." Give me graffiti-art jean jackets that say, "I hate you, Trevor." When we fight, let us use our words, and let those words be screen-printed onto our parkas.
Of course, the First Lady didn't directly address the resemblance to her predecessor's coat when asked by reports. "Oh, the love?" she said. "I think that we're bringing love from America. This is a global conference, and we are trying to bring unity across the globe. And I think it's needed right now, that people feel a sense of unity from all the countries and feel a sense of hope after this year of the pandemic." Hmm, sure, Jill.
If nothing else, I hope this means she also has jackets that say "LIVE" and "LAUGH."