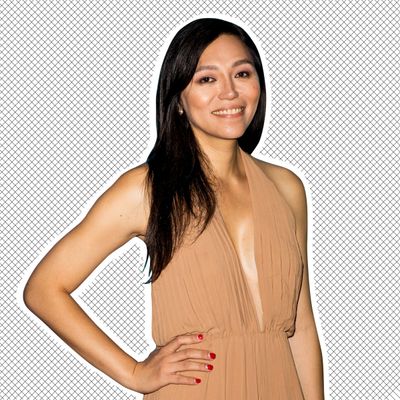 Photo: Tristan Fewings/Getty Images
Isabel Sandoval found herself at the movies. Growing up in the Philippines, she and her single mother relied on the big screen for escapism. Later in life, Sandoval understood that she'd always gravitated to films about female characters — a realization that helped her actualize her own identity as a trans woman.
Lingua Franca, Sandoval's third feature as a director, writer, and actress, is the purest distillation of her life experiences, even if its story about a Filipina immigrant working as a caretaker in Brooklyn departs from her own biography. The intimate 2020 drama, which caught the attention of Ava DuVernay's distribution company and is available to stream on Netflix, was the first movie made by an openly transgender woman of color to compete at the prestigious Venice Film Festival. Sandoval spent the past year finishing her next script — Tropical Gothic, a Hitchcockian fable about the haunting of a 16th-century conquistador — and developing TV projects.
Below, Sandoval discusses some of the movies and directors who have inspired her work.
Women playing a sport that's traditionally associated with men — especially the ensemble, with Geena Davis and Madonna, who was a hero for me growing up, like a lot of queer kids — spoke to me, especially growing up in the Philippines, where it's very Catholic and quite rigid and conservative. I saw these women being spunky and feisty. Even though I knew I was attracted to boys at a young age, I never identified with male characters at all. But with films where the main protagonists or the emotional center are women, I identify with them more easily and more organically. That made me ultimately realize in my late 20s that I was trans. I would consider A League of Their Own one of my formative films — not necessarily as a filmmaker, but as a person. And also the fact that it was directed by Penny Marshall: She was the first female director to have a $100 million box-office hit [with Big]. It's also the first time that I remember crying through the last ten minutes nonstop.
The whole construction of the three different story lines in the film and how they intersect with each other — I became conscious of the intentional maneuvering of the different elements of cinema, from screenplay to editing. That's one of the moments when I realized I want to make a work of cinema. My taste became more art house after that.
I was in high school when Wong Kar-wai rose to prominence: Happy Together, Chungking Express, In the Mood for Love. He had this lush sensuality and lyricism. While I was making Lingua Franca, I never consciously tried to reference In the Mood for Love, but my friends would bring it up. That makes me realize that influences, especially during the formative years, lodge themselves into our artistic subconscious. They emerge in our own work, even if it's not intentional. I'm finding now that art and cinema are specific emotional experiences. People might forget the plot of your film or the quirks of the characters, but they will never forget how your film made them feel. I'm trying to be mindful and deliberate about the kinds of emotions I want my films to elicit in an audience. I want them to experience what it's like to be rapturously and ecstatically in love.
When I first submitted a pitch for Lingua Franca to [secure funding for the movie], I cited [John] Cassavetes's A Woman Under the Influence. Later on, I was also referencing [acclaimed Belgian director] Chantal Akerman with News from Home and Jeanne Dielman. I had a phase, especially making my first and second features, where I was into this very somber, cerebral, European art-house cinema, like the cinema of [Michael] Haneke. I had this need to be taken seriously as a filmmaker. I was thinking I can't be taken seriously unless I make serious political films. I was trying to imitate the look and the sound of good, serious movies; and then in Lingua Franca, I allowed myself to be more intuitive and more in touch with my gut instinct. It's the right path for me because I'm a Pisces.
What's funny is I picked [this book] up in the trash outside of my apartment in Brooklyn three or four years ago. She had this chapter on the psychology of the novel, and she wrote that our emotional experience of literature isn't about words. It's about images associated with emotions. That triggered an epiphany for me in terms of my own filmmaking. Narrative, music, cinematography — these are tools; they are the means, not the ends. As long as you are conscious of and you know exactly what you want in terms of the emotional destination for your audience, then everything should start from there. I also had aspirations to be a writer, and I [follow this method] with my own films, because as of now I've scripted all of them. It's interesting to me how the conventions and the rules of literature apply to filmmaking as well. There's a certain turn of phrase in literature that corresponds to a certain camera movement.